Leukaemia survivor finds year of happiness despite Covid obstacles
After a battle with leukaemia at the age of 11, Elizabeth McQuillan's zest for life knows no bounds.
Wednesday, 14th April 2021, 12:30 pm
The 37-year-old promised herself to live every day as though it were her last after undergoing a successful bone marrow transplant thanks to her older sister being the perfect donor match.
Elizabeth says she has always believed in triumphing in the face of adversity, so when the coronavirus pandemic hit and left her plans for a dream wedding and a career change in tatters
last year, she was determined not to give up.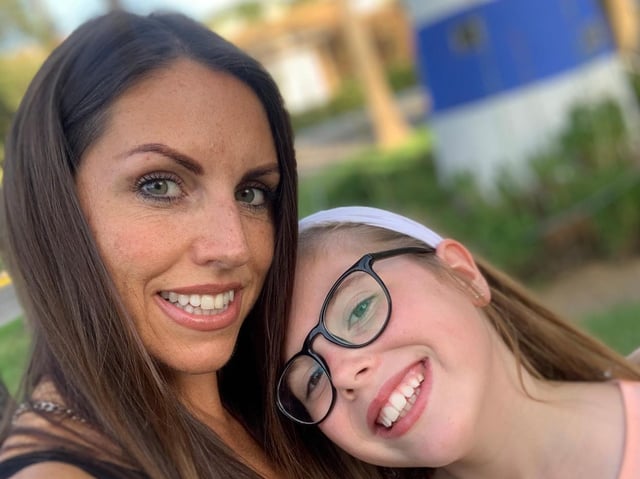 Elizabeth and daughter Ruby, 10
She said: "The mere mention of the word Covid filled me with fear, as it brought about so much upset.
"It had totally thrown a hand grenade into all my plans. Everything had been timed to perfection. Then Covid hit."
A year on and Elizabeth, who is mum to 10-year-old Ruby, is delighted to be expecting a baby with husband Phil, 43.
And the couple, who live in Poulton, now run a car finance brokerage firm, Car Finance 365, where Elizabeth specialises in helping women find their dream cars.
Elizabeth and Phil McQuillan got married in August last year after their planned wedding earlier in 2020 was cancelled due to Covid-19
Elizabeth added: "We were supposed to be flying to the Maldives to get married in April 2020, plus I had strategically planned an exit from my 14-year career as a high school teacher to
coincide with the flights to the Maldives.
"The hen do in Tenerife had gone off with a bang. I'd even had my wedding dress chosen for me by Gok Wan, when I appeared in an episode of 'Say Yes to the Dress'.
"It was going to be a truly magical experience and a year to go down as a personal best."
Elizabeth and Gok Wan when she appeared on Say Yes to the Dress
But two weeks before they were due to fly to the Maldives, the UK went into lockdown and the wedding was cancelled.
Elizabeth, who grew up in Fleetwood and was a teacher at Cardinal Allen High School, added: "I remember feeling devastated.
"The hours of preparations were now completely obliterated and my dream of marrying the love of my life cruelly stolen.
"What's more, as I had handed in my notice at school prior to Covid hitting, there wasn't an option to withdraw my resignation and I was left unemployed, in a black hole of no financial
The unplanned set back brought worry and heartache, something that Elizabeth had experienced before as a child.
Elizabeth was diagnosed with aplastic anaemia when she was 11, a rare disease where the only cure was a bone marrow transplant.
She said: "At the time, my parents were told I had a 15 per cent survival rate, if a donor wasn't found quickly.
"I felt like the luckiest girl in town when my sister Lianne bounced to the rescue as a perfect donor match."
Elizabeth, who also runs Starmaker theatre schools and casting agency with business partner Natasha Brooke, says she found the same strength she had drawn on previously in her life
to overcome setbacks brought about by the pandemic last year.
In August 2020, Elizabeth and Phil eloped to Mykonos and Santorini, where they got married. And there was more happy news to come.
They returned home to reveal they were expecting a child together.
Now the couple is expecting their new addition to the family next month while developing their new business.
Car Finance 365 offers a range of services from securing finance, sourcing car options, dealing with the dealership, negotiating price, right down to arranging the delivery of the car.
Elizabeth added: "I absolutely love helping ladies.
"I was once that girl who walked into the car showroom totally clueless, and walked out with a new car, totally unaware of the agreement I'd signed to and if this was the best option for me.
"I am passionate about stopping this from happening. My clients enter the process as strangers, and leave as friends."
Thanks for reading. If you value what we do and are able to support us, a digital subscription is just £1 for your first month. Try us today by clicking here