I wrote the new Charlene Downes documentary for Shots TV and I'm angry that there is no justice after 20 years
Charlene was failed and exploited throughout her life...if I was going to tell her story, then I had to get it right – my experience working on the Disappearance Of Charlene Downes documentary.
Watch more of our videos on Shots! 
and live on Freeview channel 276
Visit Shots! now
This summer I was asked to produce a true crime documentary for a new Freeview channel, Shots TV. The subject was Charlene Downes - a 14 year old girl who went missing from Blackpool in 2003.
November 01, 2023 marked exactly 20 years since she disappeared - it was a familiar case to locals, but as an outsider my knowledge was limited.
I'd have been five years older than Charlene. I was living in Yorkshire when she went missing, but a quick Google search brought back vague memories. My overprotective mother's panic as she fretted over the national news bulletin, and the lurid tales of a girl being 'chopped up and served into kebab meat' splashed over the tabloids.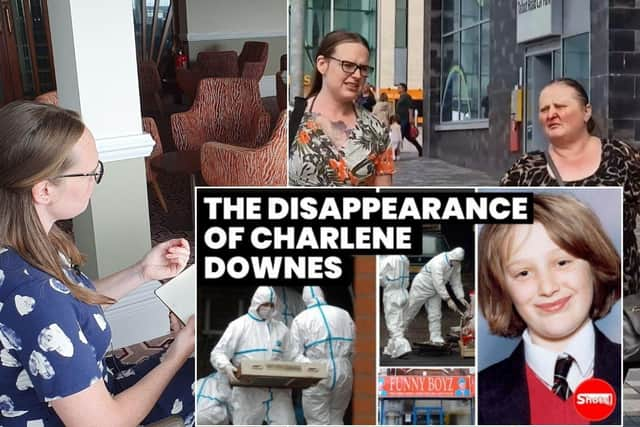 The last few months I have lived and breathed Charlene's story. I have spent long evenings reading old articles and thumbing through confidential files that shouldn't be in the public domain but nonetheless are there for all to see. I've been ignored by some, told to **** off by many, and stonewalled by the authorities who seemed to wish this case would go away. The project has tested my patience.
Most of the work I've done on my documentary, The Disappearance Of Charlene Downes, has been done outside of work hours - why? Because I strongly felt that if I was going to tell this girl's story, then I had to get it right.
Charlene was failed and exploited throughout her life, and as a journalist I didn't want to add to that by bashing out a cheap story that reduced her to – as one campaigner called her - 'kebab girl'.
I wanted the documentary to reflect the chaos and complexity of Charlene Downes' case. I encountered many polarised opinions, a lot of suspicion and feelings of anger towards the police, social services, and the family. Many things I wanted to include in the Shots TV feature had to be omitted for legal and ethical reasons.
One thing that everyone seemed to agree on was that Charlene was badly let down by everyone who should have been there to protect her.
Leaked documents, seen by Blackpool Gazette, showed that a number of sex offenders had been allowed access to Charlene, dating back to when the Downes family lived in Coventry.
Despite countless visits from social workers, Charlene remained in an environment where she was continuously put in harm's way. I have seen enough of these files to say that most right-minded people would be sickened by what was allowed to happen under their nose.
At 14, Charlene was being targeted by a group of takeaway owners who were grooming girls as young as 11 for sex. That is equally horrifying, and it's completely inexcusable that this is still happening in the resort.
Groomers choose their victims carefully. I got the feeling that Charlene had been looking for an escape from the chaos at home, which made her an extremely vulnerable target for predators.
The case was marked by so many police failings, which left me wondering whether Charlene's true killers would have long been rotting behind bars if the case had been handled differently. I don't feel it's appropriate to share my views on who could've taken Charlene (innocent until proven guilty)...but I feel enraged that the perpetrator/s have never been brought to justice and are potentially out there destroying more lives.
Somebody out there has the answers. I hope that this time next year we can say that, at last, there has been justice for Charlene Downes.
Do you have information about Charlene Downes' disappearance?
A £100,000 reward, sanctioned by Police and Crime Commissioner Andrew Snowden, remains on offer for anyone with information that leads to the prosecution of her killer(s) or assists in the recovery of Charlene's body.
Over the last 20 years, Lancashire Police's inquiry into Charlene's disappearance has generated nearly 16,000 police actions or lines of inquiry.
More than 6,800 statements have been taken and 7,400 exhibits recorded.
Anyone with information on Charlene's disappearance is asked to contact police on 101 quoting log LC-20231027-0663 or can call independent charity Crimestoppers on 0800 555111.