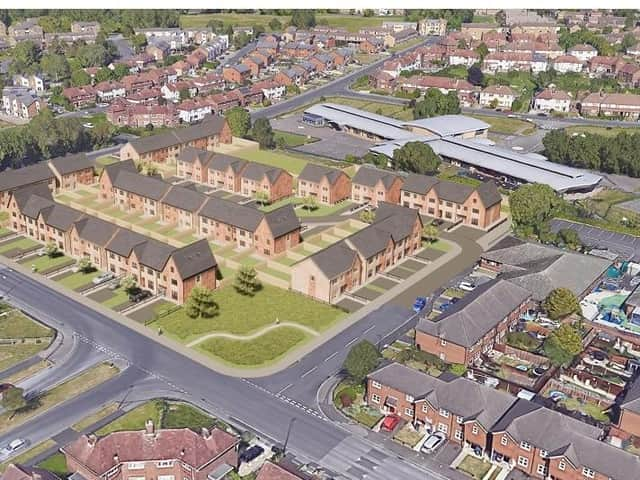 Grange Park development plans 1
The authority's proposals would see 101 affordable houses and a retirement apartment complex built on two vacant sites off Chepstow Road and Dinmore Avenue.
Residents have until tomorrow to oppose the plans before an official planning application is put in.
But as the @TheGrange community centre, where such plans would usually be publicised, remains closed due to Covid-19, and complaints can only be submitted online, it is feared many residents will miss out on their chance to make their voices heard.
Grange Park development plans 2
One Grange Park resident said: "They only released the consultation on Friday and it closes tomorrow. I have had loads of messages asking why it's such a short consultation period, some residents don't think it's fair as residents who are not on the internet can't have their say."
In the meantime, the proposals have been put on display in the community centre window.
Grange Park resident Terry Bennett, 78, said the development would result in 'around 530 people plus around 140 children of mixed ages and about 150 cars'.
He said: "All of this and no new amenities. We need a Post Office for the people at that end of the estate. At present to go to the Post Office you have to cross main arterial roads that are very busy. You would have to go along Chepstow Road to Poulton Road and then turn left to the pelican crossing, or turn right to go to the traffic island, but it is not easy to get the traffic to stop.
"The other alternative is to go along Fulwood Avenue then cross over St Walburgas and go towards Layton Medical Centre, then turn right onto Onslow Road. This is not an easy task for mums with young children or the people from the sheltered housing collecting their benefits. Banks are disappearing fast. Post Offices more are needed.
"I know my mention of a Fish and Chip shop won't go down well but that is what poorer families eat.
"Also, before they built the flats at Easington we used to have an old-fashioned family butcher, and his shop was split into two with a greengrocer. We don't have them anymore, you have to go to Normoss for a family butchers, or to Layton.
"There cannot be many estates with so few shops."
Nigel Morris, who also lives in Grange Park, said: "Instead of more housing we need a community centre or pub to get the community spirit back. Grange at the moment is getting worse. Stabbings, murders and car chases to name a few. Why don't the council look after who and what they have got first?"