Huge plans on horizon for two social housing estates to be built in Grange Park
Blackpool Council has announced its plans for a vast new social housing development in Grange Park which bosses say will boost a 'mixed and inclusive community that promotes wellbeing and healthy lifestyles'.
Thursday, 1st April 2021, 12:30 pm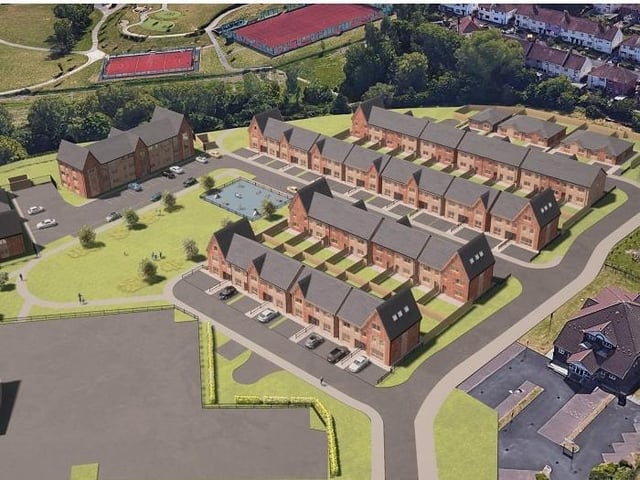 The proposed southern site at Dinmore Avenue/Bathurst Avenue.
The authority's proposals would see 101 affordable houses and 30 apartments built on two vacant sites, one off Chepstow Road and the other off Dinmore Avenue. There would be a mix of semi-detached and terraced homes and bungalows with parking on driveways to the front and private gardens to the rear.
A retirement apartment complex with allocated parking, views over the community green and a shared garden space would also be built.
The homes would be managed by Blackpool Coastal Housing, which provides housing on behalf of the Council.
The proposed northern site at the corner of Gateside Drive and Chepstow Road
A Blackpool Council spokesman said: "The main aim of this proposal is to provide a residential development in a manner which both maximises potential to provide new homes, whilst respecting the local surroundings and providing improved green space for use by all residents on the estate.
"Responding to the local demand within the wider context of the climate crisis, the goal is to create a mixed and inclusive community that promotes wellbeing and healthy lifestyles.
"Informed through conversation with local communities and local stakeholders, including Boundary Primary School and @The Grange community centre, the ambition is that the development will benefit not only the new residents but the wider community and those attending the surrounding local schools.
"The northern site (Dinmore Avenue) incorporates a new school green space and the southern site (Chepstow Road) defines a community green space to be used informally with a children's play area and for formal community events."
What the development could look like. Picture from Blackpool Council
As well as housing, the development plans include a cycle path connecting Dinmore Avenue and Dingle Avenue, 'pocket parks' and communal green spaces, and a children's play park.
The Council has now asked Grange Park residents to weigh in with their opinions on the proposed development before a formal planning application is submitted.
What the development could look like. Picture from Blackpool Council