Fylde folk's fond memories of Prince Philip
Tributes have been paid to the Duke of Edinburgh after his death, aged 99, last Friday brought back fond memories across Fylde.
Tuesday, 13th April 2021, 3:45 pm
Prince Philip's official opening of Witchwood between Ansdell and Lytham in 1974 is commemorated on a stone plaque at the Blackpool Road entrance.
Lytham St Annes Civic Society's then chairman Graeme Fallows hosted that event and current chairman Marion Coupe said: "Witchwood's great popularity especially during lockdown shows what an important amenity this is, provided free by the Society."
Former Fylde mayor Howard Henshaw and his wife Karen, still a Fylde councillor, recalled meeting the Duke on several occasions.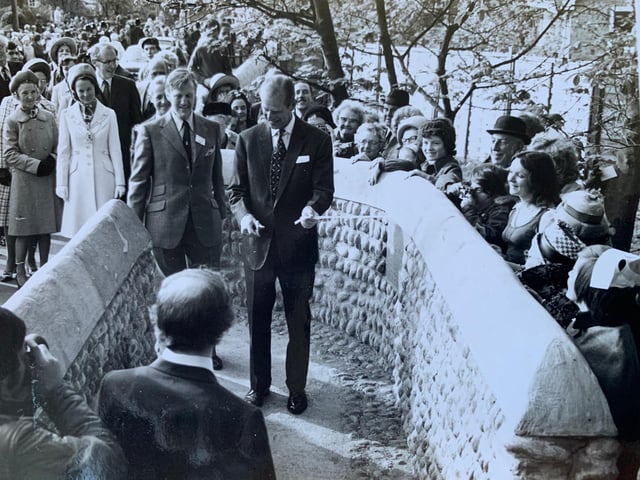 Prince Philip opening Witchwood, between Ansdell and Lytham, in 1974
On one occasion, at the Royal Society of Arts AGM in London where Howard is a Fellow and Prince Philip was Honorary President, the guest speaker was a professor from
Southampton University whose lecture was on the merits of Tidal Power as an alternative to Wind Power.
"After retiring to the Cellar Bar after the meeting, Karen asked Prince Philip if he would personally invest in such a project, to which he immediately replied, 'Unfortunately,I don't
The plaque at Witchwood commemorating its opening by Prince Philip
have any money but the wife does'," said Howard.
Another time, at a Buckingham Palace Garden Party when Howard was mayor of Fylde in 2011-12, he was standing alongside two other mayors, all sporting their chains of office, when Prince Philip aproached.
"He asked: 'And where do you three come from ?'," recalled Howard, "The other two mayors replied first, mentioning two towns which neither I nor Prince Philip had obviously ever heard of.
"So when I said 'Lytham St.Annes' instead of Fylde, Prince Philip burst out laughing and told the other mayors 'If
you play golf, don't go to Lytham St Annes because it's so windy there that you will never get a par'.
"However, the biggest mistake by Karen, was at another Royal Society of Arts meetingwhen she had been telling a group of young stewards about our colourful life working and living overseas for 25 years.
"Later in the evening, one of them approached Karen again and asked 'Would you and your husband like to join Prince Philip and guests, for dinner after the meeting?'
"To my disgust, she replied: 'We would love to but our train leaves at 8.30pm, as we have just come down for the day'.
"Consequently, I still rib Karen that she must be the only person in England who has turned down a dinner date with Prince Philip."
Fylde MP Mark Menzies said in tribute to the Duke, whose funeral is on Saturday: "I had the pleasure of meeting the Duke of Edinburgh on a number of occasions as an MP; the last time was several years ago at an evening reception at Buckingham Palace where he passed comments about playing golf at Royal Lytham in the wind and rain.
"Throughout his life he gave great service to our nation and will be sadly missed.
"Our thoughts and prayers are with Her Majesty The Queen and the Royal Family."
It is thanks to our loyal readers that we can continue to provide the trusted news, analysis and insight that matters to you. For unlimited access to our unrivalled local reporting, you can take out a subscription here and help support the work of our dedicated team of reporters.
Support us and become a subscriber today. Enjoy unlimited access to local news, the latest football stories and new puzzles every day. With a digital subscription, you can see fewer ads, enjoy faster load times, and get access to exclusive newsletters and content. Click here to subscribe