Fylde coast bookworms check out libraries again after lockdown
Fylde coast libraries opened their doors to book lovers again earlier this week, as lockdown restrictions eased under the Government's roadmap.
Friday, 16th April 2021, 3:45 pm
The resort welcomed back both residents and visitors to its outdoor seating areas for food and drink, gyms, shops and attractions on Monday, April 12.
Libraries run by Blackpool Council and Lancashire County Council, were also able to open their doors again, as eager bookworms dusted off their cards to check out some new reading materials.
Library managers spoke of their joy as residents came in their droves to check out books, following a successful continuation of online reading services during lockdown.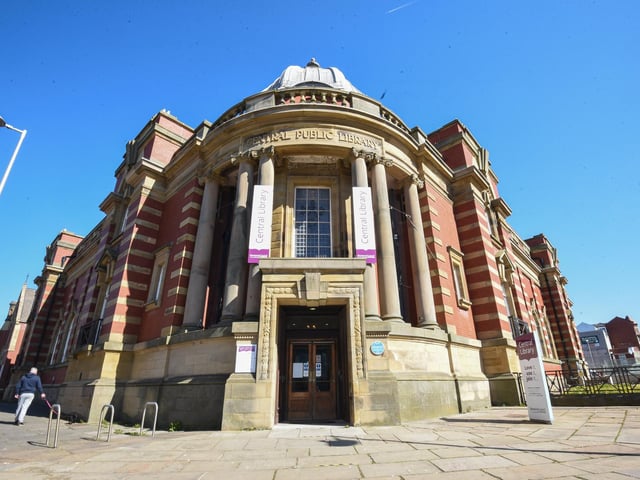 Blackpool Central Library. Photo: Daniel Martino for JPI Media
Anna Haywood, libraries team leader for Fylde and Wyre at Lancashire County Council, said: "People have really embraced libraries being open for browsing again, and are seeing it as a hopeful sign that the end of the pandemic may be in sight.
"We've had some lovely feedback from people about how glad they are to be able to come into the library again, as well as what a lifeline our libraries have been throughout lockdown, particularly for those who rely on them for access to digital services and have been able to book appointments to come in and use the computers.
"People have also been telling us how grateful they are to have been able to continue collecting books at the door throughout lockdown, and being able to see a familiar face while they have not been able to see family and friends.
"We can only allow a certain number of people into the library at any time, so we're very grateful to everyone who has visited this week for being so cooperative and not overstaying if they can see there is a queue.
Library customer service advisor Ann Knowles, from Anchorsholme Library, was jumping for joy when the building was able to reopen earlier this week. Photo: Daniel Martino for JPI Media
"Library staff have been looking forward to this week for some time and we're all really happy to be able to welcome people back in."
Blackpool's libraries, with the exception of Mereside, were also able to reopen on Monday April 12.
During the lockdown, library users registered with Blackpool Council's libraries were able to collect books at the doors, which will continue for those who do not wish to enter the library buildings at the moment.
Lilian Ward enjoys a bookshelf browse at Blackpool Central Library. Photo: Daniel Martino for JPI Media
Coun Gillian Campbell, Blackpool Council's cabinet member for Tourism and Culture with responsibility for libraries, said: "It's fantastic that our libraries service has been able to adapt and continue providing such a comprehensive service for residents throughout what has been an extremely difficult year.
"While our libraries were closed, it was pleasing to see so many of our customers discover our virtual offer. During lockdown periods, we were also able to deliver a 'keep reading' service, where customers could collect a bag of books at the door of their local library. This offer will continue even though we're now permitted to welcome customers back to browse and borrow stock.
"We're well aware of how much our residents enjoy visiting our library buildings, which is why we are so delighted to be able to reopen properly again. Every member of the team has worked so hard to ensure that our libraries are as safe as they can be, and the work carried out is a testament to the dedication and adaptability of our team.
"This week, we were able to add the [email protected] grange to our list of libraries that are currently open. We welcomed some eager customers in to use the facilities just before the 1pm opening time on Tuesday, as one person wanted to change their books, and another wanted to use a computer to work on an application form.
Lilian Ward checks out her new books at Blackpool Central Library. Photo: Daniel Martino for JPI Media
"Everyone who has attended our libraries has been so positive and grateful for the continued service that we have managed to keep in place. We're looking to the future with optimism and can't wait to extend the opening hours of all our libraries, as well as increasing visitor capacity. Social distancing guidelines are unfortunately preventing us from being able to safely reopen Mereside Library at present, but once restrictions ease further we'll be letting people know when they can visit."
Blackpool Central Library customer advisor Joanne Cairns. Photo: Daniel Martino for JPI Media