From Blackpool hills to UK mountains: How a resort fundraising champion is bringing life-changing experiences to Blackpool's young carers
A Carleton fundraising hero has spent more time on Devonshire Road during the pandemic than most local commuters - but it's all for a good cause.
Friday, 12th March 2021, 3:45 pm
Updated
Friday, 12th March 2021, 4:33 pm
Paul Howlett, 53, a youth hostel manager from Carleton, has done his fair share of fundraising for Blackpool s young carers throughout the pandemic.
With his two-stone teddy friend Everest, or "Big Ted", tagging along on his back, Mr Howlett braved the North Shore elements on numerous occasions to walk up and down Devonshire Road, for weeks on end in total.
At the start of lockdown, Paul cycled 29,030 feet - the equivalent of the height of Mount Everest - in fancy dress up and down Devonshire Road for Blackpool Carers Centre.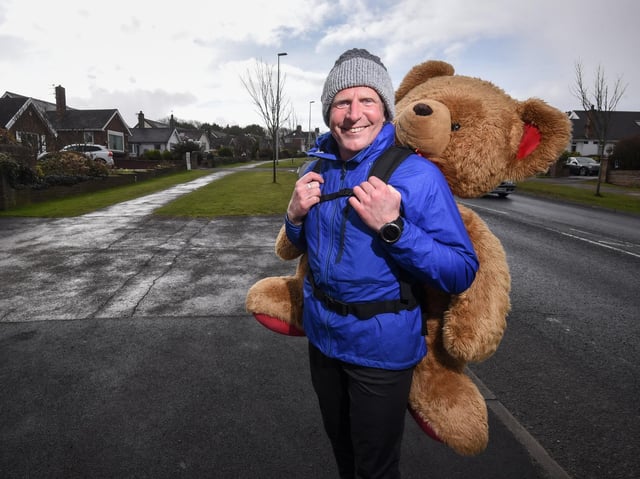 Fundraising champion Paul Howlett is raising money for young carers. Photo: Daniel Martino/JPI Media
He then decided to take part in his own Ironman triathlon for the Newton Drive-based charity in July.
In November, Paul had planned to participate in the Three Peaks Challenge for the Carers Centre, but his plans were scuppered by the Welsh Government's announcement of a travel ban from England.
But not one for giving up, he decided instead to walk the equivalent distance of the Three Peaks up and down Devonshire Road, a total of 10,052 feet, or 80 miles.
He has raised over £3,000 for Blackpool Carers Centre through his challenges so far, and does not plan to stop there.
Fundraising champion Paul Howlett is raising money for young carers. Photo: Daniel Martino/JPI Media
This week, he was back on the road again as schools opened back up to pupils, with a target in mind of £2,500 to pay for a group of the resort's young carers to stay at a Lake District youth hostel.
Paul said: "On Thursday alone I counted more than 100 people who beeped their horn at me or waved, the encouragement from everyone driving past has been brilliant.
"Kids have had it really hard during the pandemic, let alone those who have to care for someone else as well. It must have been really difficult for them.
"I'm area manager for the Youth Hostels Association in the Lake District so I could give local kids access to activities like Ghyll scrambling hiking and kayaking.
Fundraising champion Paul Howlett is raising money for young carers. Photo: Daniel Martino/JPI Media
"I think I have the best job in the world, the youth hostels are beautiful, so I thought, well why not work together with other carers centres?"
"I want to raise £2,500 for them, but I have a bigger goal of £10,000 to be able to reach even more young carers across the country as well.
"These kids need the respite, especially during the pandemic."
This week's Devonshire Road fundraiser marks the start of Paul embarking on a year of challenges for young carers.
Fundraising champion Paul Howlett is raising money for young carers. Photo: Daniel Martino/JPI Media
Future events will include 190 miles in seven days on the Wainwright's Coast to Coast trail in April, tackling the National Three Peaks in May, and a 24-hour non-stop hike from his front door in May.
He is also keen to get local businesses involved in sponsoring his activities, to help raise more money for youths with caring responsibilities.
Faye Atherton, quality director at Blackpool Carers Centre, said: "As a charity we are always in awe of our marvellous supporters who never fail to come up with creative and wacky fundraising ideas each year.
"Paul Howlett has definitely taken up the mantle these past few months in leading the way, along with Big Ted, in raising funds and awareness for young carers in the most ambitious of fashions.
"We are grateful to him for creating a buzz about young carers, raising the profile of what so many children and young people do every day to make sure that their loved ones are safe and looked after.
"Never has this been so vital as now given how many more children and young people have become carers due to the pandemic. We extend a huge thank you to him and all of our supporters for all that they do to make a better life for carers."
You can donate to Paul's fundraiser for Blackpool's young carers here.