Former Prezzo in Poulton has been empty for months but the Thyme has come for a change
After two months' work and more than £100,000 spent on a re-fit, a brand new restaurant is opening next week in Poulton Teanlowe Centre's former Prezzo building.
Thursday, 30th January 2020, 5:00 pm
Thyme restaurant officially opens its doors on Monday (February 3) and will kick off the evening menu on February 6, offering a "bistro-style, relaxed dining experience".
New owners Catherine and Grant Stringer, who took on the project with family friends Wesley and Kirsty Downham, are experienced restaurateurs, selling their Lancaster tapas restaurant two years ago to move back to Poulton and set up again in the market town.
The couple, who also own Sundown Kennels on Mains Lane, live in Poulton with their two children Jude, 18, and Finlay, eight.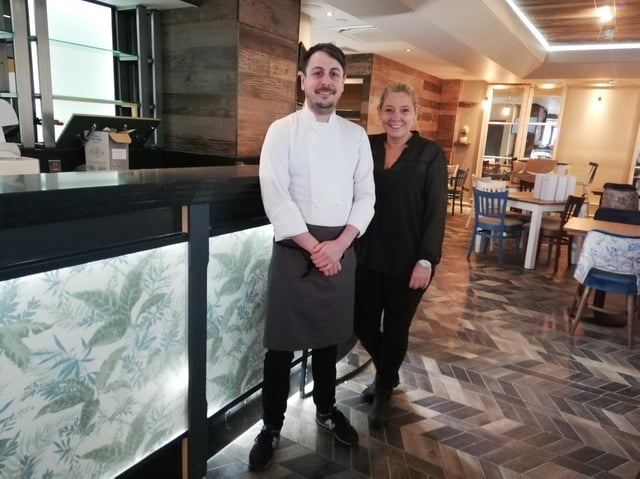 Owner of Thyme Restaurant Catherine Stringer with executive chef Michael Clay.
Catherine, 46, said: "I'm from Elswick originally and went to Garstang High School, and now we live in Poulton so we've always known the area really well.
"We were looking into setting up a new restaurant in Poulton anyway, so when this premises came up we decided to go for it.
"We wanted somewhere with a large capacity so we can fit groups of families and friends in, and we will have a varied seasonal menu available from breakfast-time right through to the evening."
Thyme will replace Italian chain Prezzo, which closed its doors in 2018 as a result of 94 nationwide closures, along with St Annes and Blackpool.
Thyme is getting ready to open its doors from Monday February 3.
The building is now set to reopen as a "family-friendly, accessible eatery".
Mr and Mrs Stringer have given jobs to around 20 locals, and are planning to develop an outdoor seating area for the warmer weather in the coming months.
Workshops for children will be run every Sunday, and colouring stations are available to entertain the little ones while families eat.
Executive chef Michael Clay, who also owns Ancoats-based restaurant Elnecot, described how he designed the menu with Poulton residents in mind.
Thyme's front entrance in Poulton's Teanlowe Shopping Centre.
He said: "I wanted to bring a traditional bistro vibe to Poulton.
"It's important to use good quality, local produce, and it's just natural to me now as a chef to include plenty of vegetarian and vegan options, for dietary choices and for the environment."
Thyme has used local suppliers throughout, sourcing fish from Fleetwood, flower arrangements and a "living garden" wall from the Plant Place in Thornton, and cheeses, fruits and vegetables from local market traders and dairies.
Catherine continued: "Thyme is inclusive of everyone, from young families to older groups of friends, there is plenty of room for buggies and wheelchairs.
The back wall of Thyme is adorned by real plants provided by local suppliers.
"We've had excellent feedback from members of the public, everyone has told us they are really looking forward to coming to try our food and we can't wait either.
"We want to bridge the gap between daytime cafes and evening bars, which we thought would go down well in Poulton."