Fleetwood fisherman laid to rest on waves of Irish Sea
A Fleetwood fisherman who spent almost as much time at sea as he did on dry land was laid to rest in a small ceremony befitting his many years of maritime service.
Tuesday, 4th May 2021, 12:30 pm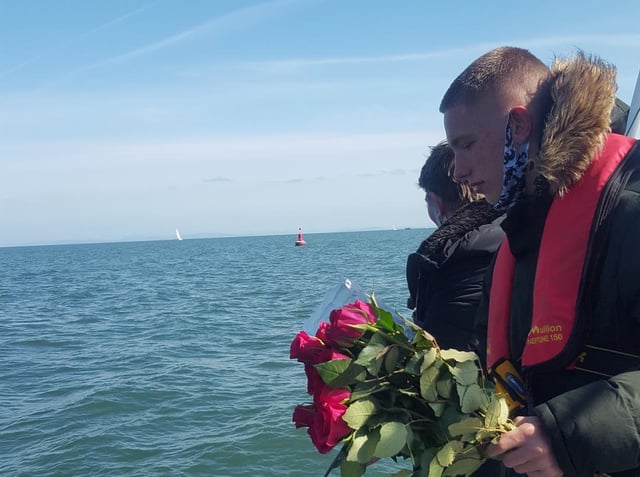 Ian Bragg's ashes were scattered at sea
The ashes of Ian Bragg, 74, were scattered from a fishing boat off the coast of Fleetwood last Sunday.
Ian, who lived in Medlock Avenue, died on March 11 from advanced vascular dementia.
He was the captain of a fishing boat for many years before becoming ferry master of the Fleetwood to Knott End ferry. He worked as a coxswain for the Morecambe Bay pilot boat throughout the 1980s and '90s, during which time he would offer his own boat to the Fleetwood lifeboat service whenever they ran short of volunteers.
In 1983 he was awarded a bravery award from the Liverpool Shipwreck and Humane Society after saving the life of a man who had fallen into the River Wyre estuary.
His daughter Nicola, 49, said: "As a young lad Dad won the Fleetwood and district junior angler award. Fishing and a love of the sea was always Dad's main passion. He gained his skippers ticket and this was when he really came into his own, he became the 'master of the sea'.
"Dad had an eye for the sea and could see for miles even before anybody else could see things! He had a unique talent and could ride those waves better than most men and was always happy to teach and share his skills with the younger up and coming crew members.
"Pilots were often heard saying that they felt safe with our dad and that he was one of the best skippers around.
"He made numerous rescues over the years alongside his crew and in 1983 he was awarded a bravery award from the Liverpool Shipwreck and Humane Society.
"Dad also found and brought ashore bodies who had drowned at sea, enabling them to be given back to their families giving them the send-off they deserved."
Ian leaves behind three daughters, Deana, Nicola and Zoe, six grandchildren and seven great-grandchildren.
His remains were scattered over the sea by his daughters, while other family members watched from Fleetwood docks with binoculars.
Scattered with him were the ashes of his beloved dog, Cassie.
Nicola, who lives in Preston and looked after her dad for many years as he battled his dementia, said: "We went out on his friend's boat at 9.45am on Sunday. It was a beautiful, sunny day, the weather was gorgeous.
"We took my dad out into the bay, and let him go.
"He's back where he wanted to be now. That was where he always loved to be.
"It was emotional, but it was what he would have wanted. It all seems really surreal. I still can't quite believe that he's gone. I cared for him for so many years, I was his voice for many years and now he's not here any more.But I'm happy that he's back in the place that he loved."
A memorial bench for Ian has been placed on Fleetwood Esplanade. A memorial tree and plaque have also been proposed by Wyre councillor David Henderson.