Fleetwood businessman's 'Tour de France' challenge to raise £30k in colleague's memory
A Fleetwood businessman will take on the same route as the Tour de France to raise £30,000 for charity in memory of a cherished colleague.
Thursday, 22nd April 2021, 1:16 pm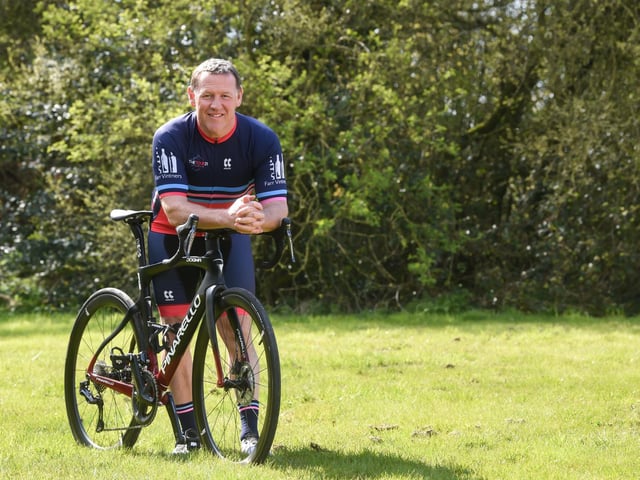 Gary Apps is taking on the actual route of the Tour de France cycle event to raise money for charity
Gary Apps, 49, owner of the My Fish Company in Fleetwood is taking to two wheels as part of a charity initiative, The Tour 21, in memory of his former colleague, Dave Towne.
Dave, who also worked in the fishing industry, died in November last year aged 72 following his battle with cancer and now Gary is hoping to raise £30,000 in his honour.
Gary, of Pilling Lane, Preesall, will join 24 other amateur cyclists in tackling a tough 2,300 miles course in France over a period of 23 days, including some lung-busting mountain climbs.
Dave Towne, who died from leukaemia, has inspired Gary Apps' fundraising challenge
The Tour 21 event will see them ride the full distance of the 2021 Tour de France race; one week ahead of the professionals from June 19 to July 11.
As a group they have bold ambitions to raise over £1,000,000 for national blood cancer charity, Cure Leukaemia, and Gary is looking to beat his personal target of £30,000 with kind donations from local businesses, family and friends.
Having only recently signed up to the challenge, Gary has already raised £2,884 so far and is hoping that his appeal for support will help the group smash their target.
Gary said: "To lose Dave was devastating and I have a lot to thank him for so I am really hoping this fund-raising challenge will be a success, not just in terms of the money raised but also as a group completing this really gruelling task that lies ahead for us this summer.
"It is actually thanks to Dave that we have the kiln at the My Fish Company; and which actually enabled us to set up the smoking house we are so famous for as a business.
"So with the support of his family, if I can raise money for a charity in his honour that has been severely impacted with lack of donations during the Covid pandemic, I hope to make them proud whilst raising much needed awareness of the incredible work that Cure Leukaemia does."
The My Fish Company is based on Fleetwood's Harbour trading estate, and employs 40 people.
Ahead of the challenge, Gary will also be holding virtual meetings and hopefully visiting The Christie Hospital in Manchester when restrictions allow to meet some of the patients and nurses who will benefit directly from his fundraising efforts.
Gary, who lives with fiancee Hazel, with whom he has five children, added: "It is very humbling for me to see and hear the wonderful work that the team at the Christies do, day in and day out to support their patients. I hadn't realised until getting involved just how prolific Leukaemia is amongst children, a really heart-breaking discovery and I will do my utmost to raise awareness of this and to raise as much money as I possibly can for them."
The Tour 21 team is being led by former England footballer and charity Patron, Geoff Thomas, who will be completing his fifth Tour de France cycling challenge this year saying: "This will be my final challenge since I was declared in remission from chronic myeloid leukaemia in 2005 and I am determined to ensure that it is the most successful and memorable of them all."
To pledge your support to Gary, you can visit his Just Giving page at Gary Apps is fundraising for Cure Leukaemia (justgiving.com)