Duo's flamingo fancy dress ride for terminally ill woman's dream wedding
If you spot two 'flamingos' riding bikes along Blackpool seafront next week, it will be pals Stefi Jefferson and Jodie Reynolds out fundraising in fancy dress for a good cause.
Thursday, 15th April 2021, 1:42 pm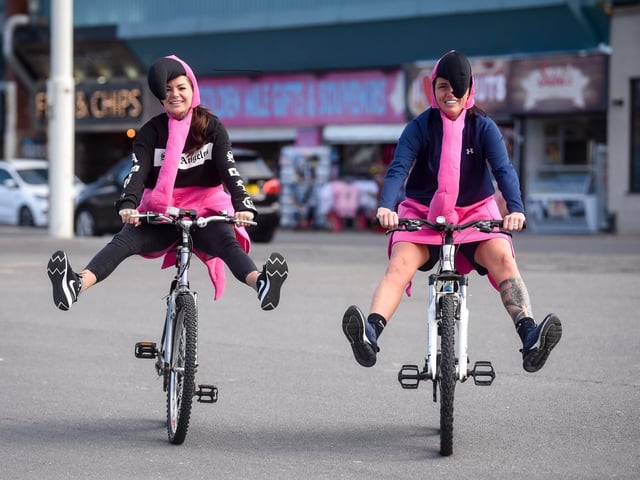 Stefi Jefferson and Jodie Reynolds are cycling dressed as pink flamingos to raise money for Stefi's sister Michelle.
The pair are taking wing to raise money for Stefi's sister Michelle Jefferson-Moore, who has been diagnosed with terminal cancer but plans to have a dream wedding with fiance Ash Smith in Blackpool this summer.
It has been a tough time for the whole family but the wedding, expected to take place in August, is something brave Michelle and Ash are looking forward to.
And Stefi and Jodie are determined to do their bit to help, with their feathery fundraiser.
Stefi Jefferson and Jodie Reynolds are out to raise funds for Stefi's sister Michelle.
They bought their flamingo costumes online and hope their high profile cycle venture will boost the fundraising campaign for Michelle and Ash.
Stefi, 33, of Collyhurst Avenue, Blackpool, said: "We're going to cycle 100 miles along the seafront during this month, beginning on Monday - from the glitterball to North Pier and back, every day.
"We want to ride as many miles as we can from Monday to Friday.
"It was really funny riding in the costumes when we tried it out, a few people were laughing and staring!
Michelle, Ash and the family
"But if it helps raise some extra money, it will be worth it. Michelle has been so brave, we want the wedding to be just right for her.
"We chose the flamingos because we used to all love going to the Flamingo Club in town a few years ago and we've got lots of happy memories of that."
Jodie, 35, of Marton Drive, Blackpool, said: "Michelle's one of my best friends so I'm happy to do it!"
The pair both work for Blackpool-based mobile food outlet Burgerhain, where Stefi is general manager and Jodie is a deliver driver.
Mum-of three Michelle, 40, of Park Road, was told at the end of last year that she had terminal cancer.
Michelle, whose children are Brooke, 19, Ellie-Mae, 16 and LJ (Lee Junior), 12 does not know how long she has left as she endures bouts of gruelling chemotherapy.
But she and the family are determined to make the most of the time left.