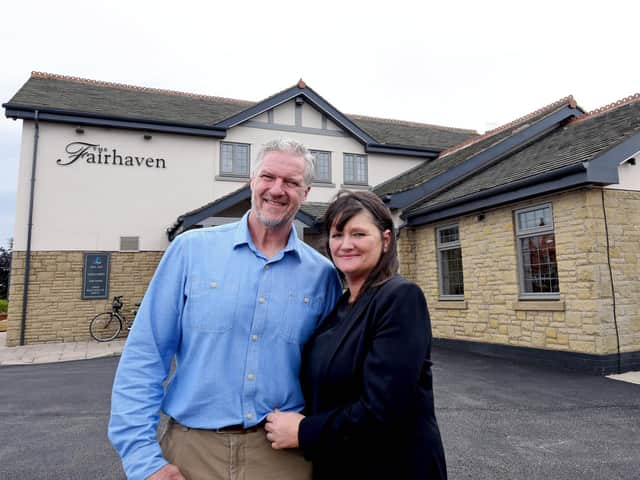 Robert Benson and Gina Mancini at The Fairhaven
Robert Benson and Gina Mancini invested a six-figure sum in reopening The Fairhaven in June 2019 after it had been shut for almost three years – only to have lockdown come into effect less than a year later.
The pub has been shut since, with Robert and Gina busy in constant consultation with their landlords over a financial plan for reopening.
Sixteen members of staff have already been laid off and the financial implications of reopening – already three months on from when pubs were allowed by the Government to come out of lockdown – are still being looked into.
But the couple are adamant they won't be letting their dream go, although the recent new restriction, particularly 10pm closing, initially brought in by the Government for Fylde and other areas of Lancashire and now applying nationally, could well have put any revival of the pub back into 2021.
"We are determined not to walk away," said Robert.
"It's a difficult situation, made even more difficult by the new curfew and the prospect of that possibly going on into the Christmas season.
"We had hoped we might be back at some stage this autumn, possibly November, but I fear now, with so much to consider, we might be looking at gearing up for a good strong 2021.
"With being open less than a year before lockdown, we weren't able to apply for grants and the like.
"The landlords, the utility companies and everyone involved has been really good to us, allowing us to defer payments while we are closed but we are still consulting over a plan to reopen.
"We love it here and are so keen to reopen. Everyone was so good to us and we loved the sense of community. We look forward to enjoying that again at some stage in the future."