Cat rescue warns of possible epidemic of 'feline HIV' after two superspreaders picked up in Blackpool
A cat rescue charity has warned of a possible impeding epidemic of feline HIV after unneutered males with the disease were picked up in Blackpool
Wednesday, 21st April 2021, 3:45 pm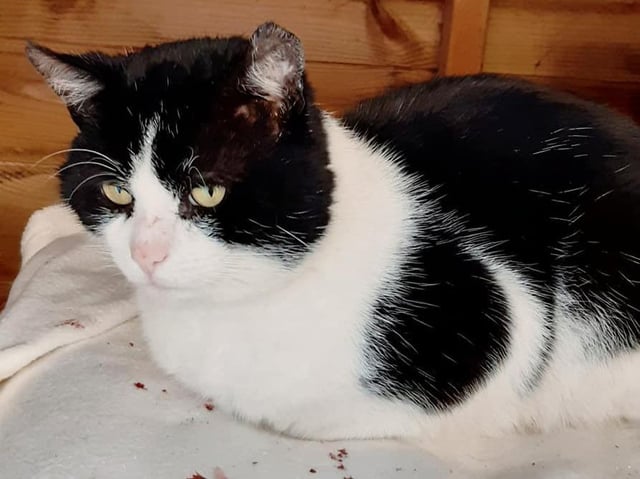 FIV+ stray Ted was picked up last week
Blackpool Nine Lives Cat Rescue retrieved two poorly strays from Lytham Road, South Shore, and Dickson Road, North Shore, last week.
Both cats, called Socks and Ted, tested positive for FIV – feline immunodeficiency virus – which weakens the animal's immune system, putting them at risk of breathing problems, skin infections, mouth problems, and certain types of tumours.
The disease can be transmitted sexually and can spread from parent to kitten once the mother cat is infected.
Socks also tested positive for FIV. Pictures by Blackpool Nine Lives
The two cats were also found to have injuries consistent with territorial fighting, another prime cause of the spread of FIV.
Cath Middleton, of Blackpool Nine Lives, said: "Just how many cats within the area have these two boys mated, fought with, and fathered kittens, which too could be FIV positive? FIV is a disease which is spread through fighting and mating.
"With all injuries being a result of unneutered toms competing for unspayed females and their territories, yet again rescues are the ones having to pick up the pieces.
"As a rescue, our vet bills are ever increasing. Each appointment we have comes with a cost. We aren't only a rescue but also a sanctuary for those who have long term medical issues. Currently we have 12 permanent residents within our care. Another five are undergoing regular medical treatment, which may be a long term medical condition they have.
Ted had injuries consistent with fighting - a prime spreader of the virus. Pictures by Blackpool Nine Lives
"Four cats within our care aren't available for adoption yet, and only two are current on the look out for their new forever homes. We are also awaiting another stray cat to be contained, as of yet we do not know the condition of this cat."
The charity has been left counting the cost of such sick strays, racking up vet bills of £1,866 since March this year.
Cath said: "All of this could have easily been prevented if people neutered and spayed their cats. There are always places that can help get your cats neutered if you are struggling."