Brave toddler from St Annes continues her two year battle with cancer
A St Anne's family say they have had "the worst two years" of their lives as their little girl continues to bravely battle cancer.
Watch more of our videos on Shots! 
and live on Freeview channel 276
Visit Shots! now
3-year-old Verity Raynor was diagnosed with a brain tumour in September 2021, when she was just one year old, and she has had continuous chemotherapy ever since.
Speaking about Verity's diagnosis, mum Lilly Jordan, said: "Our whole life came crashing down, I've not been able to function properly, her dad's the same, we're still trying because we've got another daughter, Felicity who's eight, but I can't explain just how absolutely awful it is.
"You just don't ever see your life going this way and I know way more about childhood cancer than I've ever cared to know about."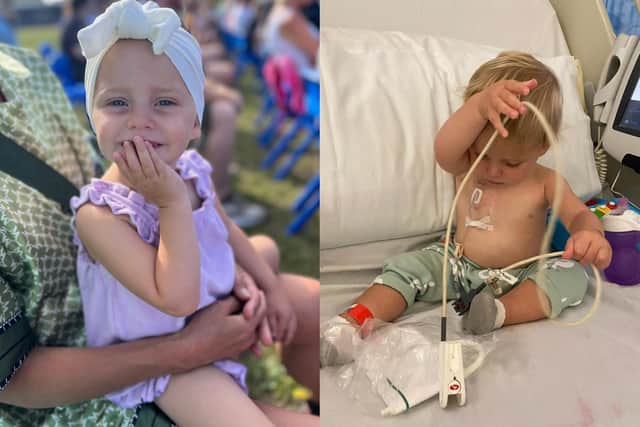 Verity has a low grade glioma of the optic pathway, which is inoperable due to it being so deep and located on her optic nerves,
Any interference would mean Verity loses her sight completely, and she has already suffered an estimated 50% sight loss in her left eye due to the pressure of the tumour on the optic nerve.
To deal with the effects of the tumour, the family works closely with an oncology team to preserve what sight she has left, and the Hormone Identifying team because the tumour's proximity to her pituitary gland means her hormones could be affected.
Verity has now been having chemotherapy sessions at the Royal Manchester Children's Hospital for the past two years, which makes her go through waves of nausea and tiredness.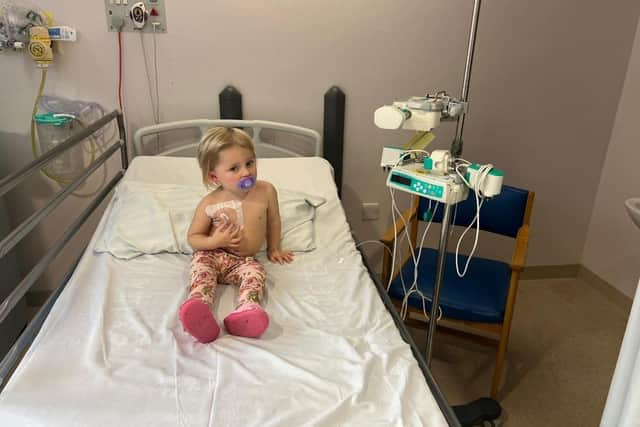 Describing how chemotherapy has been, Lily said: "Gruelling, but she's been so strong and so resilient, she deals with it a lot better than an adult would, I would say, but yeah, it's just put all our lives on hold. I've had to give up quite a good job because she can't go to nursery because of her immune system."
Lily had been working at Casdon Toys but has now switched to a part-time job at the Village Hotel Blackpool, allowing her to work around Verity's needs.
The family had hoped Verity's chemotherapy treatment would be over in May this year, but the previous MRI scan showed the tumour had continued to grow, which Lily says is down to a change in medicine.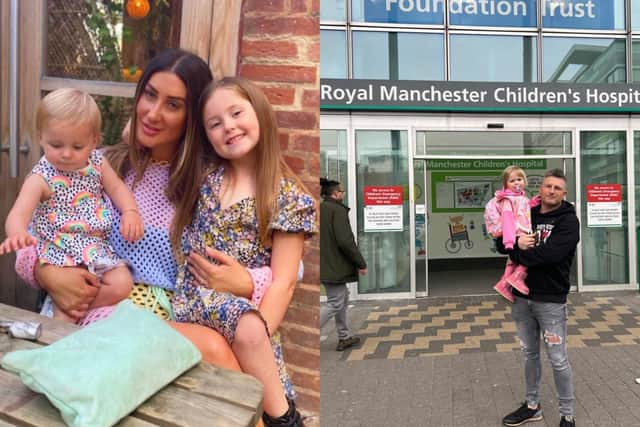 Verity had originally been given a drug called Carboplatin, and although it was effective in shrinking the tumour, she developed an allergic reaction to it and had to switch to a different drug in February 2022.
"It was just absolutely devastating to think that the drug was working, but her body couldn't tolerate it", Lilly commented.
As Verity's last MRI scan showed the second drug had not stopped the tumour's growth, the hospital have now figured out a way to administer Carbolatin without causing an allergic reaction; this involves Verity taking five different pre meds, and she has to stay in hospital for 24 hours after the chemotherapy session for observation.
They are yet to know whether returning to the old drug has been effective as Verity was unable to have the last two MRI scans.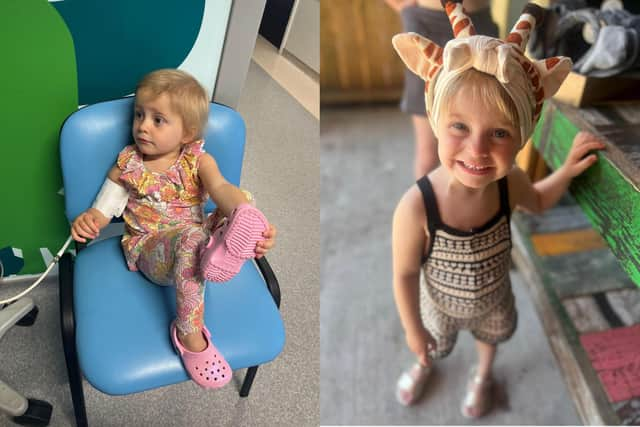 Lilly explained: "The first time, Verity couldn't take the medicine because she was vomiting so badly and then the second time she'd been a little minx – because she's still quite naughty and cheeky – she was supposed to be nil by mouth because they were going to put her under general anaesthetic and she decided to take it upon herself, on the way out the door to start eating M&Ms that she'd stashed!"
Despite Verity continuing to be her minx-like self, and putting smiles on her family's faces when she can, she still remains poorly and is likely to be for the rest of her childhood.
Lilly added: "We've just had the worst two years of our lives, ever. The worst thing about the illness that she's got, is we don't know when it's going to ever end. If she finishes her treatment next summer, that doesn't mean that that's it done because these gliomas that children have, they only react to chemotherapy, so when you stop the chemotherapy, they start to grow again.
"Some tumours lay dormant when you get out of your teens but it's so uncertain, and that's why it's such a horrible form of cancer because they can't give you any information."
Lilly says part of the reason she is sharing the family's story is because she wants to raise awareness of childhood cancer, having noticed a lack of wider knowledge in the public and the medical field.
She explained: "We'd been turned away by A&E departments and told that there's nothing wrong with Verity, but I knew in my gut instinct, as a mother. Apparently it happens all the time with children, they don't pick up on the signs and the signals of these tumours, so I just hope we can raise some awareness."
How to spot signs of brain tumours in children
According to the NHS, symptoms will depend on the size of the tumour, where it is and how it affects that part of the brain, and some symptons will be confusing to detect as they are common in healthy children too.
Nevertheless, the NHS lists the following symptons to look out for:
-headaches (often worse in the morning)
-vomiting (usually in the morning) or feeling sick
-feeling very irritated or losing interest in day-to-day things
-eye problems, such as abnormal eye movements, blurring or double vision feeling very tired much more quickly than usual
-feeling extremely sleepy (drowsy) for no reason
-problems with balance and walking
-weakness down one side of the body