Bold new modern uniform change for Fleetwood's Flakefleet school
It's all change for a Fleetwood primary school which has made a radical departure from it's traditional uniform and opted for something more sporty.
Sunday, 28th March 2021, 2:06 pm
Updated
Sunday, 28th March 2021, 2:10 pm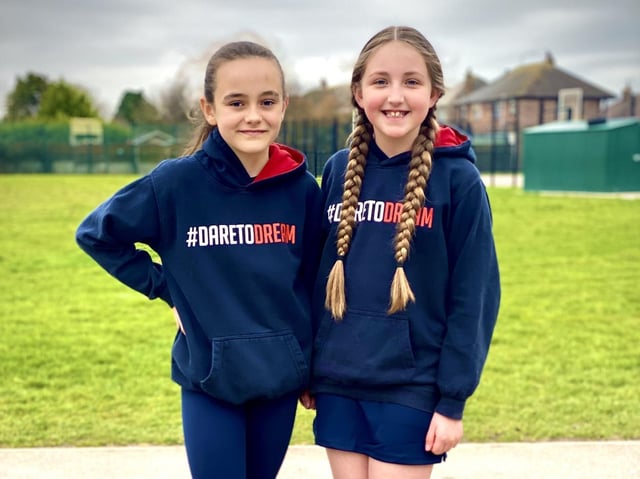 Flakefleet pupils Brooke Parker (left) and Maicey Swales model the new school unform
Flakefleet Primary School's new design has moved away from the jumper, pullover, tie and school badge and is bringing in an alternative which is more suitable for active play and puts greater emphasis on comfort.
Head teacher Dave McPartlin says the polo tops and T-shirts, matched with leggings and jogging bottoms, are most suitable for an active daily routine, especially after many children have spent months doing less exercise because of the pandemic lockdowns.
The new look seems popular with the pupils at the Northfleet Avenue school and with many parents.
Some parents are not so happy, though, and believe it is just not smart enough.
The navy and white uniform is due to come in for the start of the new school year in September but that has been extended to December to give parents more time if needed.
Mr McPartlin, who came to national attention after guiding the school choir to the final of Britain's Got Talent two years ago, brought in the motto Dare to Dream and argues that children learn better when they are happy and engaged.
The Dare to Dream name appears as an optional logo on some of the tops, including a school hoodie.
The popular headteacher said: "We have been considering changing the school uniform for many years now, because we believe there is more suitable clothing for children to wear during the day and, following a governing body meeting earlier this month, we decided to make some changes.
"We appreciate that our new clothing challenges what some parents expect from a school uniform.
"However, if we were to start all over again in schools, none of us believe that you would choose to put children in a formal grey trousers, shirt and tie as it just isn't practical for little ones.
"These new arrangements are much more suitable for the Daily Mile that all children now complete and it saves so much time for the little ones as they no longer need to get changed into their PE kit.
"We are investing heavily in sport and exercise over the coming years, having already installed a new running track, we are recruiting a Sports Apprentice and have lots of clubs and activities planned for the next 12 months."
The head teacher said concerns about the uniform costing parents more had been assuaged as there was a long transition period for the new uniform coming in, as well as payment plan.
One result of the news sporty uniform is that parents will no longer need to buy a PE kit, as the new uniform means they will not be needed as a separate item.
Mr McPartlin says the school is not selling the uniform for profit and many of the items will be available from other retailers.
He said: "Many parents seem to agree the uniform is of a higher quality than they were originally expecting."
One parent who loves the new design is mum-of-two Gina O'Neill, 34, of Winfield Avenue, Fleetwood whose nine year old daughter Seinna is a pupil there.
She said: "It's functional, it's comfy and practical and it really stands out from what other schools have.
"I think it fits in with the ethos of the school, Dare to Dream, and Seinna loves it."
But another parent, Haley Roles, 32, of St John Avenue, whose daughter Emily, seven, is at the school, said: "I don't like it at all,
"I think the original uniform with our school tie and our badge really puts my daughter in the mood for school - she can relax when she gets home.
"I also worry that with the need for pumps and trainers rather than school shoes, some pupils might get picked off for not having the right brand."
Mr McPartlin added: "I think change can sometimes be difficult but we have
made efforts to answer any concerns."