Blackpool Transport's decision to remove adverts for festival starring preacher was breach of human rights, says Judge
Blackpool Council and Blackpool Transport bosses breached the human rights of a Christian festival when they took down some adverts from the sides of buses.
Friday, 2nd April 2021, 6:25 pm
Updated
Friday, 2nd April 2021, 6:26 pm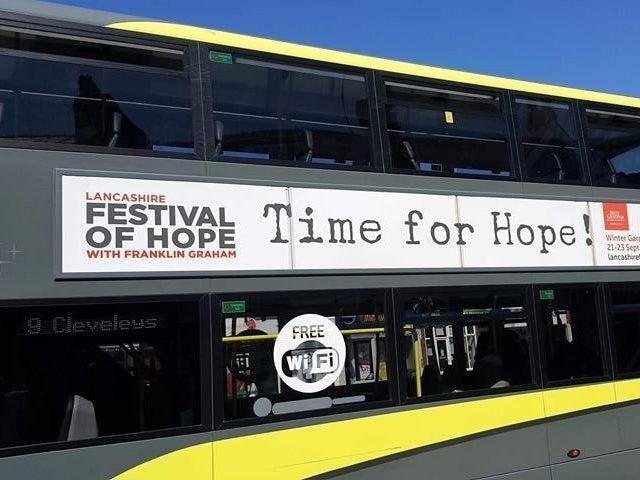 Blackpool Council and Blackpool Transport breached the human rights of the Lancashire Festival of Hope by taking down these adverts, a judge ruled
In 2018, Blackpool Transport removed advertisements for 'The Lancashire Festival of Hope with Franklin Graham' from its buses following complaints from members of the public.
Mr Graham, an American evangelical preacher and founder of the religious aid organisation Samaritan's Purse who rose to prominence in recent years as an outspoken supporter of former president Donald Trump, was booked to speak at the Winter Gardens that September.
In the county court at Manchester, Judge Claire Evans heard that, following the booking, Blackpool Council "continued to receive large numbers of complaints over the booking and the planned attendance of Franklin Graham, including from Christians who did not share the religious beliefs as to sexuality and same-sex marriage and were concerned about the effect on relations between their churches and the LGBT community, and a group of young LGBT+ people concerned about the effect his visit might have on them and society".
It was heard that Graham was 'well known for his extreme views' on homosexuality and Islam.
Shortly after the advertisements appeared on Blackpool Transport's buses, managing director Jane Cole began receiving complaints and the adverts, which did not in themselves contain anything offensive, were promptly taken down.
Festival of Hope bosses said that this was a breach of human rights under article 9, freedom of religion, and article 10, freedom of expression, of the European Convention on Human Rights. They also said that, as a result, Blackpool Council and Blackpool Transport had further breached article 14, protection from discrimination.
Reverend Stephen Haskett, of St John's Church in Central Blackpool, who is also a Samaritan's Purse trustee, said in evidence that "it felt as though it amounted to prejudice against and dismissal of the faith community. He felt as though the LGBT sector of the community... were being treated favourably over and above the faith community".
Judge Evans said neither Blackpool Council nor Blackpool Transport took into account that the removal of the advertisements may offend people who agreed with Mr Graham's beliefs that Satan is the architect of same-sex marriage.
She said: "Yes, (the festival) was still able to advertise its event and yes, it was still a success. But 'it turned out all right in the end' cannot be an answer to the question of whether the interference with a fundamental right to freedom of expression can be justified. (Blackpool Council and Blackpool Transport) had a wholesale disregard for the right to freedom of expression possessed by the claimant. It gave a preference to the rights and opinions of one part of the community without having any regard for the rights of the claimant or those who
shared its religious beliefs.
"It must follow as a matter of course from the findings I have made thus far that the Defendants breached article 14 (protection from discrimination) and discriminated on the ground of religion against the Claimant in relation to its article 10 (freedom of expression) rights."