Blackpool safety campaigner wants council to introduce four-dog walking limit after woman was savaged to death by a pack of eight dogs in Surrey
A Blackpool dog-safety campaigner says it's time to clamp down on professional dog walkers, otherwise 'it's just a matter of time before there's a serious attack' in the resort.
Watch more of our videos on Shots! 
and live on Freeview channel 276
Visit Shots! now
Darren Mason, the chairman of the Revoe Park Dog Group, lobbied the council in 2018 to introduce a four-dog walking limit in Blackpool.
The proposed public spaces protection order was dismissed by the council, as a number of professional dog walkers said it would 'ruin their business', but Darren says it is time to reconsider the rule.
When you've got 6 or 7 leads it's not safe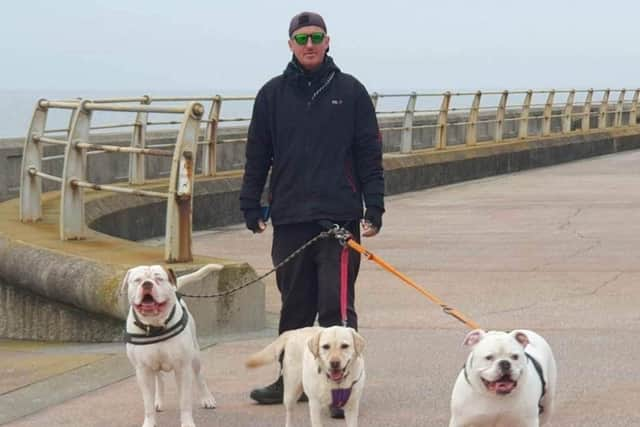 Darren, 44, who also owns the Big Dog Walker service and specialises in large breeds, said: "In light of the recent attack in Surrey [where a woman was killed by a pack of eight dogs], we need to look at this again in the interest of public safety. When you've got 6 or 7 leads it's not safe, for all sorts of reasons. When leads start getting tangled it can start causing problems, and if you are walking someone else's dog you can never be completely sure how they will react. In the eyes of the law, if you have your dog on a lead its under control regardless of how they behave."
Darren has studied banned breeds and bite prevention, and thinks it is too easy to set up a professional walking service with little understanding of canine behaviour. He is also in charge of a volunteer-run secure dog park in Revoe, which allows dog walkers to exercise their animals safely.
He added: "You can basically start up as long as you've got public liability insurance and a van. It's really taken off lately. Even when I'm walking three dogs, I've got to really know them first before I start mixing them with other dogs, because if I'm walking them and one reacts to something you don't know about then you've got a problem."
Savage dog attack is a wake-up call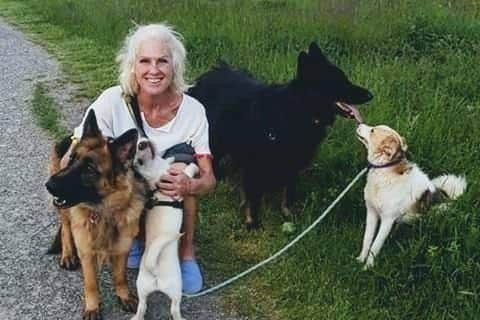 The call comes after a 28-year-old woman from London was mauled to death by some of the eight dogs she was walking in Caterham, Surrey, on Thursday 12 January.
All eight dogs have been seized by police while they determine what role, if any, each animal played in the attack and which one inflicted the fatal wound. This means the owners could be kept apart from their pets for a year during a 'long and complex process'.
Darren said: "As a dog walker, they're not your pets. You're there to provide a service, and you have to keep them safe. Those 8 dogs pick up energy and might see something and formed a pack mentality. One dog will see something and the others will generally follow."
Public consultation was unpopular with dog walkers
A consultation in 2018 looked at introducing a by-law, saying dog walkers would be allowed a maximum of four dogs at any one time – and only two off their lead.
It followed complaints over people walking an "excessive" number of dogs without being in control of them.
However, it was rejected after a backlash from professional dog walkers who said it would make their business unprofitable, and Blackpool Council said there wasn't enough evidence that would justify a restriction being put in place.
There isn't currently a limit of how many dogs can be walked by one person but there are rules around being able to control them.
The PSPO was reviewed in 2022. Blackpool Council said that no complaints were received in relation to the number of dogs being walked at one time and there had been no incidents reported in Blackpool in relation to large numbers of dogs being walked. It will be reviewed again in 2025.
Dog walker says it would make her job a lot harder
Dee Timperley, 56, has been a dog walker for 25 years. She thinks it should be down to the individual to decide how many dogs they can manage – it's about putting the right personalities together and assessing the risk.
She said: "If I have a dog that's frightened of noise, I have to think about what might happen if there's a loud bang - would it run off, or panic...so I wouldn't have more than one dog in the pack that has the same liability."
Dee, who also has five dogs herself, said a rule that only allowed four dogs would make her job a lot harder.
"It would mean me having to do about four or five dog walks instead of one. I might have some small quiet dogs that are a doddle to walk, and one big dog. I put the right personalities together so there isn't a problem. it's not about how many dogs I can squeeze in my van, but I know which dogs walk well together."
What Blackpool Council said
A Blackpool Council spokesperson said: "In 2018 we consulted the public on a range of measures when we were reviewing the Public Space Protection Order (PSPO) relating to dogs. Limiting the number of dogs that could be walked at any one time was a proposal that received opposition from members of the public and dog walkers.
"The PSPO was reviewed again in 2022. No complaints were received in relation to the number of dogs being walked at one time and there have been no incidents reported in Blackpool in relation to large numbers of dogs being walked.
"It will be reviewed again in 2025, at this stage if there is evidence to suggest that the number should be reduced we will include it in the consultation exercise so that local residents can share their views. "