Blackpool police officers perform guard of honour at funeral for 101-year-old resort woman
A Blackpool woman who died at the age of 101 had a police guard of honour  her funeral so it wasn't unattended.
Tuesday, 27th April 2021, 10:19 am
Updated
Tuesday, 27th April 2021, 10:20 am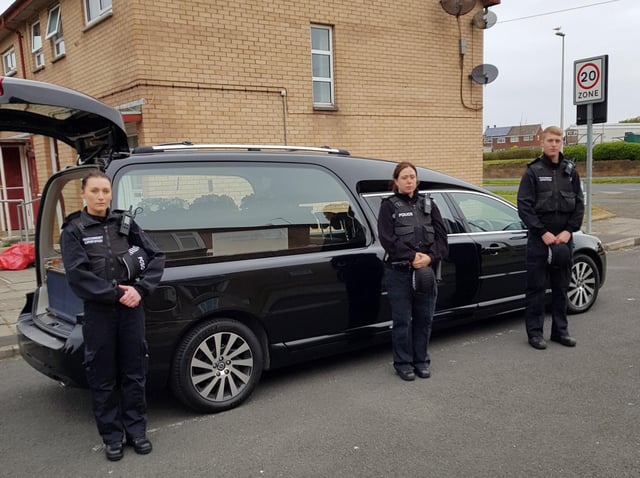 Guard of honour performed by Blackpool Police officers
Ellen Bromley lived in Tarnside, Mereside, for more than 30 years after moving from her hometown of Bradford in West Yorkshire.
Ellen, who worked at a laundrette in St Annes Road, South Shore, died on Monday, March 29, outliving all her remaining family and friends.
Her carer Pauline Field said she didn't want her death to go unmarked.
Pauline, who also lives in Tarnside and looked after Ellen for five years, said: "She was a lovely woman but she had struggled in the last few years. Her son David had died at the age of 27 and she lost her husband Ronald at the age of 97, so for the last three years she has hardly ever left her flat.
"A few years ago she was robbed and some of the community police officers would always come and check on her to see if she was okay and had any problems."
Pauline said the officers went to pay their respects at the funeral, held last Wednesday, and performed the guard of honour by the hearse.
Linda McEvilly from Care & Share Blackpool charity, which is based in Tarnside, said she wouldn't have wanted to see just one person at someone's funeral, especially someone who had reached 101, so she got in touch with the community support officers.
She had lived in Blackpool for more than 30 years
She said: "It was very good of the police to come along and pay their respects to Ellen and do the guard of honour.
"Pauline came into the shop and told us what had happened and she was very upset. She had organised all the funeral but said it was just her going so I thought I would make sure that others could be in attendance as well."