Blackpool man braves freezing waves in memory of murdered friend Danny Wise
The friend of Fleetwood murder victim Danny Wise - and the godfather of his young son - braved freezing waves as he swam from Blackpool's North to South piers in memory of the dad of one.
Wednesday, 28th April 2021, 3:45 pm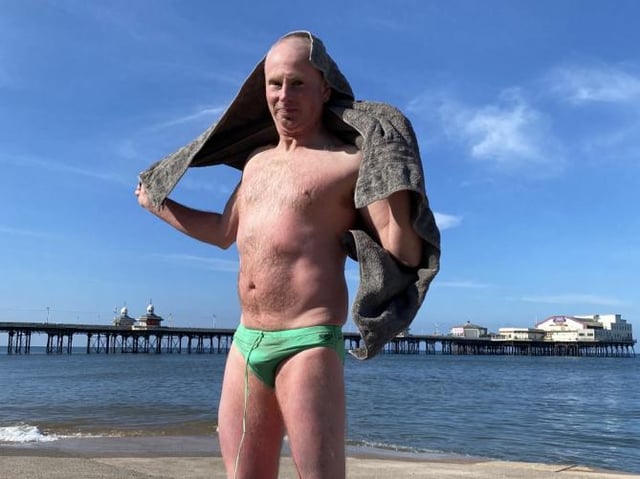 Nick White on Blackpool beach
Nick White, 39, from Frances Street, Blackpool swam 1.6 miles from pier to pier in nothing but a swimming cap and a pair of skin-tight speedos at 8.30am on Sunday, when the water was a chilly eight degrees. Usually, a swimmer would wear a wetsuit.
He said: "For many years I have done the swim from South Pier to North Pier in May or June when the weather warms up, and this year I thought I would do the swim in memory of Danny. I took Danny on a few swims with me and he thought I was mad.
"It seemed right to do it at this time because it feels like the end of everything - the court case, what happened to Danny. It was just something I had to do."
Usually swimmers would wear a wetsuit!
Nick met Danny, 32, when the pair of them were both working at the Windy Harbour holiday camp in Fleetwood in 2015.
Tragically, Danny was murdered on the morning of June 24 last year by Rhys Austin. The pair had argued on Facebook before Austin, under the influence of drink and drugs, armed himself with a hammer and a knife and went looking for Danny at the building site on Mowbray Place where he worked.
Austin, 23, challenged Danny to a fight, and threw away the hammer and turned out his pockets to prove he was unarmed. But when Danny approached him, he pulled out the knife, which he had hidden down his trousers, and stabbed him in the neck.
He was sentenced to life in prison with a minimum of 23 years following a trial at Preston Crown Court on April 19.
Nick said: "Me and Danny were completely different. He was into Eminem and rap. We were totally different and that's where the friendship grew from. I enjoyed his company; he was a good lad and when his son Harry was born he asked me, out of all his friends, to be the godfather. I was quite taken aback by that.
"I was very privileged to know him. It's just a shame what happened to him. It should never have happened, and your heart goes out to the people left behind. A lot of lives have been ruined because of this one incident.
"The saddest part of all is that there's a young lad left behind."
A memorial event for Danny will take place on Fleetwood beach on June 24, the anniversary of his death. Family members and friends will be raising money that will go towards the upbringing of Harry, Danny's three-year-old son.