Blackpool is ready to rock: Resort's shops, gyms, beer gardens and hairdressers reopen
Business owners are hoping that today marks a fresh start as Blackpool bounces back  from the coronavirus pandemic.
Monday, 12th April 2021, 7:00 am
Updated
Monday, 12th April 2021, 7:14 am
Non-essential shops were finally reopening today as lockdown eases.
And Blackpool's town centre and shops throughout the resort were expected to be busy for the first time in months as shoppers return in bigger numbers.
As hundreds of local business owners and retails reopened their doors again, The Gazette caught up with a few as final preparations were made yesterday.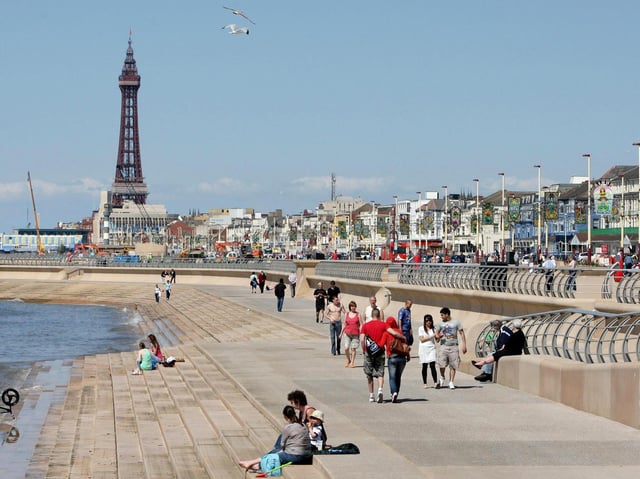 Blackpool shops, gyms, beer gardens and hairdressers are reopening
Mark Yates who owns Brooks Collectables on Waterloo Road in South Shore, said he can't wait to see and talk to customers again.
He said: "I'm excited, optimistic, nervous, and hopeful and optimistic yet I just want to see lots of customer's faces again because I'm a social animal and the last year has been very tough.
"We have made lots of changes to the shop and I hope people will like what we have done.
"Normally we travelled to find new products to make the shop interesting but this year has been a real challenge so we've not been able to do the same kind of travelling that we would do so what we've done is we have got into lots of modern hobbies in a big way.
Mark Yates of Brooks Collectables
"We've got some drone stuff coming in the summer, which is quite good fun, and we've been experimenting with at the minute and we've got Hornby trains which is the first time we've ever done trains.
"We're also going to be doing Airfix kits and more Scaletrix as well as other Corgi toys so we've got a plenty to offer it's just we are dependent on whether they shut us down again, how they let us trade and how people are going to buy."
Mark said that he has bought the largest amount of stock than ever before and will be going to 'give it everything' he has got this year.
He added: "We just hope that the people come back and shop with us. I mean we've had a lot of positives on social media about people saying we're going to come and see you through the year and we're very lucky.
Social distancing measures are in place once again in shops
"I think when hotels open, the town will pick up a lot more and I hope the novelty of being able to come back in a shop and have a look around is good but we need customers."
Mark said he has had his first vaccine and feels 'a lot safer and happier' about that as well as having a large shop so customers can social distance.
He said: "We have marked everything so customers can feel safer and there is a lot of space in here for a lot of people and because we don't get a lot of people through the door at the same time it makes it a safe environment.
"But we just want people to come back and not just for us, but for the town. It's important that Blackpool does well and people are able to carry on otherwise a lot of these businesses are going to disappear."
Hairdresser John Anthoney
As well as non-essential shops reopening, the resort's salons and hairdressers are open for business again.
John Anthoney, the owner of John Anthoney Hair on Clifton Street in the town centre said he is looking forward to rectifying some 'lockdown hairstyles'.
He said: "I think there will be definitely some colour correction jobs because there'll be people that have not been able to get their hair done, particularly female clients who have a regular colour appointment every four to six weeks, so I reckon they'll be a few of them to deal with and to rectify
"I think people might want to have a change as well and we found out last time when we reopened that people had got used to that length and wanted to keep it and try a different style. Although sometimes that would happen for the first appointment then you'd see them again the next time and they would say that was a bad move and to get it off."
John said both he and his staff have been 'super organised' in planning the reopening of the salon.
He said: "It has been nice to plan, organise and speak to the clients and we have personally rang each one especially the first three to four weeks worth of clients that we booked in which was really nice.
"We worked on an order from the first ones cancelled in January, so we can remove January to this week if you like, so we know what we're expecting, we know what kind of looks they want to go for over the phone consultations.
"So we feel really organised and prepared for this next couple of weeks, but we are pretty much fully booked until about the end of May and the beginning of June time at the minute so we can't complain."
Family-run retailer First Response Appliances on Rossall Road in Cleveleys is happy to be serving customers again after remarkably receiving some abuse for being closed.
A spokesman for the business said: "We have been working all the way through, delivering installing and repairing, it's been very frustrating and very hard work working this way ☹️
"We have had to take some abuse off customers demanding to come in and have a look at an appliance and we do understand the situation but we will not tolerate abuse, it was not our choice to close."
They added: "Stock is still on a shortage but we have been taking deliveries in and building our stock levels. The shop and warehouse is fully stocked so we should have what people need.
"We will still be 100 per cent Covid secure in the shop with our screen up, hand gel and masked and we will still be wearing PPE when we visit premises and following all government guidelines."
The Toyland Toyshop on Church Street in Blackpool town centre has also reopened its doors today.
A spokesman for the toy retailer said: "We look forward to welcoming all our customers back and hopefully greeting some new customers as well.
"As with other retailers all Covid-19 protocols are still in place, so please wear a mask , sanitize hands on entry and try to pay contactless if possible. We look forward to welcoming you all back and please support your local toy shop."