Blackpool councillor funds new 'techno-bin' at Armfield Academy after dog walkers fill up the old one!
An electronic bin that tells the council when it is full has been bought for Armfield Academy in Blackpool after dog walkers kept filling up the old bin.
Friday, 30th April 2021, 7:00 am
The new bin has been funded by Waterloo councillor Derek Robertson as part of his ward grants after he was told about the problems with the overfull regular bin at the FCAT run school on Lytham Road in South Shore.
A spokesman for FCAT said: 'Since the building of Armfield Academy members of the local community have become used to walking past the front of school on Arnold Avenue and taking the angled pathway towards Lytham Road.
"The school had initially placed one of its own litter bins at this location for Armfield students to use which has subsequently gone on to become a firm favourite with local dog walkers, keen to deposit small polythene bags in it. While this is to be encouraged, the school was finding the regular emptying of the bin was becoming an issue."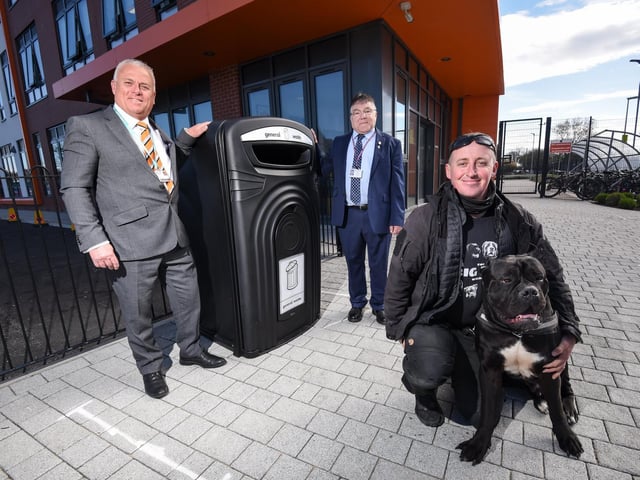 John Topping, Coun Derek Robertson and dog walker Darren Mason with Kenzo
This is where John Topping, FCAT's community relations and estates lead, stepped in to try and find a solution with the help from the Blackpool councillor.
Coun Robertson said 'I was approached by John Topping at FCAT to see if I could help out with a larger capacity street bin as the original bin, that was provided by school, was insufficient for school and local need.
"I spoke to Blackpool Council to purchase a larger bin which was paid for from the Waterloo ward budget. This bin is one of the new 'techno-bins' which has a digital sensor that reports back to the Council when it is full. The Council will then visit the site and empty the unit. The bin is there for the general public to use as it is in an ideal location to assist local dog walkers as well. It's definitely money well spent."
The larger bin now occupies the same position as the previous Armfield bin
Coun Robertson, left, funded the bin through the council ward grants
Mr Topping, said: "Councillor Robertson immediately recognised how excellence in community relationships can be developed and enhanced though Blackpool Council providing and maintaining on a weekly basis this useful community resource. Many thanks to Coun Robertson."
The council's delegated budgets scheme allocates budgets of £15,000 to each Blackpool ward covered for the financial year. The funding for this scheme can be spent on supplementing funding public services, for the benefit of the local community.
Mr Robertson, a Conservative councillor, shares the £15,000 budget with his fellow ward councillor, Labour's David O'Hara.
The bin relays a message to the council when it is nearly full