Blackpool business owners alarmed over rumours closed down hotel could be turned into 'halfway house' for offenders on parole
The Blackpool rumour mill is abuzz after hoteliers received word of a possible halfway house for offenders on parole being set up in the heart of the town's tourist zone.
Tuesday, 23rd March 2021, 12:30 pm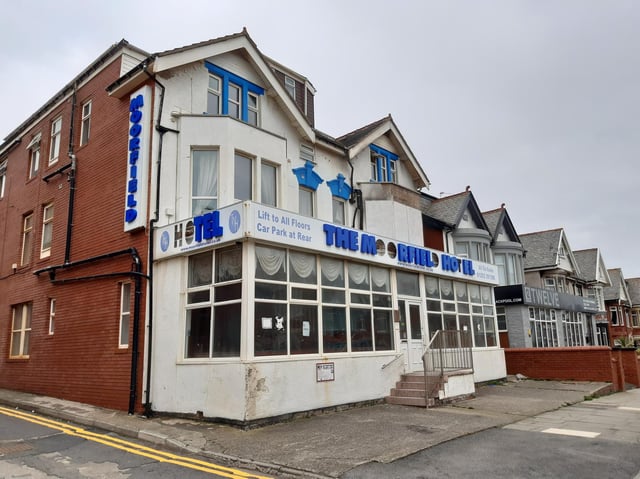 The closed down Moorfield Hotel. Picture by Dan Martino
Worried hoteliers contacted Blackpool Council, Lancashire Police and MP Paul Maynard in the hope of finding out more after it was suggested that the owner of the now-closed Moorfield Hotel on King Edwards Avenue may seek a change of use for the building.
But Blackpool Council says it has not yet received any planning application for the permanently closed former hotel.
Hotelier Ian White, on behalf of Stay Blackpool, said: "The issues in the King Edward Avenue area are significant, so when our members mentioned the suggestions relating to the Moorfield it was only right we started the complexities of separating hearsay from fact.
"It is extremely worrying when the recognised surplus of holiday accommodation can be seen by some as a licence to print money, especially when public funds are involved... Not only is the proposal contrary to what is allowed, the risk of harm to an already fragile accommodation sector is extreme.
"The proposal, whether you call it a bail hotel, a halfway house, or a hotel for ex-cons, is incompatible with the area where people pay good money to get away from their daily lives and unwind. We are aware of a similar operation in the neighbouring street which though somewhat smaller does see a regular attendance of police or other emergency service vehicles."
The group has been informed by Lancashire Police that attempts are now being made to set up a multi-agency meeting to discuss the future of the Moorfield.
Eddie Nelder, owner of Choice Hotels and The Cliffs, which backs onto The Moorfield, said: "I have a similar halfway house close to where I live in Poulton and I have never had any trouble from anyone who lives there, and I believe everyone deserves a second chance. But there are other areas which need investment, and really the tourist area needs to be preserved. It's part of the history of Blackpool, and why people find it charming."
MP Paul Maynard said: "I am aware of the concerns over the Moorfield and have already asked Blackpool Council's planning team to look into the matter.
"While the property is in a poor state of repair and urgently requires renovation, careful consideration must be given to how it is used. I worry that what I hear proposed will have a detrimental impact on neighbouring homes and businesses.
"Given the proximity of similar establishments, there is a clear case for planning official to scrutinise what is being proposed."
A Blackpool Council spokesman said: " Local residents have contacted us in regards to rumours they have heard about the future of the Moorfield Hotel. We are currently looking into this on their behalf and to date we have not received a planning application for change of use."