Big Ryan on the fundraising trail for ill pal's dream wedding
Blackpool fundraiser Big Ryan Smith is still on the trail to help make a terminally ill pal's wedding dreams come true.
Friday, 30th April 2021, 2:17 pm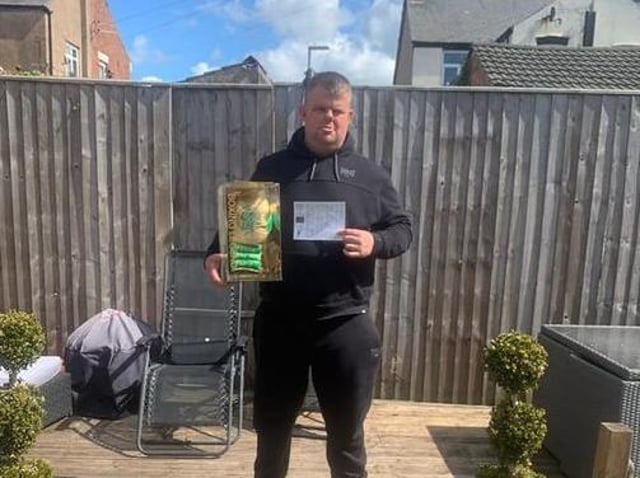 Big Ryan Smith with the signed Tyson Fury glove
Ryan, 35, of Harrowside, South Shore, is out to raise money for Michelle Jefferson-Moore, who has been diagnosed with terminal cancer but plans to have a dream wedding with fiance Ash Smith in Blackpool this summer.
It has been a tough time for the whole family but the wedding, expected to take place this August, is something brave Michelle and Ash are looking forward to.
Ryan, who is close pals with Ash although the two are not related, is planning to sleep rough on May 28 and raise funds via sponsorship.
Ash Smith and Michelle Jefferson-Moore are hoping for a dream wedding
And he has also just raised around £1,600 by organising football team scratch card game, with a signed glove of heavyweight boxing champ Tyson Fury as the glittering prize.
The glove was donated by Blackpool businessman Spencer Brown, of Gold Star Promotions.
Ryan, who organised the game with friend Calum Holmes, said: "We managed to get donations for 80 teams on the card in 24 hours and I would like thank everyone who had a team on the card.
"Let's make Ash and Michelles' dream come true!"
Mum-of three Michelle, 40, of Park Road, was told at the end of last year that she had terminal cancer.
Michelle, whose children are Brooke, 19, Ellie-Mae, 16 and LJ (Lee Junior), 12 does not know how long she has left as she endures bouts of gruelling chemotherapy.
But she and the family are determined to make the most of the time left.
So far the appeal has raised £18,541.