Angela Rippon CBE says farewell to Strictly Come Dancing but shares her fondness of Blackpool
This weekend, Strictly Come Dancing took to the Blackpool Tower Ballroom for it's highly anticipated Blackpool week.
Watch more of our videos on Shots! 
and live on Freeview channel 276
Visit Shots! now
Although 79-year-old presenter Angela Rippon CBE was eliminated whilst in Blackpool, herself and her dance partner Kai Widdrington, 28, spoke to celebrity reporter Aimee Seddon about why the town holds a very special place in their hearts.
How Blackpool brought them together
When the couples of Strictly met for the first time, they did so in a place that was significant to either one of them, and Angela and Kai actually met at the Blackpool Tower Ballroom!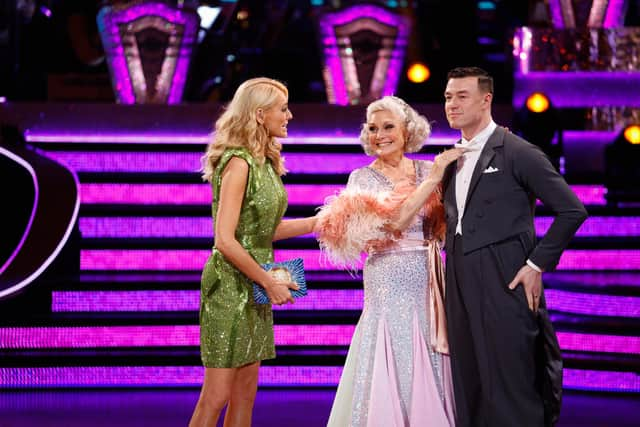 Speaking to the Gazette last week, Angela explained: "We both have quite strong associations with Blackpool – Kai because he competed there when he was an amateur – and I of course presented Come Dancing from there so I have very, very happy memories of being in Blackpool. When they decided to pair us off, Blackpool was where we met with Kai coming out of the floor on the Wurlitzer Organ which is upon the stage. Like the Demon King rising up out of floor, there he was! I haven't stopped laughing at him since."
When expressing their excitement about reaching the Blackpool week, Kai even added: "I have been manifesting it since we very first got paired together. In our VT when we met, I said 'well the stars are aligning here, you used to present Come Dancing here, I used to dance here as a little kid, Strictly Come Dancing now comes to Blackpool' and we're delighted to have now made it to Blackpool!"
Angela's memories of Blackpool
Angela presented 'Come Dancing' between 1988 and 1991 and during her tenure, she hosted the BBC show from the historic Blackpool Tower Ballroom 17 times.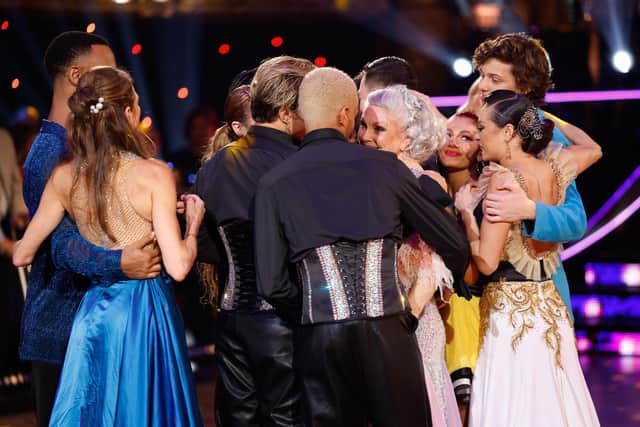 The forerunner for today's Strictly Come Dancing, the original show saw teams of young amateurs from different regions compete against rival teams in a knock out style format.
Recalling her time presenting in Blackpool, Angela said: "It is the most magnificent ballroom… they've got this amazing floor, beautifully sprung for dancers, so much so that I think they can't put the cameras on it because when we were there, they had to keep moving the camera because we were moving around on the floor and and the camera was going up and down, but it's magical.
"The other memory I've got – we always used to stay at the Grand on the front, and we used to do all of the programmes in a week so I had all my frocks, you know the glitzy stuff that I was wearing as the presenter, and one night, we had a fire alarm so everyone had to vacate. As you know, you're supposed to go immediately and I remember I went straight to the wardrobe and picked up all five or six gowns and ran out so I was standing on the front holding all these dresses so that none of them got burnt!"
Aside from the dancing, Angela later added: "The other thing I remember is that I actually got asked to switch on the Christmas lights in Blackpool one year too... I think I was followed by Red Rum!"
Kai's memories of Blackpool
Although Kai danced in Blackpool Tower Ballroom with Strictly Come Dancing for the first time over the weekend, the professional dancer has actuially performed on the famous floor many times in his two decade long career.
He previously told the Gazette: "My first memory of Blackpool, walking in there was just like, this place is just incredible. When I was 7-8 years old, it was just massive, and seeing all the guys going around in tailcoats and the girls in the beautiful ballroom dresses.
"I remember stinking of hairspray, mum's covering me in fake tan and my little partners there and we're walking on the floor. It's brilliant, but even as a kid when you're in competitions, it's not just about the dancing: you're travelling, because I'm from Southampton, five hours to get there – that's a story in itself, the journey up to Blackpool – and then you're staying in one of the BnBs and then you're on the beach and riding a donkey and all of that stuff. I have nothing but happy memories from Blackpool and it's always been a special place for any ballroom dancer."
Angela and Kai's farewell to Strictly whilst in Blackpool
Sadly for Angela and Kai, the jugdes chose to eliminate them on Sunday night, but perhaps it was apt that they got to say their farewells in Blackpool, a place so close to the both of them.
Angela told presenter Tess Daly: "I have had the time of my life, people keep making reference to the fact that I presented Come Dancing, but that was forty years ago, that was a different time! He [Kai] wasn't even born then!
"This side of the programme has been really an eye opener for me in so many different ways. Everybody talks about the team and all the pros - everyone who has danced – there is a real team spirit in this programme unlike anything I've come across anywhere else.
"They support us, they encourage us all the time – it's absolutely wonderful. But the person who really has to get the most credit is this gentleman here [to Kai]. He's an old soul on young shoulders. He's 28 and I'm 79, there's a 51 year difference in our ages. He has looked after me so brilliantly, he's a wonderful dancer, a great choreographer, but he's a terrific teacher… and he has the patience of a saint!"
Kai added: "I'm so proud of you [to Angela] and you should be proud of yourself, it's been my absolute honour and pleasure to dance with you especially in this beautiful ballroom."