Wrestling with umbrellas: when it rains, it pours… | Jack Marshall's column
As I write, it's raining. It rained yesterday, too. And the day before that. On the whole, it's safe to say that it's been a bit rainy lately, which means that it's actually been quite rainy indeed when you consider that our base-level expectations of raininess are as damp as they are owing to the fact that we all reside in a pretty rainy country to begin with.
Watch more of our videos on Shots! 
and live on Freeview channel 276
Visit Shots! now
There's always a certain fleeting moment when you're standing at the window looking out at rain, a ponderous snippet of time when you're mentally calculating more sums and equations than at any other point in your day. You're currently inside, safely shielded from the rain. But you need something from out there. From out in the rain.
The meteorological arithmetic begins. Do I really need to go out? Can the things I need wait? Just how heavy is that rain? Can I wear regular shoes or do I need to go more heavy-duty? How long is the rain due to last (spoiler: always longer than you want)? How damp-proof a coat will I need? And then, if the situation's truly dire, where's the damn umbrella?
Rain has to be really bad for me to turn to the umbrella for the simple reason that umbrellas are comfortably the most brain-bendingly frustrating things to ever be invented. Already annoyed by the awful rainy conditions? I know what'll help: a contraption designed to keep you dry but which instead inverts itself at the softest gust, leaving you not only wet, but wet and annoyed.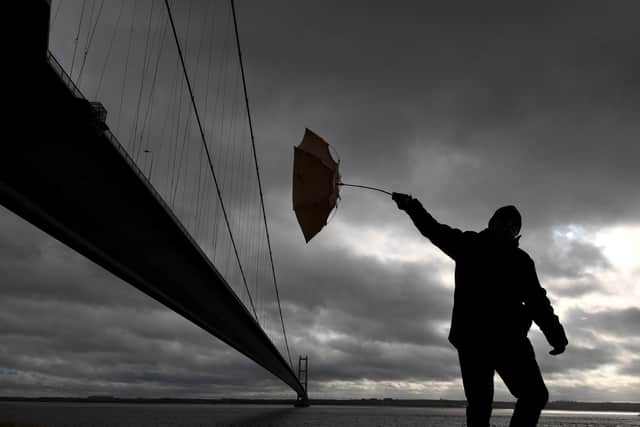 All of a sudden, you've gone from being disgruntled at having to be out in the rain, to being hot and bothered after wrestling with a skeleton of metal hinges which manage to be simultaneously flimsy and awkwardly inflexible. You're now quite wet indeed. Plus, you're embarrassed because you had a fight with your umbrella in public.
You're red-faced, unpleasantly moist, and thoroughly narked with the concept of the water cycle, the disgraceful British climate, and Rihanna for that stupid song. Losing a bout with an umbrella in the rain is one of life's most galling occurrences. But, when it rains, it really does pour.