Skin Tok: Is Banana Skin a natural alternative to Botox?
Another day, another TikTok beauty hack, and today's trend sees users using banana peel as an anti-ageing hack, claiming it a 'natural Botox'.
Watch more of our videos on Shots! 
and live on Freeview channel 276
Visit Shots! now
Experts peels back the truth...
In a TikTok video shared by @365gethappy with over 196,000 views, she claims "this is a brilliant exfoliator, it's brilliant for moisturising the skin. It's got enzymes in it which act as nature's natural Botox, so it's brilliant for fine lines and wrinkles." And it's not just her who thinks so! 'Banana Peel Botox' has over 81 million videos views on TikTok, and UK Google searches for 'Banana Skin For Face' have increased by 140%!
Medical Director of Elan Laser Clinics Dr Dean Rhobaye encourages consumers to air on the side of caution when following Skin Tok trends, citing that "if a Skin Tok hack sounds too good to be true then it probably is!".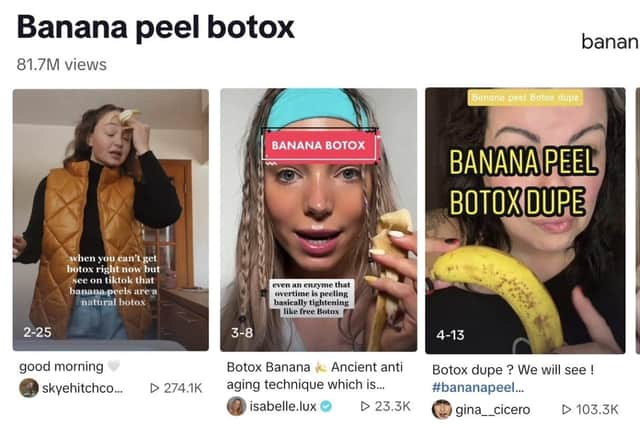 He comments, "Skin Tok trends are becoming increasingly popular, and although sound fun and create great conversation, they are rarely any match for the real thing. In the case of 'Banana Botox', rubbing banana peel across the skin put simply is no match for an injectable treatment like Botox that has been used by qualified medical practitioners for cosmetic purposes for the past 20 years, and whose results are backed by science and robust clinical data."
He goes onto say "We'd encourage consumers to really do their research before trying any cosmetic hack, gimmick or treatment that they come across on TikTok, as the results won't necessarily match the hype."
Dr Khan ABG Lab KOL, Clinical Director and MD of Harley Street says, "Banana peel is high in antioxidants, fibre and vital nutrients and contains tannins which are natural astringents known to reduce redness, tighten pores, and reduce inflammation, however there are no clinical studies to support the regular use of banana peels on our skin as safe or effective for anti-ageing.
Banana peels applied topically as a mask or extra layer could be very soothing and produce a temporary tightening action on the skin, but is not a replacement for Botox which has been studied extensively in laboratories and clinical settings for almost 3 decades.
Bananas or banana peel will not produce the same major results for wrinkle smoothing as neurotoxins, fillers, or Regenerative Therapy, since these procedures take place beneath the skin's surface working at muscular levels.
Botox blocks the nerve signals that make muscles contract, so expression lines are not able to form and the effects can last for 3 – 6 months. Banana peel does have benefits for the skin, with the compounds it contains, and in some instances with the anti-microbial qualities can help with bites, skin irritations etc, but there is no current scientific evidence to support it being a credible natural alternative to botox."
Chartered Scientist and founder of SOS Serum Skincare, Bruce Green, says, "The outer peel is rich in sugars, salts of calcium and potassium as well as vitamins A, B & C.
The interface of the peel can act as a good moisturiser with skin nutrient properties. But rubbing the banana peel interface is not the most attractive action with many stringy bits of flesh and skin that just sits there.
The biggest negative is the potential surface contamination on the peel- handling microorganisms or even pesticide residue - could cause skin break out infections, leading to a rash or rosacea.
First of all, wash your banana before peeling. Veggi Wash Fruit Too is perfect at surface grime removal - with the peel left, put it through a Nutri-Bullet or similar liquidiser and make a smooth, easy to apply, fruit mask/serum.
Apply to your face using a soft brush or cosmetic sponge – close your eyes and relax for 30 minutes.
Rinse with tepid water, pat dry and add an SPF moisturiser such as SOS H20 Day Cream SPF 30. Check in the mirror to see a fresh, rejuvenated you, and you won't have any slip ups!"