Non-league football grit vs Premier League sheen | Jack Marshall's column
At the end of the tightly-packed street was a flash of corrugated iron and breezeblock walls covered in flaking paint. Not the kind of flaking paint which suggests neglect, but the kind which comes with years of activity and use, a 'we'll-get-round-to-it-at-some-point' geniality. Non-league football is like that.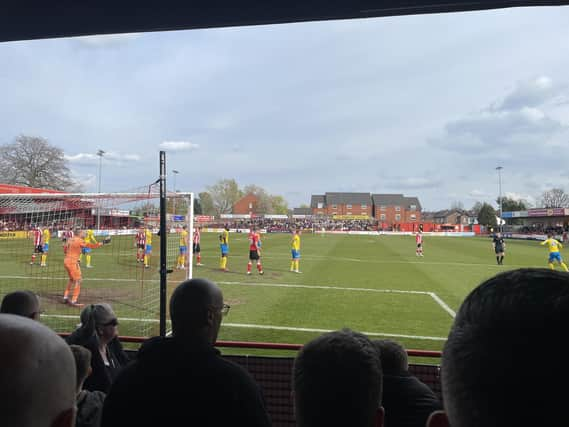 Cast under the lens of a warm Spring sun, the stadium was a sandcastle of metal in the warren of terraced housing and, in that effortlessly charming way that old stadiums do, it merged seamlessly with the humdrum of everyday life, quietly flanked by a Chinese restaurant, a weathered off-licence, and a busy barbershop.
Everything about non-league football - anything from the fifth tier of the English game and below - exists in stark contrast to the glitz, glamour, and excess of the Premier League, that honking great national pageant of ours which is beamed around the globe for its razzmatazz, bombast, and pomp. Where the Premier League is superficial showbiz, non-league is tactile and gritty.
I'm a fan of a Premier League team, and I love the firework-grandeur of the stage, the dizzying scale of this behemoth constructed around men kicking leather, the intoxicating elite vibes which radiate from every pore of the gleaming product. But that's what it is: a product. It's a golden asset cast in chrome: money, betting sponsorships, replica shirts.
Sometimes you want the real thing, the old family recipe rather than fast food, so me and a group of mates headed to a local non-league match for something which sounds lofty and lame, but which is often swamped by Premier League piles of cash - soul. And it came in the form of rumbling burger vans, rails instead of seats, and a bobbly pitch.
From the cheap pints in the clubhouse to the wall of bricks adorned with generous fundraising fans' names (special mention to the gentleman who elected for his brick to read simply 'Wayno'), there was a potent sense of connection being fostered in every part of the ground. It was community, local expression, and regional pride distilled in one central, magical place.
So let the paint be flaky. We'll get round to it at some point.