Yellowstone review: Kevin Costner's soapy new western drama takes us back to the lip-wobblin', hard-drinkin' days of Dallas and Dynasty... and not in a good way
People of a certain vintage will probably remember the days when glossy American soaps ruled the ratings – when the nation was gripped by the mystery surrounding who shot JR, or gasped in astounded amusement when Krystle Carrington shoved love rival Alexis into a pond.
Watch more of our videos on Shots! 
and live on Freeview channel 276
Visit Shots! now
It's been a long time since the days of Dynasty and Dallas, of smirking oil barons and their perma-tipsy wives, but here's Yellowstone (Channel 5, Fridays, times vary) and suddenly those days are here again.
It borrows much that will be familiar from those 80s soap behemoths – there's a ranch, oil wells, an unscrupulous patriarch, problem children and ten-gallon hats.
Meanwhile, no one is more than 10 paces away from an unsuitable romantic attachment or a bottle of booze – and sometimes both.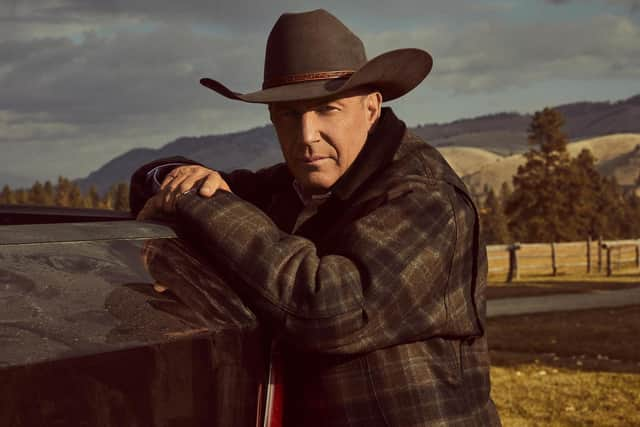 Kevin Costner plays John Dutton, the owner of the Yellowstone ranch, and a man so granite-hard and taciturn that he seems to be hewn from the mountains which surround his enormous Montana estate.
He's the type of stereotypical Marlboro man who will never use two words where one will do, and for whom ill health is mere inconvenience.
"They say you got cancer John," one associate tells him.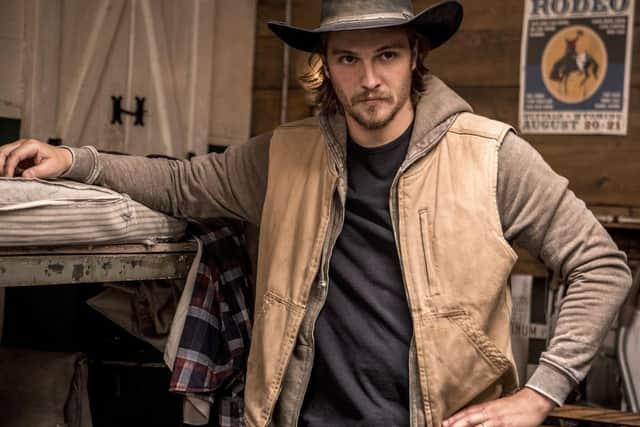 Indeed, he can still rescue his grandson from a fast-flowing, glacier-fed river a mere two weeks after a major operation on his colon cancer.
Meanwhile, elder son Jamie is letting the family down by being an oil slick of a lawyer, moving through the corridors of power in Montana's state senate. His political nous comes in useful for John's ambitions to monopolise power in his corner of this wild west, but you can tell he's a disappointment to his hard-bitten pa.
Daughter Beth is more to John's taste – a woman who combines the modern-day savvy of a city fat cat with the wild unpredictability of one of John's mustangs.
Brit actress Kelly Reilly plays Beth as a cross between Sue Ellen Ewing – all day-drinking emotional cyclone – and Alexis Carrington, a woman for who plotting and scheming is as natural as breathing.
She chews both the dramatic scenery and Montana's menfolk and knows exactly how to grab her opponents by their soft, fleshy parts.
Addressed by a slightly-miffed bar manager as both 'ma'am' and 'miss', Beth tells him: "'Miss' should only be applied to a woman younger or just approaching marrying age, which in the era this BS became common vernacular was around 13, and since I am clearly beyond that milestone and unmarried, the proper term for me would be 'maiden', but if you call me 'maiden', I'm going to stab you in the eye with this f***ing fork."
All of this, and she demonstrates her devil-may-care free spirit by strutting around the paddocks in the nude before taking a bath in a water trough while swigging from a bottle of champagne.
Yellowstone has movie pedigree, not just from Costner, but also writer and creator Taylor Sheridan, an Academy Award-nominated screenwriter, with credits including Sicario and the modern-day western Wind River, which is well worth watching.
Here though, he veers all the way through soapy melodrama and comes perilously close to parody. This is a world where men in suits are to be, at best, mistrusted and more often openly despised. Where women are either wild animals or downtrodden house cats, and where disputes are settled with fisticuffs and the crack of a lariat.
It uses narrow-eyed, tobacco-chewing staring off into the middle distance or attention-grabbing histrionics for emotional heft and uses Facebook meme standard slogans instead of coherent dialogue.
"It's hard to measure 'almost'," Rip, the taciturn cowboy with the tender heart, says, "cos 'almost' doesn't matter."
Taken as a rural reboot of those glossy 80s soaps – all outlandish plots and Machiavellian machinations – Yellowstone works, but as a generational drama of complexity and ambiguity – to which is seems to aspire – it is a big helping of something you might find on a stable floor.