Review: Why the Eurovision Song Contest is the perfect pop party for everyone
Get ready for the Edgar Allan Poe revival – never mind the books, there'll be Murders in the Rue Morgue mouse mats, Red Death face-masks, Tell Tale heart-shaped pendants.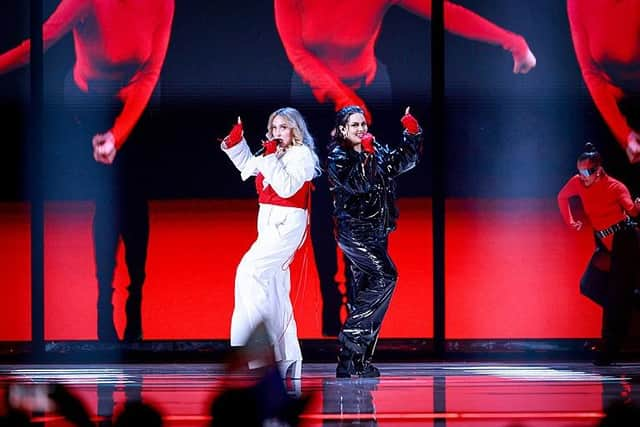 And why would we suddenly develop a mania for a slightly morbid early 19th century literary lion?
This year's contest is being held in Liverpool, after the UK finished runners-up to Ukraine in last year's Europop-athon and it was decided that a full-on European music jamboree was not the kind of thing you held in an active war-zone.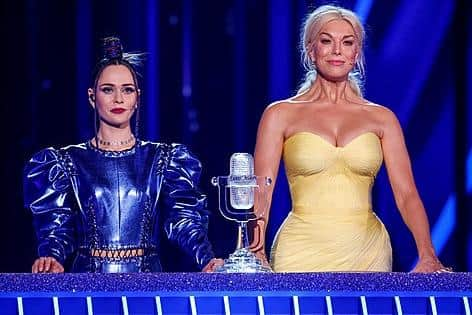 Fortunately, the festivities in the waterfront arena pay respectful nods the country which should be hosting this continent-wide parade of colourful eccentricity, with interval entertainment in this week's semi-finals (BBC1, Tues/Thurs, 8pm) paying full tribute to the victims of the appalling conflict with Russia, and the video 'postcards' which introduce each act – which usually just feature the sights of the host country – being filmed in the UK, Ukraine and the act's home state.
Meanwhile, semi-final host and Ukraine rock royalty Julia Sanina carries the flag in the arena alongside Ted Lasso's Hannah Waddingham and the ubiquitous Alesha Dixon.
Waddingham, in particular, looks to be having an absolute whale of time, speaking fluent French, hitting incredible high notes – she's an acclaimed musical actress – and generally coming on like she's three Chardonnays in at a particularly entertaining wedding reception.
And her sense of fun is infectious – Dixon roves among the contestants chatting and laughing, while Sanina throws herself into it with abandon.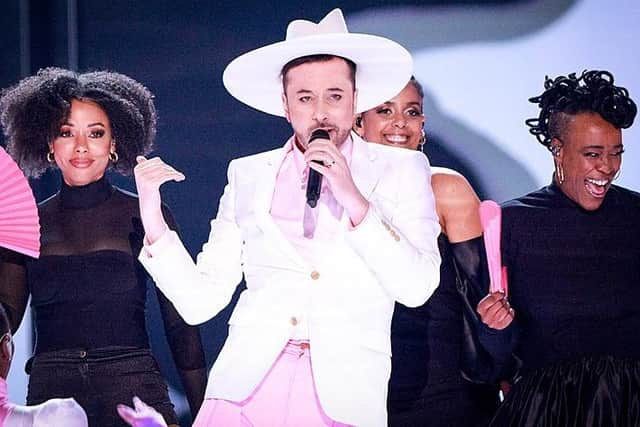 Meanwhile, the commentary team in the booth for the semis – Rylan and Scott Mills – mix the appropriate levels of snark with informational nuggets about the acts and a clearly heartfelt affection for the whole gaudy farrago.
The songs bidding to get into tonight's (Saturday) final themselves run the usual Eurovision gamut from low-tempo chuggers to midtempo chuggers to uptempo chuggers, but they're all lifted by the incredible staging.
Illuminated boxes, haunted pianos and pyrotechnics all loom large, as does that guy Poe. Austria's entry this year is an extremely catchy ditty called Who the Hell is Edgar? about being possessed by the spirit of the doomy wordsmith, and featuring a refrain which runs 'Poe, Poe, Poe, Poe, Poe, Poe...'
Trust me. You will not be able to get it out of your head.
Yes, you could dismiss it all as lightweight, pop candyfloss, but Eurovision is genuinely much more than that.
At a time when there are divisive forces across the continent, it offers a chance for everyone to come together, and be 'united in music' – this year's slogan.
Yes, you can be as uncomplimentary as you like about Moldova's entry – a slightly dirty-looking hot yoga instructor – or Belgium's camp pop Mountie, but you can't deny the sheer frothing joy bounding out of the screen.
A drag queen act in Thursday's second semi-final captured it best; a whole electro paean to being yourself and living your best life – joyously colourful and ever-so-slightly corny. But then, Eurovision is like that – there isn't a cynical bone in its body.
As Rylan said: "Whether you love rock, pop or dance, whatever your background, race, gender, sexuality, everything; the party is open to everyone."
Dalgleish (Channel 5, Thurs/Fri, 9pm) is a beige, slow-paced, 70s-set antidote to the cavortings in Liverpool. Bertie Carvel plays PD James' cerebral detective as the quietest man alive, but stays so still and calm your eyes are inexorably drawn to him. It's faithful to the books, and is a mark of quality among Channel 5's usual drama dross.
Race Across the World (BBC1, Weds, 9pm) came to a thrilling conclusion this week, and it's testament to the clever casting and editing that you came out thinking all three remaining couples were the winners. A really great watch