Raising a glass and a tent peg writes Andy Mitchell - Wednesday, April 28, 2021
As Saturday nights go, it might just have been 1975 again. A mate's  barking mad idea to try out his new tent on our back lawn, in view of the fact that he didn't have a lawn of his own seemed plausible enough.
Wednesday, 28th April 2021, 12:30 pm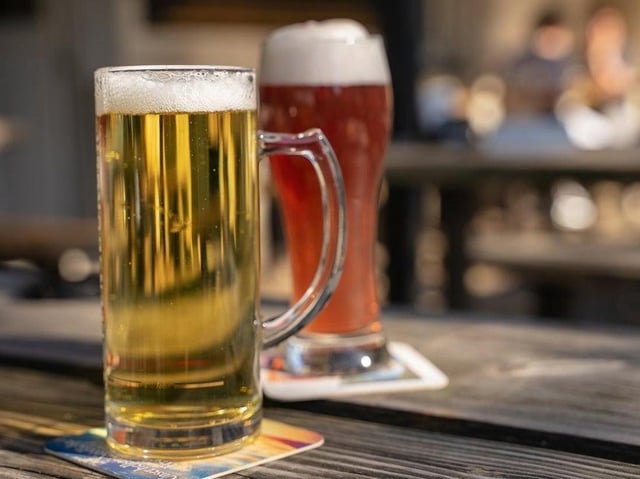 Beer
What neither of us had foreseen was how long it would take to put the thing up. Now, the copious amounts of beer consumed in the garden on that barmy afternoon may have had a bearing on our ability to even attempt such a feat of engineering.
This tent had been acquired for about 40 quid from one of those international supermarkets... you know the ones, where the tinned peaches are conveniently positioned next to the chain saws.
It arrived in a small bag of the size you'd take your PE kit in to school. After we'd unpacked everything and laid it out, we might have needed the entire pitch at Bloomfield Road.
Now as any bloke will tell you, all you need to complete a job like putting up a tent, is a few beers. The rest will sort itself out. Apparently the whole thing came with an instruction booklet, which was quickly lost under a mass of canvas, tent pegs and empty beer bottles. The first thing you discard at the start of adventures liked these are the instructions.
So anyway... two hours later, a few more beers, and the apparent loss of "supporting rod A" and "connecting clasp B" seemed completely incidental.
We'd started this caper at around 6pm. What heat there was on Saturday afternoon was fast diminishing. It was sort of completed by about 10pm. I'd been up for work at 4am so it was an early night in the slumping temperatures. Mrs M thought we were barmy, adjourning to the warmth of the house whilst promising to leave the back door on the latch in case it all got far too cold at 3am.
The tent that took three hours to build was collapsed in less than 20 minutes. As predicted, it was impossible to fit it all back in the tiny bag it came in.
I'm pleased to report I survived my outward bound adventure and now looking towards repeating it again next weekend.
Mrs M says the back door will be locked next time.
Thanks for reading. If you value what we do and are able to support us, a digital subscription is just £1 for your first month. Try us today by clicking here