Partygate review: Channel 4's Downing Street lockdown drama Partygate is enough to have you taking to the streets
This being the week of the Conservative Party conference in Manchester, you may already have been quietly fuming over years of broken promises, announcements of tram lines which already exist and general dog-whistling over phantom meat taxes.
Watch more of our videos on Shots! 
and live on Freeview channel 276
Visit Shots! now
Watching Partygate (Channel 4, Tues, 9pm) might well have tipped you over the edge into red-faced, vein-popping fury.
Wrapping an iron fist in a comedically velvet glove, this sort-of drama-documentary told the story of No.10 Downing Street during the Covid-19 lockdowns of 2020 and 2021.
At a time when the Government was telling us all to stay indoors to protect the NHS, as deaths from this pandemic strain of coronavirus climbed into the hundreds every day, as doctors lived away from their families for fear of passing on the virus, we now know that politicians, civil servants and hordes of so-called 'special advisors' were having drinks parties, soirées and 'work events'.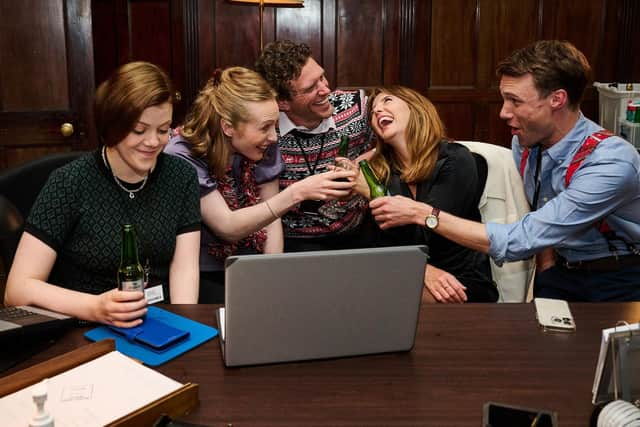 Partygate followed the ligging, the boozing and, yes, the vomiting through the eyes of the fictitious Grace Greenwood (The Chronicles of Narnia's Georgie Henley), a newly-arrived SPAD in the Brexit unit.
An outsider from the frozen North, well Darlington, she is desperate to fit in with the Oxbridge Joshes, Cleos, Rorys and Alices she finds inside No.10. Initially happy to go along with the lockdown parties, her rosy view of political life – and 'the boss', Boris Johnson – gradually decays into something rotten as Downing Street life becomes divorced from the reality elsewhere in the nation.
Largely made up of vignettes, each scene of Downing Street debauchery is underscored by lines from the infamous Sue Gray report into the lockdown parties, adding a deadening, deadpan note to the chaotic scenes we watch unfold.
"A panic button was accidentally triggered" as a drunken oaf staggers back against a wall, for example, or "social distancing did not happen" as yet another 'leaving do' occurs.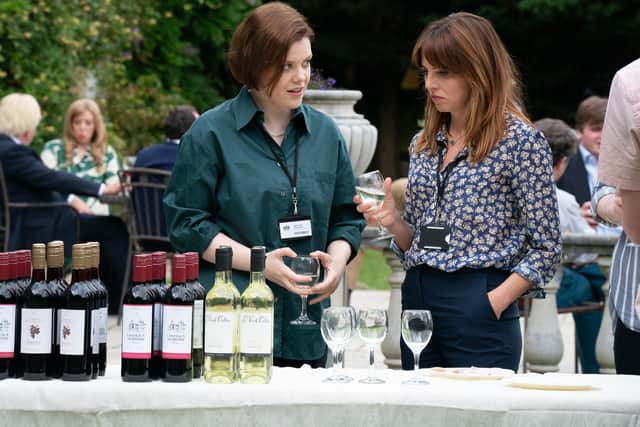 Meanwhile, actual footage showing what the Government was telling the nation is juxtaposed with what was going on behind closed doors.
"You can spend time outdoors and you can meet one person outside your household in a public place provided you stay two metres apart," Oliver Dowden announces at a press conference, before the action immediately cuts to dozens of Downing Street wonks milling about holding glasses of champagne, immediately followed by actual footage of police breaking up a very similar gathering outside.
The dramatised sections are played like a Whitehall farce – and the presence of Ophelia Lovibond and Hugh Skinner in the cast, indelibly linked with that perfect comedy of workplace manners W1A perhaps doesn't help – but that's the velvet glove.
The iron fist which punches you straight in the solar plexus comes in the form of direct testimony from people who found their lives derailed by the pandemic.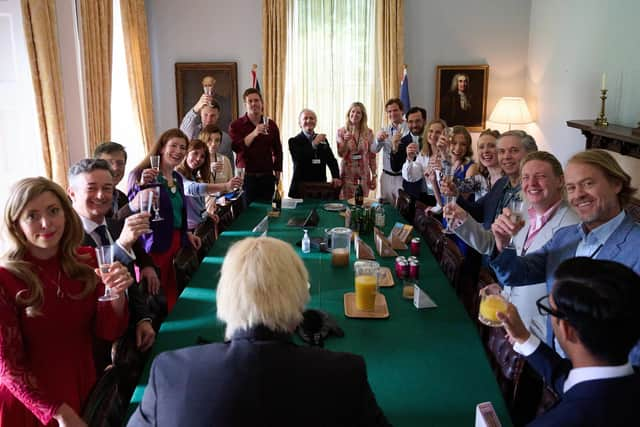 There are ordinary people fined more than £10,000 for organising lockdown parties in garden sheds, or snowball fights in local parks, there are ordinary people who couldn't say goodbye to dying relatives for fear of breaking lockdown rules, and ordinary people who have to go through funerals in the absence of supporting friends and family.
This disconnect in styles – the direct, forceful, emotional words of ordinary people, contrasted with the farcical scenes inside Whitehall – serve to emphasise the gulf between what Downing Street was saying and what Downing Street was doing.
A disconnect summed up by Annabel D'Acre – another creation, played by Lovibond – who says: "People need boundaries. They respond well to boundaries and it's our job to give them those boundaries... but they're not meant for us. It's our job to make the rules, it's not our job to follow the rules, it's not realistic."
And there's the rub. They make lockdown rules, but don't follow them. They haven't made a decision on HS2, but they have. They're against councils controlling our movement, but they don't.
Partygate is emblematic of the way Government takes the nation for fools. And if that doesn't make you utterly furious, nothing will.