Gone FIshing review: I'd rather go fishing with Paul and Bob than anywhere with Gordon and Gino
Like many men of a certain age, I have a small group of close friends – fewer than a handful, really – that I have known since school.
Watch more of our videos on Shots! 
and live on Freeview channel 276
Visit Shots! now
Every so often - when families, jobs and time allow - we will all head to the Lake District to meet up, go on a walk and spend of the rest of our time eating and drinking.
Over the years, each of us has faced the challenges of life – bereavement, mental health problems, redundancy and unemployment, family issues, the usual list – and we have all tried, with varying degrees of success, to help each other.
Our relationship – I hope, anyway – is like that of old pals Paul Whitehouse and Bob Mortimer in Gone Fishing (BBC2, Sun, 9pm), chewing the fat aimlessly, allowing nature and the comfortable, companionable silences of old friendship to silence unruly minds and bring some calm and balance back into our lives.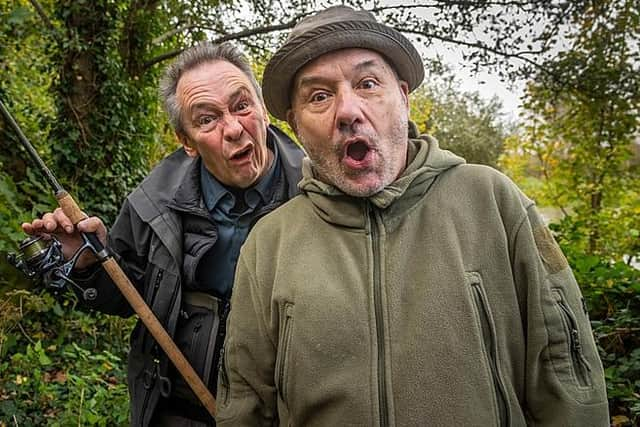 Watching Gone Fishing is 30 minutes of that, and acts as a booster jab of serenity in busy lives.
It's a fishing show that's not about fishing. Yes, there are references to free-lining and bait, but this is a show about finding peace in simple things, allowing yourself to calm down and open up.
In this week's first episode of a sixth series, the pair meet Dave Lyons, the founder of Tackling Minds, a group which uses fishing as therapy for mental health problems and addiction.
Dave sums up the beauty of Gone Fishing, when he says: "The fishing's sort of secondary to the camaraderie of the service users... everyone goes away with a huge smile and you see the benefits people get from each session."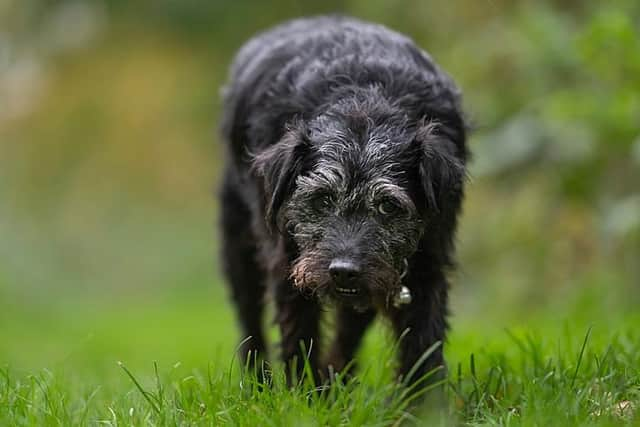 It rarely goes where you expect it to go, the jokes are never the obvious ones and the clear delight Paul and Bob take in each other's company is a tonic.
They talk about Bob's arthritis and the effects of ageing, whether or not Bob looks like a potato, and the differences between small talk and large talk. There's also a running gag about Ted – the Patterdale terrier that serves as the show's mascot – and his legendarily raucous birthday parties.
It's a wonderful show, and if it allows more men to relax with each other, to be themselves, to open up, it will have done more good than most shows on TV.
Take Gordon, Gino and Fred: Viva Espana (ITV, Sun/Mon, 9pm) for example.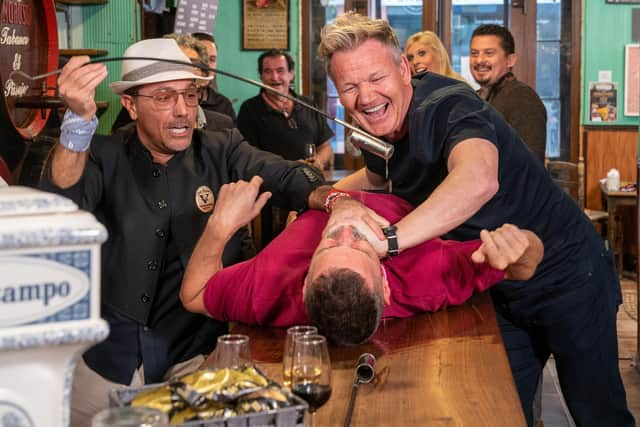 This is not the first crime against either TV or Europe these three have perpetrated, but you do wonder how they keep getting the opportunity.
There is booze, banter and at least one of them ends up naked in every episode. No cliché – sangria, flamenco, sun and sea – is left unsaid, and if an innocent object can somehow be related to male genitalia, it is. Meanwhile, almost everything ends in a competition, whether who makes the best waiter, who makes the best tapas or whether or not Gino can make paella without Gordon's supervision.
It's all about the banter, of course, which usually involves Gordon doing the other two down, and where psychological insight is exchanged for jokes about the size of Gino's gentleman's arrangements.
There is one sequence where they talk about whether Gordon's late father would be proud of them and like the food they cook.
"You always ask yourself," says Gordon, "coming from Glasgow, would my dad have approved, would he have liked it. I don't think he would have understood it."
You feel this might have been worth a deeper insight – the gap between our parents and ourselves, what our parents think of us – but we're soon back to bullrings and back-slapping.
While Viva Espana and Gone Fishing share some DNA – old pals, out in the open air, having a chat – one show constantly reinforces masculine stereotypes, while the other constantly subverts them.
My friends and I will be in the Lakes in October, and we'll be aiming to be more Paul and Bob, and less Gordon, Gino and Fred.