Nolan sisters "like excited school kids" as very special plaque is unveiled
A blue plaque commemorating the Nolan sisters has been unveiled at a popular Blackpool hotel.
Watch more of our videos on Shots! 
and live on Freeview channel 276
Visit Shots! now
A blue plaque commemorating the Nolan sisters has been unveiled at a Blackpool hotel where they launched their careers fifty years ago.
Coleen, Anne, Denise, Maureen and Linda gathered at the Cliffs Hotel, where the siblings performed their first show on Christmas Day 1973, after which, the Nolan Sisters went on to find global stardom. The singing sisters were joined by the youngest Nolan, Coleen, in 1980.
The Nolan Family's blue plaque was  installed through Blackpool Civic Trust and officially unveiled by Deputy Mayor Major Adrian Hoyle.
It states: "The Cliffs Hotel was where the Nolan Family were discovered in 1973. The family of five sisters; Bernadette, Anne, Linda, Maureen and Denise, and two brothers Tommy Jnr and Brian, emigrated with their parents; Tommy Snr and Maureen, from Dublin to Blackpool before having their eighth child, Coleen.
"The Nolans had major commercial success in the entertainment industry and had seven international hits. Kindly donated by family and friends."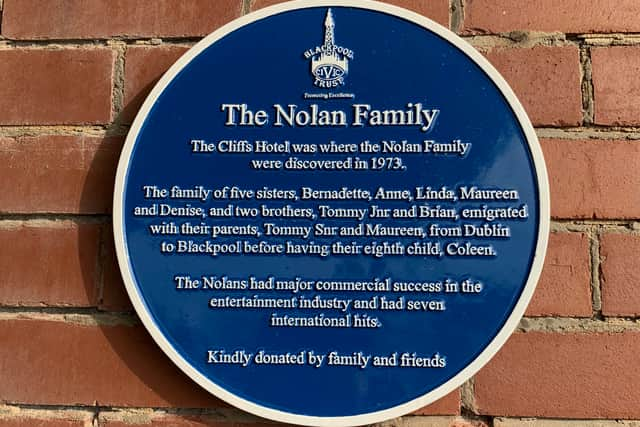 The idea for the plaque came from Coleen's son Jake. Members of the Nolan family all chipped in towards the cost of it while keeping it top secret from the sisters.
Linda told us: "We were all so excited when it was put to us about the plaque.
"It was down to our nephew Jake, who got in touch with the hotel and the council.
The Deputy Mayor made a lovely announcement and when they unveiled it  we were like excited school kids.
"It's the kind of thing you read about happening to other famous people and it was happening to us. It was lovely that it was at the hotel where we performed our first show before we were taken down to London."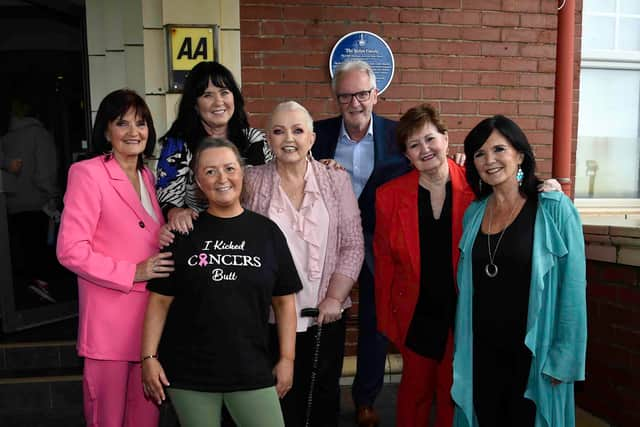 Joan Humble, Chair of Blackpool Civic Trust was there to see the plaque unveiled and meet the famous siblings. She said: "It was exciting - so many of the Nolan family were there and they deserve this plaque.
"They go back a very long time in the entertainment industry.
"There were lots of people there who were congratulating each other. 
"The hotel was where they were discovered and then they went on to have a fascinating career.It was a good day and I thank the deputy mayor of Blackpool for coming along and unveiling the plaque. 
The Nolan family lived in a terraced house in Waterloo Road in Blackpool after emigrating there from Ireland and they often performed at the nearby Waterloo Road Working Men's Club.
After unveiling the plaque the Nolan Sisters were joined by DJ Pete Schofield in the ballroom, where they once again gave a performance at the hotel.