Ibis Hotel steel fencing blows into Promenade in heavy winds prompting firefighter response
A large metal fence blew off the Ibis Hotel onto the Promenade at Talbot Square, Blackpool this morning, sparking a 999 call-out.
Tuesday, 4th May 2021, 3:10 pm
Updated
Tuesday, 4th May 2021, 3:12 pm
The fencing had blown away from the hotel, formerly the Clifton, which is surrounded by scaffolding while undergoing a £400,000 facelift.
The renovations come five years after heritage guardians first raised concerns about the neglected state of the building after cracks developed in the walls.
Work will include essential repairs to the external facade and structure including full redecoration plus re-rendering to significant areas.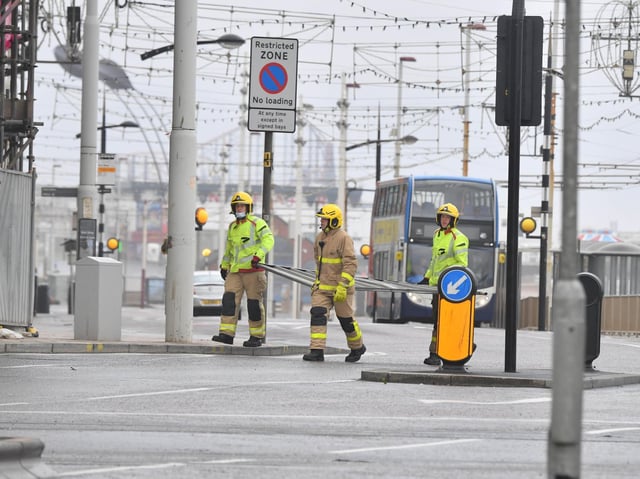 Firefighters were called to retrieve a large piece of steel fencing from the Ibis Styles Hotel in Blackpool.
Timber will also be repaired, brickwork and stonework will be repointed at high levels, and new drainage infrastructure will be installed.
The replacement of slate and flat roof areas will also be included.
But the steel fencing surrounding the Ibis site could not stand up to the strong winds on the Prom this morning, forcing Lancashire Fire and Rescue to retrieve it from the road and secure it.
A spokesman said: "We sent a fire engine from Forest Gate station to the Promenade at 6.35am to remove a sheet of corrugated fencing from the road.
Firefighters work to secure the steel fencing surrounding the Ibis Hotel in Blackpool.
"Firefighters picked up one piece of fencing and ensured the site was secure."
Some £178,300 of the £400,000 renovation costs came from Blackpool Council, which funded the works from its Quality Corridors Property Improvement Fund (PIF).
The fund is part of Lancashire Enterprise Partnership's Growth Deal Fund and the Local Transport Fund.
It was hoped the investment would help attract new operators to the ground floor units in the property, which have been empty since former venues Che Bar and Coco Club closed.
One engine was sent to the scene.
Accor, owner of the Ibis Hotels group, was contacted for a comment.
A piece of steel fencing was blown into the road on the Promenade prompting a 999 call-out.