"Renovation isn't the solution to the problem it's not the buildings- it's the people." Readers have their say on Blackpool Central Drive master plan
Readers have shared their reaction to a 25-year blueprint for the Revoe area and surrounding neighbourhoods which hopes to transform Blackpool's Central Drive.
Monday, 1st March 2021, 1:50 pm
The area is known to have some of the worst pockets of deprivation in England - more than a third of residents of working age claim employment benefits and roughly a quarter suffer from long term illness.
But a public consultation that took place as part of the plans identified a 'strong sense of pride' in the area.
The initial phase of this master plan, to create a sports village with links to Blackpool Football Club, looks promising with a potential £5.5m funding boost from Blackpool's Town Deal.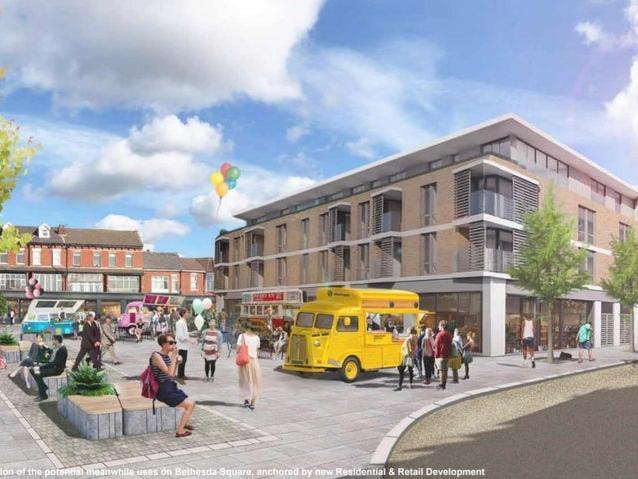 Artist's impression of Bethesda Square.
Street art and installations, a new-look Library Square, and new, modernized buildings for Revoe School could be in the pipeline as part of the plans.
Manchester-based GL Hearn consultants worked with residents and the Revoelution committee as part of a consultation.
Some were critical of the plans:
The proposed 'Library Square'.
"Renovation isn't the solution to the problem it's not the buildings it's the people." Sam Curtis
"Bulldoze the lot." Stephen Whitehead
"Needs flattening and rebuilding." David Jackson
"Central DIVE more like, as others have said it's the people around said area that's the problem." Emma Jayne Causer
Artist's impression of the new-look Central Drive
"More chance of plaiting snot than seeing this happening." Kim Burns
Others were cautiously optimistic and some criticised the naysayers:
"So many doomer and gloomers when it comes to anything that slightly improves Blackpool." Stephen Cook
"It's great to see Central Drive getting some investment. Long overdue and much needed. Hopefully it will have significant positive impact to revitalising the area." Brendan Bunting
The proposed sports village at Central Drive
"Hooray but not holding our breath. They could still make a pig's ear of it. Flatten it, and make a decent shopping area. I remember years ago they were going to make Birley St into a Parisian Avenue with trees and outdoor cafes. Only got a 3rd of it done." Dareen Stokes
"Undesirable people? You mean the poorest most vulnerable in our society? They don't deserve pleasant spaces and surroundings? What an unpleasant world view." Sophie Choudhury
"I grew up around there until I was 13 when it was all houses instead of flats, the only takeaway was a chippy and a Chinese. The area is a dump these days." Derek Haigh
"That would be so nice to walk down there without fear." Lynny Hartley