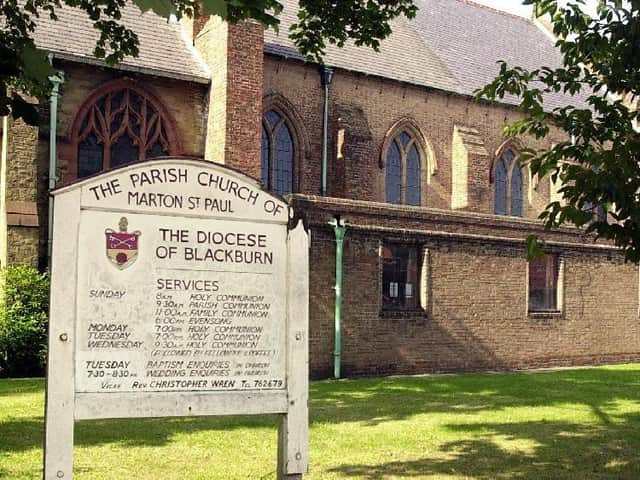 St Pauls Church, Marton
Thirty eight-year-old Angela Dube drove over graves and collided with headstones leaving a trail of damage estimated at £10,000.
Dube of Greenfinch Court, Blackpool, admitted causing criminal damage to the graveyard at St Pauls Church, Marton, and criminal damage valued at £351 to a garden fence.
Pam Smith, prosecuting, at Blackpool Magistrates Court told how police were called to a report of a Vauxhall Astra car parked suspiciously at the church.
When they arrived at 130 pm they found Dube and a man naked in the vehicle.
They checked the car And discovered it was not insured. Dube suddenly drove off leaving ttyre tracks over graves, hitting grave stones and leaving debris from her car in the graveyard.
Officers tried to stop her reckless driving and had to block off exits with their vehicles before she finally pulled up after 20 minutes and was arrested.
In a statement to police the secretary of the parochial church council Ian Rushton said: "Over 12 graves had been driven over.I estimate the damage to be worth £10,000."
One woman went to the church to place flowers on her mother's grave the magistrates were told.
In a statement, Mrs Paula Bamber said: "I found damage to her headstone .I was very upset and its caused me deep distress."
"The place was no longer sacred to me. It shows disrespect."
Dube's lawyer, David Charnley, told the hearing: "She is showing visible remorse for what she did. She has now distanced herself from the peer group she was involved in and her lifestyle has improved."
Magistrates adjourned sentence on Dube.