Prosecution slams string of lies told by Fleetwood man Rhys Austin as he stands accused of murder of 'love rival'
The prosecution and defence have summed up their cases in the murder trial of Rhys Austin, who stands accused of stabbing Fleetwood man Danny Wise to death in an alleyway.
Monday, 19th April 2021, 1:48 pm
Updated
Monday, 19th April 2021, 4:38 pm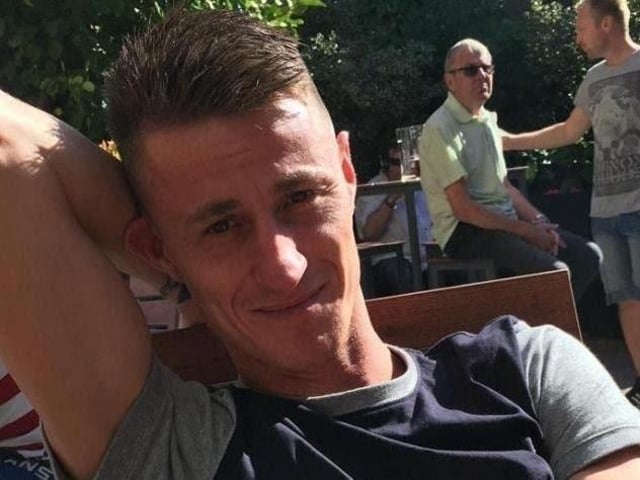 Danny Wise
Austin, 23, of Broadwater Avenue, Fleetwood, pleaded not guilty to charges of murder and manslaughter.
It is alleged he deliberately killed dad-of-one Danny Wise, 32, following an argument on June 24 last year.
The jury at Preston Crown Court heard how Austin and Mr Wise had exchanged threatening text messages in the hours leading up to the killing. Austin believed Mr Wise was pursuing his girlfriend, though Mr Wise told him "I don't even know (her)".
Austin left his friend's Chatsworth Avenue home at around 7am and cycled to Mr Wise's place of work, a building site on Mowbray Place, where he told witnesses he was looking for Mr Wise.
He returned to the site at around 8am armed with a hammer and a knife, and challenged Mr Wise to a fight as he arrived in a friend's car.
He dropped the hammer in the road and turned out his pockets to prove he was unarmed, though unknown to Mr Wise he had a 14cm knife hidden in the waistband of his trousers. The two men were caught on CCTV walking into a nearby alleyway, where it is believed Austin stabbed Mr Wise in the neck just five seconds later.
He claimed he had no memory of the killing due to being under the influence of alcohol and drugs at the time.
Tim Evans, prosecuting, said: "In drink and in drugs this defendant twice went to the building site, repeatedly threatening to kill, and killed. That is no accident, and self defence doesn't come into it.
"(Austin) claims he was 'out of it'. What exactly does that mean in the context of this case? You may all have come across people who were out of it on drugs, staggering around, not able to walk, falling over and face down in the gutter. Austin doesn't match that definition one iota. He was not a danger to himself. He was a danger to Danny Wise. He could ride his bike, he could ride one-handed... he's not so out of it that he couldn't find his way to the building site. On one occasion he found his way by going through a back alley. He could ride through narrow gaps at speed.
"You need wherewithal to play that wicked trick (of dropping the hammer). That's not someone who was out of it. That's someone who has seen people responding to him having weapons, and reacting to it in a calculating way.
"He wasn't so out of it that he was unable to recognise Danny Wise. Instantly he was waving at him and shouting 'come on, come on'. A drunken intent is still intent. He intended to kill, and he killed."
Mr Evans disputed Austin's claims of memory loss.
"He remembers, or so he claims, Danny Wise coming at him with his hands in fists. He's able to talk about innocuous things... he remembers that he has ridden off with his friend, Shaun Sullivan, and where he has gone with him, and he remembers what Shaun Sullivan said, and what he said to him. That was only a few minutes before he got to the site. But in the moment, he suddenly can't remember anything at all except Danny Wise acting in an aggressive way."
Moving on to the subject of the threatening text messages exchanged between Austin and Mr Wise, he said: "These text messages were bad on both sides. Both of them were talking about violence and settling it with a fight.
"Austin visited the site (on Mowbray Place). The witnesses who saw him heard him say 'he's been messaging my girlfriend', 'I've got a 12 inch knife', 'I'm going to fill him in', 'I'm going to slit his throat'. That was his plan.
"He knew very well that he had got the knife when he played that wicked trick. He kept it concealed until he wanted it. He couldn't have gone into that fight with a knife tucked down his trousers because to do that runs a risk of fatal injury not to Danny Wise but to himself. So that knife was always going to be used."
Witnesses described how Mr Wise crouched down as if to rugby tackle Austin after approaching him in the alleyway. Austin then appeared to give Mr Wise a 'girly punch' to the side of his neck. In fact, he had stabbed him.
"As Mr Wise crouched down to try and take him, that's when the stab happened - right at the beginning," Mr Evans said.
"What does (Austin) say? 'He came at me swinging punches'. No he didn't. 'Several landed on me'. That's a lie. 'I tried fighting back but he was much stronger'. That's a lie. 'I probably had the knife to scare him off'. That's a lie."
He added: "We can be sure that Rhys Austin was angry with Danny Wise. We can be sure he was repeatedly threatening to kill Danny Wise. We can be sure that he played that wicked trick so that everybody but this defendant thought it was to be a fair fight. We can be sure he took that knife out at the start of the fight and used that knife to stab.
"He made his intentions clear. 'Kill Danny Wise'... you can be sure he lived up to that promise."