Coroner lifts anonymity order on mum who put newborn in wheelie bin as court rules the infant was alive when he was dumped
A newborn baby boy was alive when his teenage mum wrapped him in plastic and dumped him in a wheelie bin behind her Wesham home.
Wednesday, 17th March 2021, 6:00 pm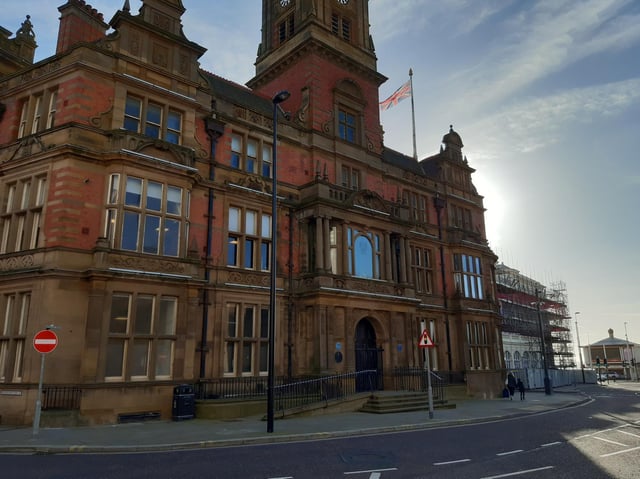 Blackpool town hall today
Baby Oliver Rae was found wrapped in clothes and a plastic bag inside a wheelie bin by police at around 6pm on August 9 2018 after being placed there by his 15-year-old mum earlier that day.
The girl, who is now 18 and can be identified as Zoe Rae, said she thought Oliver was stillborn, but a post mortem examination revealed the baby was in fact alive when he was born and may have survived for up to two hours.
In court today (March 17), coroner Andrew Cousins found the infant was still breathing when he was wrapped up and binned, and that suffocation played a role in his death.
Handing down a narrative conclusion, he said: "(The baby) was born in poor condition and his health was deteriorating. After 1pm he was placed in a bin bag and into a wheelie bin. He was alive when placed into the bin bag, but was exhibiting minimal signs of life."
At around 11.30am on August 9, 2018 Zoe, who was just 15 at the time, gave birth in secret during the middle of a babysitting shift.
At 12.19pm she Google searched 'how to cut an umbilical cord'. She then placed the newborn underneath a sink and cleaned up the blood with towels, which she disposed of.
At 12.55pm the young boy she was looking after went upstairs and found her curled up on a bed surrounded by bloodstains. She told him she had had a nosebleed.
The boy went back downstairs, and the girl followed four minutes later with her baby, who she had wrapped in some clothes.
She went into the kitchen and placed the baby in the middle of the table.
At around the same time, the boy reported hearing the sound of a baby crying. He went into the kitchen and saw the bundle of clothes on the table with 'feet and legs' sticking out of it.
His babysitter told him it was a doll.
The boy went back into the living room where he used his electronic tablet to Google whether 15-year-olds could get pregnant. He heard the back door and gate opening, and when he returned to the kitchen the bundle of clothes had gone.
At around 2.10pm Zoe's mother returned to the Fylde home and called 999, though her daughter begged her not to.
They were taken to Blackpool Victoria Hospital, where nurses suspected there had been a concealed birth and alerted the police.
After talking with the 15-year-old, a search was carried out and the full term newborn was found dead in the wheelie bin outside, wrapped in a plastic bag.
Yesterday, three different doctors told the court that they could not say for sure whether the baby had suffocated, as such a death leaves behind no evidence.
But after hearing witness evidence, Mr Cousins rules that it was highly likely that the infant was still alive when he was placed in the plastic bag.
He said the young boy who was a witness in the case was 'intelligent' and 'mature for his age', and that he clearly understood the importance of telling the truth.
He said: "In contrast I have difficulty accepting the evidence from Zoe in this case."
He added that her answers were 'evasive' and he 'could not place a great deal of worth on the answers given by (her)'.
In February 2018 a search was made on Zoe's phone for 'how to end a pregnancy in the first week'
In June 2018 another search for 'how to abort at home' was made.
Despite this, Zoe denied ever suspecting she was pregnant.
Mr Cousins concluded that this was a lie.
He said: "Zoe was able to locate scissors to cut the umbilical cord, move into the bedroom to lie down, move downstairs with bloodstained towels to put them outside, move downstairs with Oliver sitting down so she wouldn't fall... she was able to place the baby in the middle of the table. All this indicates she was capable of rational thought which is then abandoned when Oliver is placed into the bin bag."
However, he rejected a conclusion of unlawful killing, as it was 'highly likely' that Oliver was born in a poor condition and, as Zoe may have been unable to hear the baby crying or struggling to breathe due to ringing in her ears.
He said: "It is right to say that this case is one of the most difficult that I have conducted in my career. One cannot help but feel sympathy for all persons in this case."
Thanks for reading. If you value what we do and are able to support us, a digital subscription is just £1 for your first month. Try us today by clicking here.