Blackpool pier owners sentenced over refurbishing asbestos lined arcade while open to the public
The owners of Blackpool's South Pier, who demolished part of an asbestos-lined arcade while visitors were allowed to roam nearby, have been given 300 hours of unpaid work as the company was ordered to pay a £134,000 fine and £38,000 costs.
Friday, 19th June 2020, 3:45 pm
Around 600 workers and members of the public were potentially exposed to asbestos fibres from Blackpool's South Pier after the pier's directors, Peter Sedgwick Jr, 39, and Fiona Blaylock, 44, cut corners on cost to remove a circus style roof above the main landward arcade.
To save spending £17,000 for a genuine firm to do the work - which would have meant losing six days trading - the duo instructed three untrained and ill equipped employees to do the work in disposable body suits.
Preston Crown Court heard they had pulled the material away with a crow bar and by hand, filling six bin bags of waste, and used a Hoover to clean asbestos from a carpet after the removal of the roof.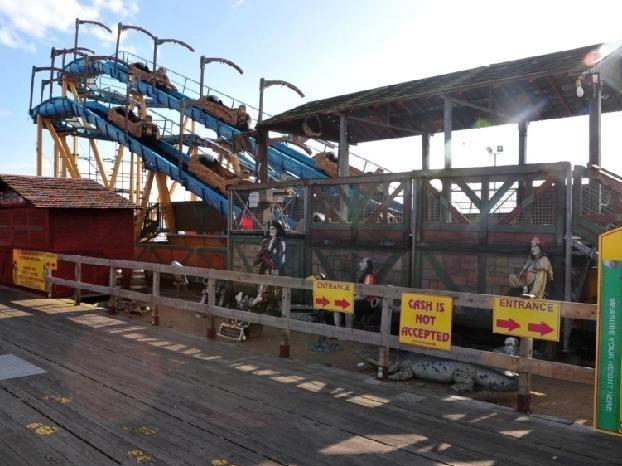 South Pier
Judge Andrew Jefferies QC said they had flagrantly flouted safety laws to put cost cutting above public safety, and remarked it was "ironic" that the cost of putting the work right was far more than the "paltry" £17,000 estimate to have done the work safely.
The work ultimately cost the firm of £140,000 and a loss of six weeks trading.
He added: " As a child I spent many a summer, many an easter and many Septembers and Octobers driving through the illuminations at Blackpool and going to the pier.
"Blackpool was and remains a magnet for people, particularly in the north. During peak season millions of people visit the attraction including the three piers. It survives on tourism, it doesn't benefit from heritage grants or lottery funding."
He added: "To save paying that money you took a huge risk to the public and to untrained and unprotected men with no prior experience of handling or managing asbestos.
"I've read their three statements and it is quite clear they should never have been anywhere near the asbestos."
Prosecuting at Preston Crown Court, David Traynor explained inhaling asbestos fibres put people at risk of serious lung diseases, and victims can be unaware for years that they have inhaled the fibres.
A company licenced to remove the dangerous asbestos legally had given the company a £17,000 quote, but instead its employees started the work.
People were allowed into the arcade where the work was being done, and asbestos fibres were found on equipment.
An official notice was served closing down areas of the pier when the illegal contamination was discovered in June 2018.
A previous hearing was told when Health and Safety officers became involved, it took nine days to clean up outside the pier and 12 days to clean up inside the arcade.
It was later suspected an industrial skip had been used to dispose of the asbestos. There was also asbestos material found in a car park area open to the public.
The Blackpool Pier Company previously pleaded guilty to eight offences of failing to ensure the health and safety of their employees, failing to ensure the health and safety of the public, and allowing the release of asbestos fibres into the atmosphere.
The company, based on Church Street, Blackpool, also admitted three charges of conniving to commit offences, failing to provide a plan of work being done on the pier and failing to give guidance and instruction for the control of asbestos.
Blaylock, who is the company finance director, of Arthurs Lane, Hambleton, and director Sedgwick Jr, of Crane Hall Farm, Out Rawcliffe, near Preston, admitted one offence of failing to ensure the health and safety of the firm's employees.
Their defence team said they were remorseful.