Blackpool pensioner, 78, facing prison after spray-painting neighbour's house and car
A 78-year-old widow with serious health issues has been warned she could face a prison sentence for spray-painting her neighbour's house and car.
Watch more of our videos on Shots! 
and live on Freeview channel 276
Visit Shots! now
Blackpool pensioner Josephine Wheatcroft pleaded guilty to breaching a restraining order when she appeared before a judge at Preston Crown Court.
She admitted disorderly behaviour with intent to cause harassment and also wasting police time.
Wheatcroft had her sentencing hearing adjourned for a week after Recorder Katie Jones heard concerted efforts were being made to find her a more suitable place than jail.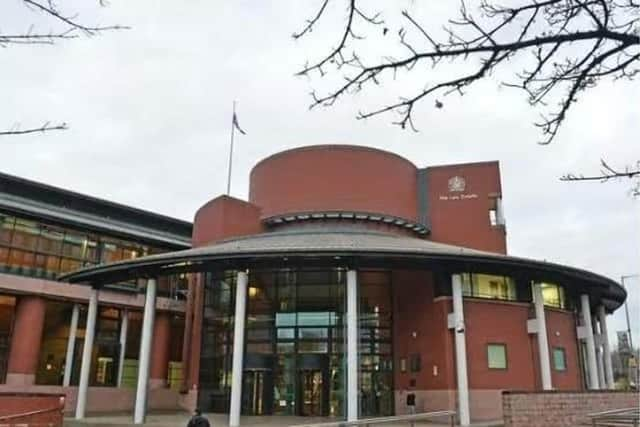 Speaking by a video link from Styal Prison in Cheshire where she is currently on remand, Wheatcroft told the court: "I'm not a bad person."
Prosecuting barrister Tom Farr said that on September 7 the defendant contacted the police threatening to kill herself. Officers rushed to her home in Westside, South Shore and she was taken to hospital by ambulance.
Later she discharged herself before having any treatment and called a taxi to take her back home. She then contacted police on several more occasions that day saying she wanted to harm herself. Each time officers were despatched to her address.
She told police she had overdosed with paracetamol, but officers could find no evidence of her having done so.
Later she was seen on CCTV crossing the street outside her home towards the house of a neighbour who she was banned from approaching by a restraining order imposed by a court last December in relation to an incident which involved an offensive weapon.
She knocked on the door and, when the neighbour did not answer, she was seen to vandalise the front door and car with spray paint.
The police were called and Wheatcroft was arrested for breaching the restraining order, criminal damage and wasting police time.
As she was being escorted to a police van the neighbour "shouted something" which, said the police, prompted Wheatcroft to shout an offensive comment. She was accused of disorderly behaviour with intent to cause harassment.
In her defence it was said she went across the road to the neighbour's house to get attention because the police had stopped responding to her phone calls. It was also revealed that she had not been in trouble with the law until last year - at the age of 77.
Her son had passed away while she was in custody last January and she had also lost three grandchildren over the space of just eight months.
"This was a distressed lady we are talking about," said her barrister Mr Finnegan. "She was incredibly distressed because she couldn't get attention.
"It is rather unusual for a septuagenarian (to be involved) in criminal behaviour at 77 or 78. She desperately wants to get out of Styal. Prison is not a suitable place for her."
Recorder Jones heard a bed would be available for Wheatcroft in a specialist care home, but it might not be ready for a matter of weeks.
She said that the offences passed the custody threshold and she had to consider what the right course of action would be for an elderly woman who was described as having an emotionally unstable personality disorder.
The judge decided to adjourn the sentencing hearing until next Thursday to allow social services to speak with Wheatcroft to see if she was willing to go into the care facility should she decide to give her a suspended sentence.
But the judge warned: "I am not making any promises about what kind of sentence I will impose next week. All options remain open."