Blackpool daytrippers jailed over Soul Suite Club attack
Five friends who turned into a "pack of animals" and beat up two innocent men in a Blackpool club in a row over a cigarette have been jailed.
Watch more of our videos on Shots! 
and live on Freeview channel 276
Visit Shots! now
The gang, on a day trip to the resort from East Lancashire, subjected their victims to a "cowardly and shameful" attack which left them both needing hospital treatment, Preston Crown Court was told.
Handing out sentences totalling more than nine years, Judge Ian Unsworth told the five: "Two helpless victims were held down and subjected to punches, kicks and stamps. Fists and feet were aimed at their heads.
"Their injuries could have been catastrophic or even fatal. These were not acts of random violence, your actions were targeted towards these two men because one wouldn't hand over a cigarette."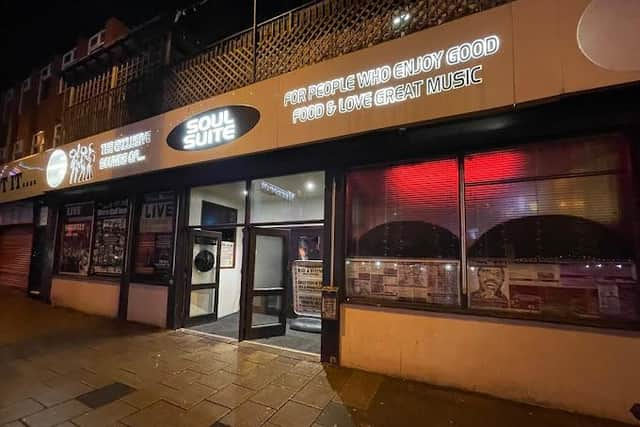 Thomas Carswell, 31, of Tunstall Drive, Accrington was sentenced to 27 months in prison for his part in the sustained attack, which was clearly caught by CCTV cameras and shown in court.
Sebastian Denwood, 28, of Station Road, Accrington was sent down for two years, as was Reece McMillan, 29, of Sunnybank Drive, Oswaldtwistle.
Luke Turner, 29, from Percy Street, Accrington, was jailed for 21 months, and the youngest of the group, 24-year-old Taylor Hawcroft of Blackburn Road, Blackburn, was handed 18 months.
All five pleaded guilty to a charge of violent disorder. They had been in Blackpool at a farewell gathering for two friends who were travelling to Australia.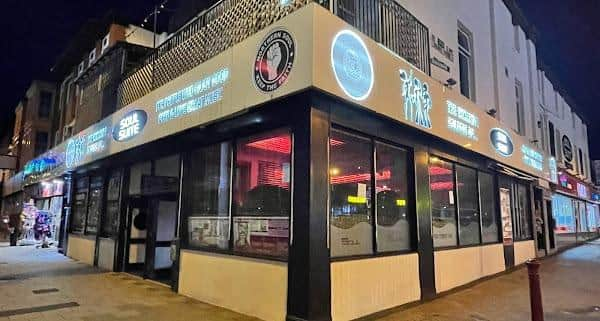 David Clarke, prosecuting, told Judge Unsworth that the two victims - William Johnson and Rhys Bourne - were on a night out in the resort in October 2021 celebrating a relative's birthday and were drinking at the Soul Suite Club near North Pier.
Mr Bourne went upstairs to the smoking area, followed by Mr Johnson, when one of the group asked him for a cigarette. He refused and was subjected to a foul-mouthed response.
An argument ensued and one of the group shouted: "There's lots of us down here so shut your mouth or you'll get a thrashing."
Mr Bourne felt a punch to the back of his head, followed by one to the front. His clothing was pulled over his head immobilising him. He was then held to the ground where he was punched, kicked and stamped on in a frenzied attack.
When Mr Johnson saw his friend in trouble he went over and "was attacked in the same way" said Mr Clarke.
While CCTV of the sustained assault was played to the court a number of the defendants sat in the dock with their heads bowed. "It was a vicious attack," added Mr Clarke.
Mr Johnson was the more seriously hurt of the two men, suffering fractures to the bones on the left side of his face and two cuts on the left eyebrow. He was off work for two weeks and lost a gold chain in the melee worth £2,000.
Mr Bourne had a black eye, bruising around his head, some minor cuts inside his mouth and bruises to his nose and leg.
"They were like a pack of animals. It has ruined my life"
Both men, in victim impact statements read out in court, said the incident had left them with a number of issues. Mr Bourne said his life had been "turned upside down." His girlfriend of six years left him because of the change in his personality and he suffered from nightmares and anxiety.
Mr Johnson said: "Before the attack I was a happy, confident and outgoing person. However, since that night, due to the trauma, I am none of the above. I am afraid I will never be back to my old self."
He added it had been like "a pack of animals intent on beating me to death. It has ruined my life."
In mitigation, Carswell's barrister said: "This was undoubtedly a very unpleasant and ugly incident. He behaved badly and I am not going to seek to blame the victims at all. The defendant (Carswell) along with the others accept that they are solely responsible for what happened.
"Drink undoubtedly played a part, but that's no excuse. They are all fortunate that the injuries were not more severe.
"This was a disagreement that started over the failure of one (of this group) not being given a cigarette by one of the two complainants. One or two of them started a fight with one or both of the victims and then the others joined in. It was a serious act of violence and a sustained one."
Tom Lord, for Denwood, said his client was "embarrassed, feels ashamed and should be ashamed."
Niamh Ingham, for McMillan told the court her client was "deeply sorry for his behaviour. He is ashamed and remorseful."
Kim Obrusik, representing Hawcroft, said: "In his own words it was disgusting behaviour towards another human being."
And Virginia Hayton, for Turner, added: "It was clearly gratuitous violence. He is deeply ashamed. He has no intention of ever behaving like this again."
"A drunken and uncontrolled mob"
Judge Unsworth told the five they had been a "drunken and uncontrolled mob."
"It is plain you had all been drinking alcohol for much of the day. In the early evening you happened on Rhys Bourne. He was smoking and for no reason he was subjected to verbal abuse and threats. He was told he should shut up or get a thrashing because he refused to hand over a cigarette.
"This was a cowardly and shameful outbreak of violence. Without provocation this was a persistent attack in which your two victims were relentlessly pursued through the club. They were unable to escape."
He said he had given deep thought to whether he should suspend the prison sentences of four of the accused, but added that because of the seriousness of the incident he felt an immediate jail term for all five was appropriate.