Blackpool charity founder who suffered crippling food addiction checks into 'Big Body Hotel' for body positive documentary
A Blackpool homeless charity founder whose childhood eating problems spiralled into a seven-days-a-week takeaway addiction says he now has a healthier outlook on life thanks to his appearance in a Discovery Channel documentary.
Thursday, 11th March 2021, 3:45 pm
Updated
Friday, 12th March 2021, 11:27 am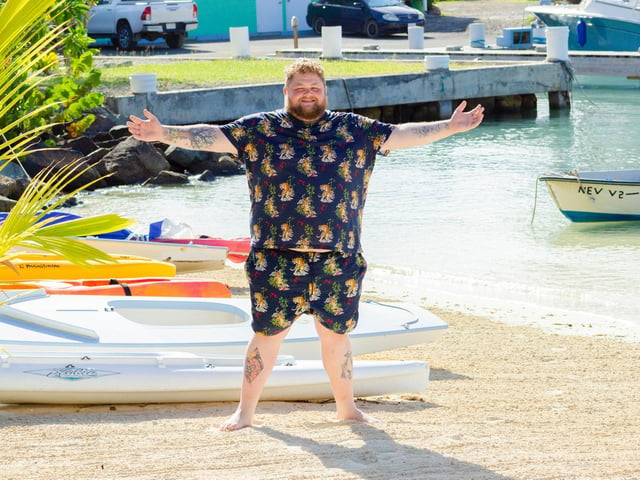 Chris Conway during the filming of The Big Body Hotel. Pictures by the Discovery Channel
Chris Conway, 28, founder of United Blackpool jetted off to sunny Antigua in the Caribbean with five other Britons, all with BMIs in the obese range, for a documentary exploring how going on holiday is different, and often stressful, when you're fat.
They checked into the 'Big Body Hotel', an exotic getaway exclusively catered towards plus-sized tourists, allowing them to enjoy their holidays in peace and without fear of being judged.
Chris, who was awarded an MBE in this year's honours for his charitable efforts, said: "I would never take my shirt off on holiday because I don't like people looking at me and judging me for being fat. I won't sit on a sun lounger because they are little plastic things and I think I'm going to break them.
Chris Conway during the filming of The Big Body Hotel. Pictures by the Discovery Channel
"My experience on the show was fantastic and positive. We did watersports and kayaking, which I would never have usually done. I would panic that the kayak would sink with me in it and I'd be embarrassed. We did a mountain hike and kickboxing, and it was stuff I enjoyed but never would have considered doing on holiday.
"There were a few emotional moments, but it was also a very fun experience and we did a lot about how we wanted to change or improve our lives.
"It's not some 'let's laugh at some fatties' programme, it's a positive show."
Chris's struggle with his weight began when he was a child, when he would sneak sugary snacks behind his parents' backs.
Chris Conway during the filming of The Big Body Hotel. Pictures by the Discovery Channel
"I spent my whole childhood secret eating," he said. "My parents would try to monitor what I was eating, but when I was on my way home from school I would buy a ton of junk food without anybody knowing.
"I used food as a comfort blanket. I eat emotionally. If I'm having a bad day, I'll turn to food. I don't drink or do drugs; food is my addiction."
His problems spiralled two years ago after he lost a close friend to cancer, and soon he was spending a fortune on his seven-days-a-week takeaway habit. His weight increased to 28st, putting him at risk of heart disease, type 2 diabetes and some types of cancer according to the NHS.
He said: "If I had a good day, I'd reward myself with a takeaway. If I had a bad day, I'd have a takeaway to cheer myself up. I spent a fortune every week, but I didn't realise the damage I was doing to my body.
"Half of the time I didn't even enjoy what I was eating. But I got into such a routine of ordering and picking up food that it kept happening.
"People may say just eat less, exercise more, but life isn't that simple. If it was, you just as easily tell a heroin addict to stop injecting. But that's not how addiction works."
Luckily, Chris is now getting the help he needs to tackle his demons.
After returning home from filming The Big Body Hotel in October, he started counselling to face the emotions he would have otherwise buried under a binge of greasy foods.
"I took a lot away from the experience. I'm tackling my mental health problems head-on now," he said. "I do a lot of charity work and I can see now that I can't help anyone else if I don't help myself.
"The whole point of the show was to provide a positive experience, to address the cause of their eating problems and help them deal with that, as well as give them a holiday they wouldn't have been able to get. It's not for one moment glorifying obesity.
"I want to show plus-size people who might feel stuck in a rut and inspire them that anything is possible. No matter how big you are, you can get out there, do what you want to do, and try to live a better lifestyle."
The Big Body Hotel will air on the Discovery Plus today and is available for streaming.