Must Read of the Week: Between The Trees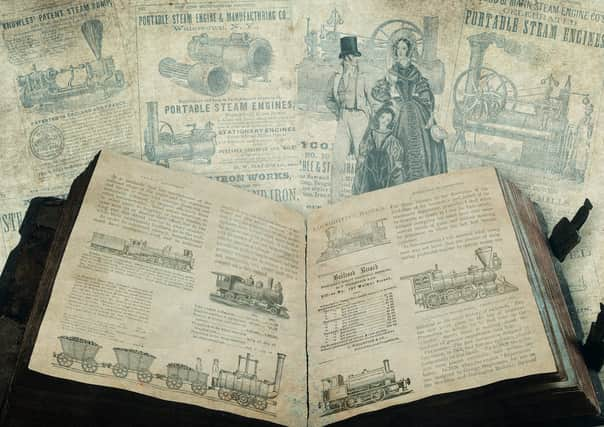 New novel Between The Trees by Ayn O'Reilly Walters is an enthralling time-travel adventure with heart that makes British history fun for young readers. 
Hands up everyone who has, at one time or another, wished they could travel back into the past, just to see what life was like.  
Sadly, scientists are no nearer to building a TARDIS so we can all have a day-trip to the 16th century but delightful new novel Between The Trees offers the very best next thing.  
This brilliantly imaginative and heart-warming story for children and young adults combines adventure and fantasy into a time-travelling adventure not to be missed. 
It follows the story of 12-year-old Isabel Pritchard, who lives with her mother and her 16-year-old brother William in modern-day London.   
As in many families, the siblings don't get along and are still grief-stricken from the mysterious death of their father four years previously. 
His absence has, understandably, left a huge void in their lives and they are fractious and argumentative, with their mother being too busy working night and day to support the family to notice.  
Living in the capital, the one area of green is the local park, Bishops Park, full of mature and dignified trees planted across the centuries.  
For some reason not revealed to us, Isabel's mother has forbidden Isabel from walking there, but one afternoon, late home from school, she finds herself taking a shortcut through the park.  
On her way she notices a glowing tree which she decides to touch. She thinks little of this action but it becomes the launch pad of a colossal journey into excitement and danger that will change her, and her family, forever.  
Isabel suddenly finds herself flying, a gust of wind under her feet carrying her aloft, and she is magically transported to a different time.  
"Gone were the cars screeching around corners on cemented roads. Instead, horses and wagons clopped up and down the muddy street. 
"Bewildered, Isabel stared in amazement at the scene before her. Men walked slowly up and down the street in their top hats, black coats and knee-length boots, arm in arm with ladies in their colourful bonnets and big billowing dresses that dragged along the mud on the ground. The sound of everyday life could be heard by market stall owners selling fruit and vegetables at the end of the street. Little girls in old tattered clothes walked up and down the street selling bouquets of flowers from their baskets."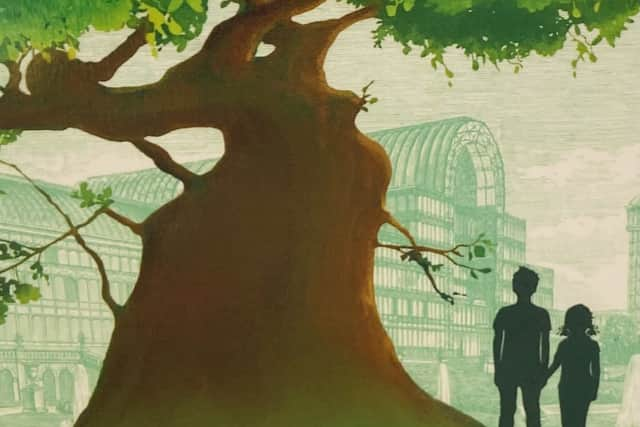 She learns that she has been sent back to the same location in 1851, in the midst of Dickensian London and at the height of the Victorian era. It is the year notable for Great Exhibition in Hyde Park, celebrating the latest technological advancements, but also at a period when poverty was rife and life was hard.  
Isabel is dumbfounded by what she is seeing, thinking it must be a dream. And it does seem so because the next thing she remembers, she is being woken up by her mum, who says she found her beneath the tree.  
Isabel, however, needs to be sure so she invites her brother to accompany her to the park to test the tree. This time, however, it's another tree that's glowing and, sure enough, they are catapulted time back in time—to 1945. 
These journeys into unfamiliar territory are brilliantly explained by author Ayn O'Reilly Walters, with the sights and sounds of other eras recounted vividly. No doubt a great deal of research went into this, because you get a real feel for this other time, as if you are there with the characters, witnessing what they do.  
And this is where the story really starts to get going, with the siblings finally appreciating each other's company as they become used to their most unusual form of travel and begin to learn more about British history and, at the same time, about the mysterious Bishops Park and its apparent connection to their family.  
Within the Victorian setting, I loved it when the children snuck their way into the Great Exhibition.  
There is a particularly brilliant scene where they see Charles Dickens—a nice literary nod to the great man—and overhear him discussing the terrible social conditions in the workhouses of the time. This is both informative, and a subtle foreshadowing of what is to come in the story.  
In another memorable historical detail, the children see the spectacular Koh-I-Noor or 'Mountain of Light'—the 105-carat diamond acquired by Britain and which formed part of Queen Victoria's crown jewels—before witnessing her and Prince Albert being cheered by handkerchief-waving crowds and a military band. 
As the plot develops further, however, these jolly scenes come to an abrupt end as the children are accused of stealing and, powerless to tell the truth about why they are there, they are taken to a poorhouse in Bristol.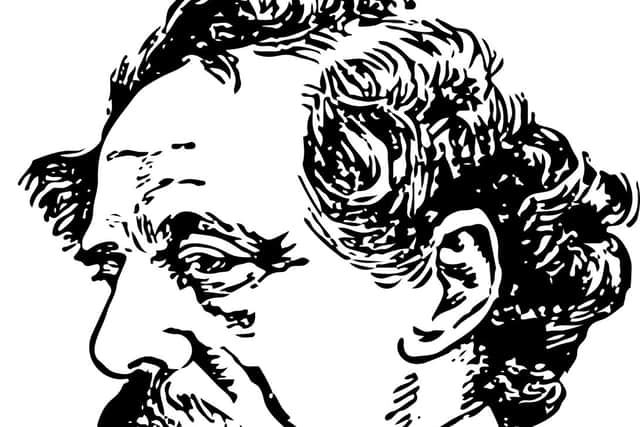 These poorhouses were where many orphans of the time went, being given minimal food and bare, uncomfortable lodgings in exchange for gruelling, often terrible dangerous work.   
Traumatised, and desperate to return home, Isabel and William hatch a daring plan of escape. 
But, as they begin to encounter more and more people in this strange world, they also begin to question if  they are really the only two from a different time, or are there actually more time-travellers?  
Also, they wonder what the consequences of this will be if true, and just what other secrets they will uncover.  
Without giving spoilers away, Between The Trees is packed full of twists and turns to keep young readers hooked, and populated with unsavoury characters that Dickens himself would be proud of. 
One such figure is Mr Babbage, a mean old man of the workhouse who wears big heavy boots that sound like thunder wherever he walks.   
The young protagonists too, are excellently depicted – with Isabel being a smart but shy girl who adores her older brother, and William a moody teenager and straight-A student who wishes to become a doctor just like his father.  
Later on in the book we are also introduced to Gudrun, a shadowy figure who is the true villain of the novel and whom we will, no doubt, see again as this intended trilogy is brought to fruition.  
The novel is aimed at readers aged between nine and 18, and does a great job of combining a thrilling story with historical information to set young minds alight.  
The narrative is full of menace and jeopardy but this is lightened by some moments of terrific comedy, such as when the children see the world's first flushing lavatory, and the overarching, wholesome themes of love, friendship, family, courage, and sacrifice.  
Between The Trees is the debut novel by Ayn O'Reilly Walters, a self-confessed history buff who came to discover how fascinating British history was when she emigrated from Australia and completed a degree in English Literature at the University of London.  
That passion for the past is abundantly evident in her writing, which effortlessly evokes the atmosphere of different periods, be it the Victorian age or, later in the novel, the Elizabethan era of the 16th century.  
As such, the novel offers an enthralling read for young lovers of historical fiction and will, no doubt, kick-start a life-long interest in history.  
This educational content, however, never derails the book but serves admirably as additional scene-setting.   
In many ways, Between  The Trees follows on from other great classics of children's literature  such as CS Lewis' The Lion, The Witch and the Wardrobe.  
It is highly imaginative, brilliantly executed, ripe for adaptation, and I can't wait to see what Ayn O'Reilly Walters does next. 
Between the Trees by Ayn O'Reilly Walters (Grosvenor House Publishing Limited ) is out now on Amazon in paperback, priced at £8.99, and eBook, priced at £3.99. For more information please visit www.aynauthor.com 
Q&A Interview With Author Ayn O'Reilly Walters 
Originally from Australia, author Ayn O'Reilly Walters fell in love with history when she relocated to London in the early 2000s. Her passion for the past is clear to see in her debut novel, Between The Trees, which is aimed at children and young adults. In this exclusive interview we learn more about her book, the writing process, and where the gripping time-travel adventure will progress from here.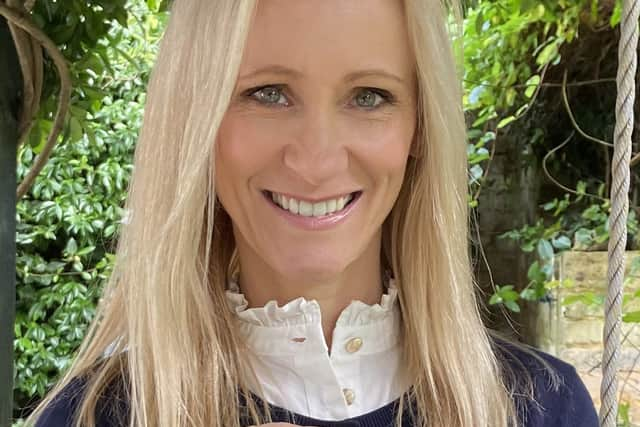 Q. What inspired you to become an author?
A. I spent 10 years in financial services in London and got burnt out so I decided to do something completely different and undertook a degree in English literature. Studying the different literary periods such as the Elizabethan era, Augustans and Romantics, Victorians and moderns, I became fascinated with how literature blended so beautifully with styles of writing such as magical realism of the postmodern era. I loved the way in which authors told their stories through their own eyes and experiences, and I really wanted to write stories capturing all of the amazing things that I learned in my degree.
Q. Where did the inspiration for your debut novel, Between The Trees, come from?
A. We actually lived next to Bishops Park in London. My children and I were at the park every weekend climbing trees, and we played a game where we chased each other towards trees and placed our hands on them. In the game, someone became the tree and it was at this moment that I thought of an idea about trees having magical properties.
Q. Your novel is a time-travelling adventure that vividly brings to life past eras of British history. Why was it important to you to share history lessons with young readers?
A. I've lived in London for 20 years and I'm surrounded by history. My office in London was right in between the home of fictional globe-trotter Phileas Fog, as stated in Jules Verne's novel Around the World in Eighty Days, and the rooftop where The Beatles performed their unannounced concert.  Then there's the other history of London, spanning more than two thousand years.  Everywhere you go, there's a story! How can one live in London and not be fascinated with its history?
I really wanted to write a story and teach young readers about how the United Kingdom evolved to where it is today. I think if a child can pick up a book and not only enjoy it but learn about history at the same time then it makes learning fun. I feel that education is important and why not learn while you enjoy doing something, such as reading.
Q. If you could travel back to any one historical era, which would it be and why?
A. I would love to have travelled back to the Victorian era, to The Great Exhibition of 1851, because it was the one single event where the great literary minds of the period came together—Charles Dickens, Lewis Carroll, Tennyson and Charlotte Bronte to name a few—and would also have been a chance to meet all the other influential people of the time.  Imagine speaking with the Duke of Wellington and watching Queen Victoria and Prince Albert under the one roof. It was also the first exhibition where the world's nations came together to showcase their inventions and innovations. This exhibition was so popular that six million people visited over the six months it was open. The profits from the Exhibition funded the Victoria and Albert Museum, the Science Museum and National History Museum, which all still stand today.
Q. What was the biggest challenge you faced in writing your novel, and how did you overcome it?
A. I'd have to say getting the historical facts right. For example, the Crystal Palace which housed the Great Exhibition showcasing Britain's industrial superiority to the world was so grand and on a scale never before built. It was 560m long with 3,300 cast-iron columns supporting 900,000 sq.ft of glass. Within this monumental structure housed 100,000 exhibits from around the world and the challenge was selecting but a few of interest to the reader and central to my story.
Also, ensuring the accuracy of dates was challenging. For example, did places actually exist when I wrote about them? While I was able to invent some minor details, I needed to ensure the story was believable.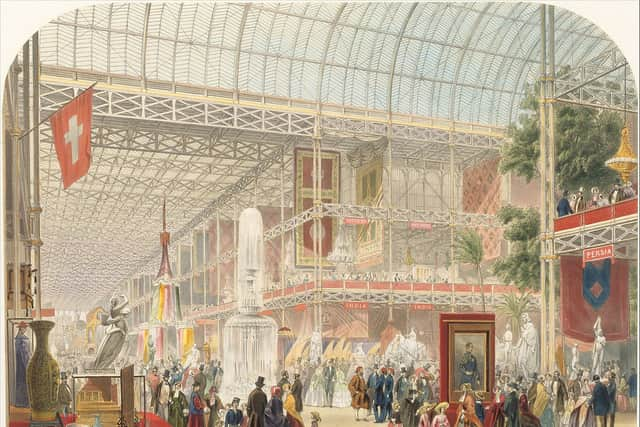 Q. Your novel emphasises the importance of family bonds and friendship. Why did you think it important to celebrate the idea of human connection?
A. Having a young family of my own, I felt the need to reinforce the importance of the family unit, especially with younger readers. With so much negativity and uncertainty going on in the world, I wanted to write a story that's uplifting and which celebrates love and friendships.
Q. What feedback about the novel have you been most proud of?
A. I'm most proud that I've been able to capture the reader's interest to the very end with all the twists and turns in the novel. Some readers have said "Gee, I didn't know England was like that back then" and thus I've achieved my goal of introducing to my readers a lesson in history and what life was like 'back then.'
Q. What do you hope readers will gain most by reading your novel?
A. As a child I loved to read books that would let my imagination run wild.  With elements of magic you can really escape to another world. I hope my readers will experience the joy of escaping from the day-to-day pressures of everyday life and appreciate the simpler things in life, like love and family.
Q. What do you think is key to writing a book that young readers will enjoy?
A. Characters are essential in helping to develop plot and adventure, and I believe I've been able to create my characters in a way that young people will be able to relate to and will enjoy sharing the adventure with them.
Q. The novel is the first in a planned trilogy. Without giving any spoilers, what can we expect next?
A. Between The Trees introduced the reader to the Pritchard family and opened the door to the family's history, which uncovered secrets to their past. Further books will explore the origins of the magical elements and people's desire to obtain the ultimate power, which poses the question, does good always prevail over evil and how much power is enough?