TikTok star and food blogger introduces America to Lancashire delicacy - calling it "peasant food"
An American TikTok star with 4.1m likes and more than 279,000 followers has revealed Lancashire hot pot is one of "arguably one of the best things I make".
Watch more of our videos on Shots! 
and live on Freeview channel 276
Visit Shots! now
Featuring the traditional dish in her "peasant food" and "comfort food" series, Corre Larkin from Newport Beach, California, has produced a three-minute video taking viewers through the cooking process.
Released last month, Corre's video has so far amassed 25,000 likes and more than 2,000 comments.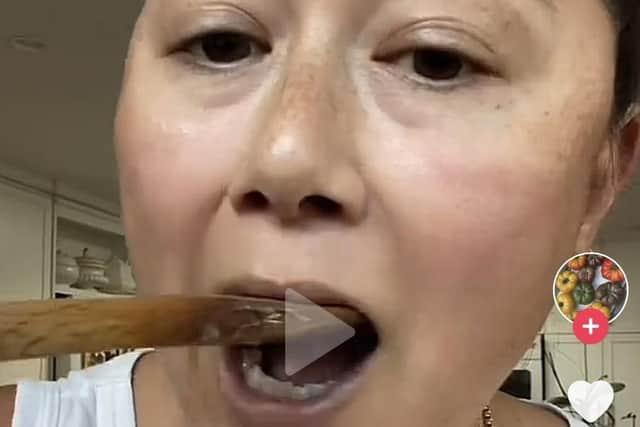 She said: "This is a British dish, a northern British dish that is typically only going to be served in someone's home, it's not often found in a restaurant.
"It's part of the peasant food series and comfort food series, and is arguably one of the best things I make."
How does she make Lancashire hot pot?
Corre, who lived in the UK for 10 years, starts with a stewing cut of lamb – blade or shoulder – that she cuts into small chunks and seasons with salt and pepper, before browning with butter and olive oil, then adding chopped onions and large chopped carrots.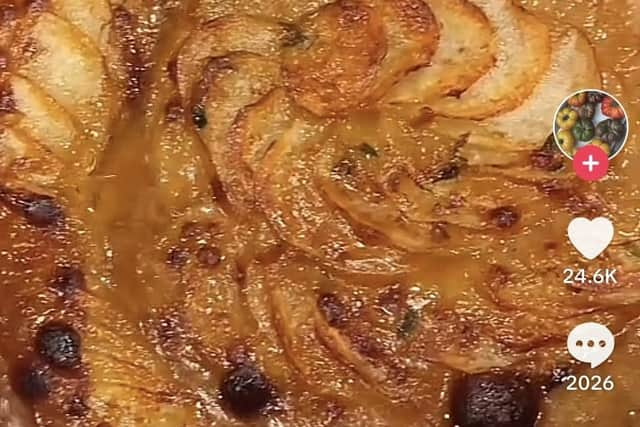 She warns of the dangers of not using non-stick pans, and adds two bay leaves into the mixture.
After 10 minutes she adds in two big heaped teaspoons of flour, before adding in chicken stock, more salt and some Worcestershire sauce.
When it's just started to boil, she takes it off the hob and into an oven at 160 degrees celcius for an hour.
Then she mandolins white potatoes to place over the top, dotted with butter and a sprinkling of salt and puts it back in the oven for a further hour at 200 degrees.
"I can't tell you enough how good this is"
Taking it out of the oven, she says: "It is so pretty, it smells so good, it looks so good."
She serves with with a green side salad and a walnut vinaigrette saying "this salad will contrast nicely with how rich this dish is".
Tasting the finished product Corre says: "I can't tell you enough how good this is, it's one of the best things I make, it's right up there with pasta eleginevse."
Reaction
In the comments section, UK-based viewers told Corre that hotpot is available in many pubs and restaurants as well as supermarkets.
Others pointed out it would 'never be served with salad in the UK'.
History of Lancashire hot pot
Lancashire Hotpot is thought to have originated during the cotton industry in the 19th century, something warm and enticing for tired and hungry mill workers to look forward to after too many hours of hard work.
Surprisingly, oysters, which were cheap at that time, were sometimes added to bulk out the mixture.
It is traditionally served with red cabbage.
In spring 2011, a loose campaign started forming to propose that the dish be awarded European "Protected Geographical Indication" status. This would mean that commercially the dish could only be prepared for sale in Lancashire, and according to certain methods.
Similar status is applied to Cumberland Sausage and Cornish Pasties.