Lytham House, Lytham, restaurant review - Stylish dining offers classics with a twist
Early evening on a pleasant Sunday and Lytham's Clifton Square was bustling with people enjoying the last rays of sunshine of the day.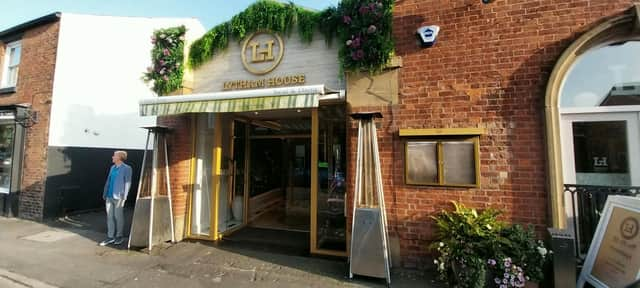 The town had just held its popular 1940s weekend, so some of those relaxing with a drink were dressed in war-time attire ranging from uniforms to tailored A-line skirts.
If only the price of a pint could also step back in time, I remarked as we headed to our chosen eaterie.
Lytham House has been established in Henry Street for a few years now, building a reputation for good food in stylish surroundings.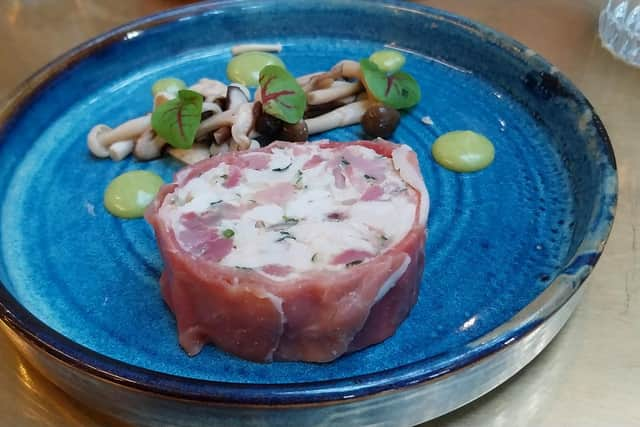 We were able to easily reserve our table using the restaurant's online booking system, and had received a courtesy call to tell us our table would be upstairs.
The restaurant's website says its "food concept has moved towards a more traditional brasserie style menu, focusing on classics with a twist".
As a result a burger comes with maple bacon, and stalwart chicken kiev is accompanied by posh sounding buttered mash.
The company running Lytham House has a portfolio of dining outlets - notably The Queens Hotel, also in Lytham, and The Ship in Freckleton.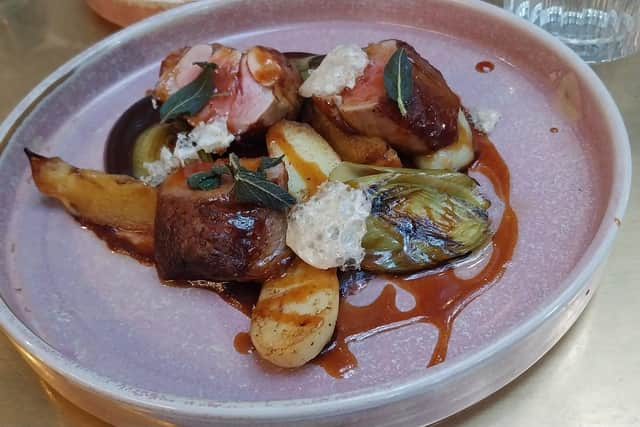 So maybe it does lean towards pub-style food rather than fine dining, but small touches such as delicately sliced forest mushrooms and sauces which deliver a burst of flavour send it up a few levels.
The surroundings however are definitely a step up, with a beautiful central floral display emerging into the mezzanine floor.
The Sunday brasserie menu offers one course for £18, two for £24 and three for £30, and puts the focus on the classic Sunday beef roast (although there is a nut roast option too).
We went for the two course option, choosing starters and mains and added in a plate of olives as is our custom to get the juices flowing.
I started with chicken and ham terrine, whose cold compressed texture was perfect, while my husband Clive went for torched mackerel.
This dish looked a little raw when it arrived - but actually that is just how it should be served, as the flavour comes from the smoke leaving the flesh moist.
Clive's roast beef arrived with a good serving of meat and Yorkshire puddings - heartily welcome after he had worked up an appetite playing in the Lancashire Tennis Championships that day.
It was just the thing to restore some of that used up energy!
My main course was pork tenderloin, with apple and red wine purée, crackling, ratte potatoes, confit leek, and compressed apple.
So as you can see - a pub staple in the pork, but definitely taken a step further in culinary terms.
The pork was tender, and the accompanying vegetables complemented the dish.
Side dishes are also available, but both our mains comfortably satisfied our appetites. And both our plates were beautifully presented.
We accompanied our meal with a bottle of the house white, a floral Spanish offering at £24, and tap water was provided on the table.
Although busy on a Sunday night, service was good and friendly, and tables began to empty as the evening wore on.
The atmosphere is very chilled, and live music drifted up from performers in the bar below, where there are also more tables for diners.
Our bill, including drinks, came to £78.