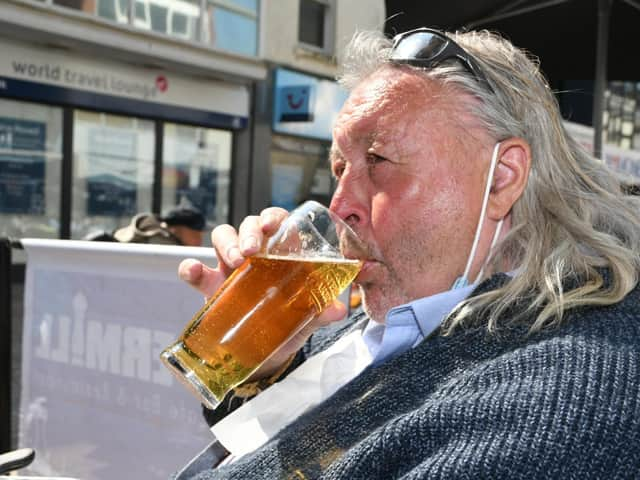 A pint...at last
Business owners welcomed shoppers for the first busy weekend since the Government ban on non-essential retail was lifted on Monday.
Michelle Burrows, owner of the Compass Cafe Bar on Birley Street, said: "We have been very busy. We've been selling a lot of breakfasts - and a lot of beer!
"It's lovely to see people again and people are just glad to be out, and are grateful to be able to experience a little bit of normality. It's not back to how it was, but it's better than being stuck at home.
"Lockdown was difficult mentally and difficult financially, but I understand why we had to do it and I think people have been really respectful of the rules since we came back. People are not wanting to ruin it.
"There are lots of familiar faces about; Monday was like a big family reunion. I hope we can remain open and I'm looking forward to welcoming people back inside."
Nico Stefani, owner of Stefani's Pizzeria in St Johns Square, said: "It's been absolutely booming. People are literally queuing up on the doorstep. It's much better than expected.
"I was quite scared about opening up outside as big venues have been putting up heaters and marquees, but we haven't needed them with this weather.
Enjoying an al fresco pint
"We're not normally open on Mondays, but we wanted to be here for the first day. We smashed it, and every single day has gotten better. I feel really reassured. It's only going to get better with the weather getting hotter throughout the summer.
"I'm overwhelmed by it. I have even been out on my day off building more tables to put outside. We're going to need a bigger team, because we're all exhausted!"
Ian Parker-Crellin owns Pets Paradise on Topping Street, which has been operating throughout the lockdown period.
As the rest of the town centre opens up, he is looking forward to seeing more visitors to his shop.
He said: "We have been busy this week due to the other shops being open. We have managed day by day during lockdown... now more people are coming in off the street, plus we have got a new phone shop opening up at the end of the street, plus a new hairdressers, so that's going to bring even more people to the area."
Scott Middleton, who works at Pastels in St Johns Square, said: "It's nice to actually have people back on the premises. When was the last time we had a Saturday like this? We have been busy most days, and I'm hoping today is going to be the best day of the week. It's the nicest it's been so far.
"The weather is good for little businesses like ours.
"It's a joy to be able to open during the day and not have to stick to takeaways at night. It makes a difference. It's nice to see the faces of people who have been ordering from us during the lockdown months as well.
"In business you have to be optimistic. As soon as you stop being optimistic, you lose. We have always remained positive, our customers have been loyal to us and kept us ticking over.
"Let's hope that next month we can open up inside and get back to a bit of normality. I don't think the masks will vanish any time soon, but I think it's a good idea to keep everybody safe.
"I only started working here during the pandemic, so I'm seeing people coming out, smiling and sitting with us for the first time. It's really gratifying to see."