Zoom reunion for Blackpool Catholic schools as society marks 175th year
This year is the 175th anniversary of the Foundation of the Society of the Holy Child Jesus and their early story is closely linked with Blackpool.
Saturday, 1st May 2021, 7:00 am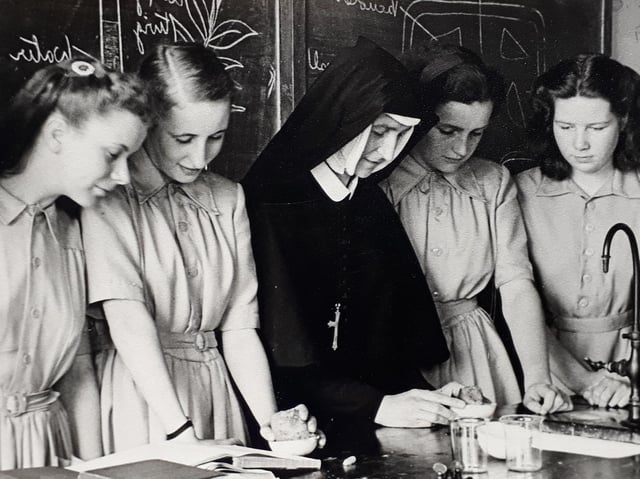 Biology class at Layton Hill with Mother Julia Butcher in 1950. Photo: SHCJ European Province Archives
And to mark the occasion, a special reunion via Zoom is taking place on May 8 for past pupils and staff.
The Society is a religious order for women and was founded by Cornelia Connelly in 1846.
She was an American, born in Philadelphia in 1809 and her own story is quite remarkable.
Layton Hill dining hall Sr Genevieve and M.M. Column in 1950. Photo: SHCJ European Province Archives
She married an Episcopalian priest, Pierce Connolly, and they had five children, though two died in early infancy.
A few years after they were married the couple became Roman Catholics. When Pierce decided that God was calling him to be a Catholic priest, Cornelia had to take a vow of chastity. She gradually came to realise that God was calling her in a new way to found a new religious order for the work of education, especially for girls, which was so urgently needed in 19th century England where Bishop, later Cardinal Wiseman, invited her to make a start in 1846. From humble beginnings in industrial Derby the group of sisters grew in number and they were able to begin foundations elsewhere.
They taught children in parish schools; they ran night schools for factory girls; they set up small boarding schools for girls whose education was so neglected and inadequate in those days; and Cornelia began a teacher training college since no formal training was available at that time.
In 1856 the first resident Roman Catholic priest in Blackpool Father George Bampton SJ, invited Cornelia to send some sisters to run the Poor School in the newly established Sacred Heart parish.
Layton Hill Handmaids of the Holy Child Jesus visit in August 1946. Photo: SHCJ European Province Archives
In fact the school was set up before the church was opened in 1857. The sisters rented a small house in Queen's Square and taught in the cellar room of an inn that became the Railway Hotel. That was the beginning of Talbot Road School, renamed in 1951 as Sacred Heart School.
Holy Child sisters served as head teachers and assistant teachers there for over 100 years. In 1904, as the town expanded, a second Roman Catholic parish was established in Blackpool, St Kentigern's; the sisters took charge of that school too and taught there until 1972.
From the beginning Holy Child sisters, as well as running parish schools, established small boarding schools for girls. They brought twelve boarders with them when they arrived in Blackpool. In 1859 as the numbers increased they leased Raikes Hall but soon that was not big enough and a more permanent home was needed. They purchased land outside the town and in 1870 opened the school at what was then called Layton Hill.
It became both a boarding and a day school and over the years was destined to serve generations of girls from Blackpool and beyond.
Mother M Philippa and children at St Kentigern's
In the 1960's there were many educational changes in which all-age schools were abolished and the school leaving age raised. The Catholic 11-16 year old pupils were transferred to new schools, the boys to St Thomas' and the girls to St Catherine's, where a Holy Child sister became head.
In 1982, after two reorganisations, owing to the falling birth-rate, these schools merged with St Joseph's College and Layton Hill Convent school to form St Mary's, the town's Catholic comprehensive school. Once again, a Holy Child sister was appointed head teacher. In 1982 St Mary's was the largest Catholic school in England and Wales. In 1989 St Mary's was handed over to lay leadership. It continues to thrive to this day, proud of its history.
There is no longer a Holy Child school in Blackpool but two sisters live in the parish of Christ the King, maintaining close links with St Mary's School and working in partnership with several voluntary organisations in the town to support people in need. Elsewhere the sisters continue the mission to educate in educational projects and schools across the globe. It is truly a cause for celebration after 175 years. For the Zoom link contact [email protected]
Layton Hill, front of main building