Ventriloquists and the art of saying it without moving your lips
In last week's Memory Lane, local historian Kenneth Shenton paid tribute to ventriloquist Arthur Worsley. In his second article, Kenneth takes a welcome opportunity to highlight a brief history of the art, together with details of some other well-known practitioners, a number of whom had particular links to Blackpool
Thursday, 22nd October 2020, 3:45 pm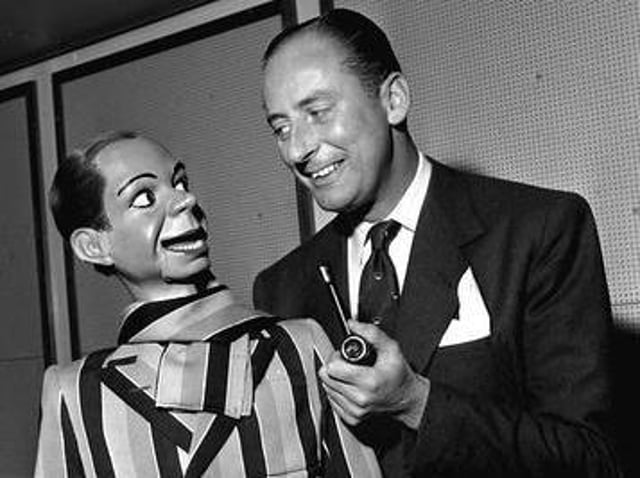 Peter Brough and Archie Andrews
Ventriloquism was first used by early religions as an instrument of fear.
In the fifth century BC a priest in Athens was doing just that. His name was Eurycles and, because he appeared to make the gods speak, he became known as the "belly prophet."
The word itself derives from the Latin word, Venter, meaning "belly" and loqui meaning "speak." But in truth ventriloquists do not speak from the stomach, they use the diaphragm to control the amount of air required to produce the light and shade in the sound they want to project.
Terry Hall with Lenny the Lion
Anyone who has seen films such as Dead of Night or Magic where the ventriloquist goes loopy and the dummy takes on a life of its own, will no doubt wonder if ventriloquists are all really a mixed-up bunch of characters, in desperate need of medical assistance.
The first ventriloquist to create a "partner" was Fred Russell with his doll, Coster Joe.
When Russell died in 1957 at the age of 95, Joe was found a home at the Water Rats Museum in London. Another famous doll of the time was Arthur Prince's Jim. When Arthur died Jim's head was buried with him. In 1930, Corum, with his doll Jerry, became the first ventriloquist to appear on radio. Soon after that in America, veteran entertainer Edgar Bergen was given his own radio series.
The initial star of the show was his doll, Charlie McCarthy. No less popular was his daughter, Candice, who went on to become a fashion model and enjoy success as an actress. Appearing in Las Vegas in 1978, Bergen announced to the audience that this would be his last performance. That night he died in his sleep.
An early photo of Keith Harris and Orville
The very first English ventriloquist to have his own radio series was Albert Saveen with Daisy May. They appeared together on a Light Programme series called Midday With Daisy May. The doll was originally a boy, later a girl – the first sex change character in ventriloquism.
A cockney printer born in 1914, Saveen, real name Albert Edward Langford, developed the Daisy May voice by learning to use one lung while recovering in hospital after being blown up by a German bomb. Daisy May was even listed in the telephone directory and was allowed her own bank account. Saveen also had some thirteen other puppet characters on the show, including "Andy the Spiv," "Sonny," and a dog who used to say ,"Drop Dead" in a very droll and posh voice whenever Saveen spoke to him.
Until Jimmy Clitheroe came along, the most popular star on the radio during the 1950s and 60s was an anarchic errant schoolboy dummy named Archie Andrews. Elegantly attired in a broad striped blazer this manic-eyed dummy, star of Educating Archie, the programme being the brainchild of producer, Ted Kavanagh. Archie's operator was Peter Brough, the son and grandson of men who combined business careers with ventriloquism. Entertaining troops during the Second World War, Brough experimented with all sorts of dummies before hitting the one that complemented his own personality.
In its heyday, attracting regular audiences in excess of 15 million, Brough became the BBC's highest paid entertainers while Archie's name adorned all manner of scarves and mugs.
A Palace Theatre advertisement for Sandy Powell
Tony Hancock, Max Bygraves, Dick Emery, Hattie Jacques, Bruce Forsyth and teenage singer, Julie Andrews, all got their big break on the show. Another was actress Beryl Reid, who played Archie's girlfriend. To put herself in the mood at the microphone, she often dressed up in her old school uniform complete with black stockings and a hanky tucked in her knickers.
When in 1951, Archie was accidentally left on a Leeds bound train, a £1,000 reward was offered for his return. Archie was later found abandoned at Kings Cross Left Luggage Office. Moving to television in 1956, sadly the programme quickly lost its appeal, in the main because the medium now showed up Brough's many technical imperfections. He subsequently returned to running the family's clothing business.
It was during an earlier radio programme that comedian, Sandy Powell, having dropped his script, managed to keep things going by ad-libbing, "Can you hear me mother?" It soon became his famous catchphrase.
Though born in Rotherham, the youthful Sandy Powell spent much of his early life here in the resort where he trod the boards in the company of his mother, the music hall artiste, Lily Le Main. Powell himself first topped the bill at the Palace Theatre in 1918. Following his mother's retirement from the stage in 1921, Sandy had a luxurious house built for her in Broadway, South Shore, which he named Airlie.
His famous ventriloquist act, evolved from an initial hasty five minute fill in.
It went on to become a staple part of his act, admired as a memorable music hall burlesque.
Complete with a somewhat bedraggled dummy, Powell played an asthmatic old soldier who undergoes a series of disasters, everything from receiving a severe injury from a ceremonial sword hanging from his baggy scarlet uniform, to the total disintegration of the rather motheaten military dummy. The bedraggled false moustache that hid Powell's lips would fall off a number of times and have to be stuck back on.
The dummy proceeds to sing while Powell ostentatiously drinks from a glass of water as, unfortunately, the curtains accidentally open behind the duo to reveal Powell's wife warbling away in an expressive falsetto.
As the dummy's head comes away to reveal his hand, he was forced to grovelingly apologise to the audience, "Now they will all know how it's done." He then says somewhat wearily of his wife "She'll have to go you know. I'll 'ave to 'ave her put down."
Surprisingly, ventriloquism played a large part in the early career of a fellow Yorkshire-born entertainer, Harry Worth. He is now perhaps best remembered as the bespectacled fumbling do-gooder adored by audiences in the 1960s and 1970s. He was famous for the opening scene of his television series, Here's Harry, in which he stood at the corner of a shop window and appeared to lift both arms and legs in the air.
One of eleven children, he was born Harry Illingworth in the village of Tankersley, near Barnsley, later being advised to shorten his name so that it would fit on show busines advertising boards. Though his father was tragically killed in a mining accident when he was only five months old, surprisingly, at the age of fourteen, Harry too began working down the mines.
At the same time, having purchased a cheap doll from Woolworths, Harry and his ventriloquism act became a staple part of a local concert party. The act continued when, during the Second World War, he joined the Royal Air Force as a mechanic and fitter. After a subsequent spell at the Windmill Theatre, he appeared in variety, summer seasons and pantomimes, touring for two years with Stan Laurel and Oliver Hardy.
It was they who suggested that he dump his vent act in favour of stand-up comedy. In 1960, acting as the scatter brained innocent, he landed his first BBC TV series, The Trouble With Harry. This in turn led to more than one hundred editions of Here's Harry. Moving to ITV, later series included My Name's Harry Worth and How's Your Father. Harry died in 1989.
Oldham born ventriloquist, Terry Hall, first appeared in the resort in 1948 when he brought his then sidekick Mickey Finn to entertain at the Palace Theatre. On North Pier for the 1954 summer season, in between shows Hall paid a visit to Blackpool Zoo, seeking a new character for his act.
Attracted by the lions, he sought out Squires Gate prop maker Fred Drummond who, for £150, mixed an old fox fur with papier-mâché and added a golf ball for a nose to create Lenny the Lion.
Initially Hall gave Lenny a voice that sounded like a real lion but his new act frightened the children. It was singer, Anne Shelton, who suggested he should make Lenny a more ineffectual king of the beasts.
Soon with a falsetto lisp, his habit of burying his head in his single free paw, together with a new catch phrase, "Aw, don't embawass me," this grand sewn-un soon made a huge star out of its creator.
Becoming the first non-human dummy in a vent act, Lenny was back in the resort in 1957, 1961 and 1968.
On television, The Lenny the Lion Show was primetime viewing from 1957 onwards. His music show, Pops and Lenny, saw The Beatles make one of their first tv appearances performing Please, Please Me and From Me To You. David Bowie's father, Hayward Jones, who worked on the show, launched the Lenny the Lion Fan Club because his son was such an avid fan. 1963 saw Lenny release his own single, Lenny's Bath Time. In later years, Hall carved out a second career as an educational writer. His teaching books on reading became part of the curriculum in many schools and the course he created, Reading with Lenny, was taken up and promoted by Granada Television.
Closely following in Terry Hall's footsteps was local based ventriloquist, Keith Harris. He entertained generations in the company of a falsetto voiced incontinent waterfowl called Orville and a bright orange simian friend named Cuddles, whose role was to relentlessly taunt Orville.
Insured for £100,000, the duck was named in honour of the aviator Orville Wright, despite telling the world, "I wish I could fly up to the sky, but I can't." Their Saturday night television show ran for eight years from 1982 until 1990.
Harris's hit single with Orville, dating from 1982, I Wish I Could Fly, was a top five hit single selling more than 40,000 copies. Such was the strain of carrying Orville about for more than 40 years, that to continue with the act, Harris had to have a metal plate inserted in his arm.
The son of variety entertainers, Keith Shenton Harris initially contributed to his father's routine, playing a ventriloquist's dummy and singing Sonny Boy. Buying a dummy of his own, Charlie Chat, he initially found fame compering stage productions of the Black and White Minstrel Show.
After their tv show finished, Harris reinvented the Orville act along adult lines, proving hugely popular with students.
He appeared in the resort many times, first with Larry Grayson at the ABC in 1974, again in 1977 and at the Grand in 1983.
Joining Frank Carson and Les Dawson at the Opera House in 1988, he spent five seasons with Keith and Orville's Magic Castle at the Sandcastle, was Ringmaster at the Tower Circus in 1999, and in 2000, was at the Grand with Joe Longthorne.
Following Harris's death in 2015, his agent put out a statement that Orville was still alive and enjoying his retirement.
As variety declined ventriloquist acts became fewer. Some however have reinvented the format, able to blur the line between cutting-edge stand-up and old fashioned variety.
In 2013, Nina Conti, daughter of actor, Tom, launched the first new ventriloquism show on radio for half a century, Nina Conti Really.
Among her guests was Jim Al-Khalili talking quantum physics with one of her characters, Monkey. Others surrounding her were a Brazilian born singer, a Glaswegian grandmother and a music hall comedian called Charlie.
David Strassman created a doll that incorporates robotic technology while local favourite Paul Zerdin, hit the big time in 2015 after winning America's Got Talent by cleverly harnessing time honoured vent talent alongside highly polished stand-up skills.
All this talk of ventriloquism has made me thirsty. Time to end with a refreshing Gottle Of Geer.