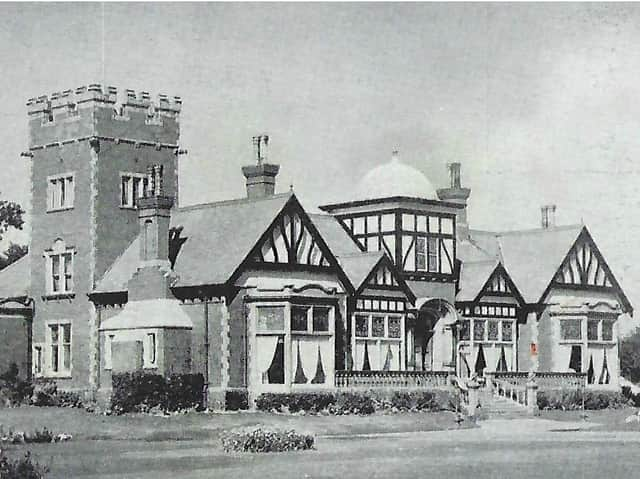 Illawalla, which was on Skippool Road, Thornton. Photo courtesy of David Taylor
The name Illawalla is etched into Fylde history.
The big house on the road between Skippool and Thornton was a popular night spot before it was demolished in 1996.
Its foundation stone was laid in 1902 by music hall star Vesta Tilley for cotton tycoon and Blackpool Alhambra chairman C. V. Howarth and from 1945 to the 70s it was the home of cinemas magnate Sir Frederick Emery and his extended family.
Margaret Taylor with daughters Valerie (left) and Marilyn. Photo courtesy of David Taylor
From a humble family in Wigan, James Frederick Emery built a chain of more than a hundred cinemas, including the Fylde Cinemas group which comprised the Tivoli, Royal Pavilion, Oxford, Empire, Rendezvous and Dominion.
He was the Conservative MP for Salford West from 1935 to 1945 and was knighted for political services. He died in 1983.
Illawalla was an envied place of privilege and security, often featured in Gazette articles including some recent Memory Lane pages.
But there was a tragic side of the Emery story, now brought together for the first time by retired solicitor David Taylor, the grandson of Sir Frederick.
Margaret Taylor with her father Sir Frederick Emery. Photo courtesy of David Taylor
David grew up at Illawalla. His mother was the daughter of Sir Frederick and he had two sisters.
They were lost in tragic and unrelated circumstances, the most horrific of which was the murder of David's mother by his father, RC Taylor.
Other tragedies that have blighted David's life are included in the book, titled Beloved Ghosts.
I was one of several friends and contacts who saw the first draft and we all, independently, thought the story could become a gripping film.
It is an awkward book to review but is a fascinating document from the start when David, who lives in the Ribble Valley, drives to meet old friends from university days in Guildford.
Stopping to consult his street guide, he blocks a driveway. A woman sounds her horn and he moves his car forward. The woman, who he has never seen before, asks him in for a coffee.
After some polite general chatter she accurately describes the departed members of David's family and says they want to talk to him. Their purpose is to comfort him.
She is obviously a medium, a reluctant one in this case, and asks nothing in return.
In a readable matter-of-fact manner the author then details the tragedies in sequence against his own legal career and his role in relaunching one of the Emery cinemas, the Royal Pavilion, in 1970.
In a Preamble, David states: "This book is written for my loved ones. It draws no conclusions, nor attempts to offer explanation where explanations are not possible. It is a story of my beloved ghosts."
The well illustrated book can be purchased through Amazon Kindle either as an e-version or 64-page A5 paperback at £3.99 plus postage and packing, as appropriate.