In pictures: Doreen Lofthouse MBE and her legacy in Fleetwood
Over the years she was affectionately known in the town as the Mother of Fleetwood.
Friday, 9th April 2021, 3:45 pm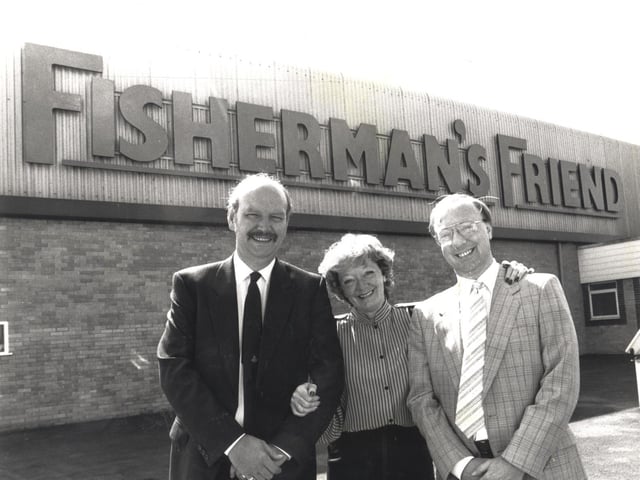 Doreen Lofthouse with husband Tony Lofthouse (Left) and son Duncan Lofthouse outside the Fleetwood base in 1990
And Doreen Lofthouse MBE, the 91-year-old founder of the famous lozenge Fisherman's Friend, who died recently, has left behind a legacy like no other, right in the heart of her home town. Keen to make sure the port benefitted as much as possible from the success of Fisherman's Friend, Mrs Lofthouse invested in many projects in the town. Here are some of the photos which document those wonderful projects she worked so hard to achieve in Fleetwood
Sculptress Anita Lafford with Mrs Lofthouse at the unveiling of the welcome home statue in Fleetwood, 1997
MRI Scanner opening ceremony, at Victoria Hospital, Blackpool, 1998. Getting a patient's eye view with Mrs Lofthouse are are from left, Mr Barry Fothergill (Blackpool Victoria Hospital NHS Trust chairman) and Mr David Gill (Blackpool Victoria Hospital NHS Trust Chief Executive).
Mrs Lofthouse unveils a plaque at the opening of the new x-ray department at Fleetwood hospital
Doreen Lofthouse's dream became reality when the statue of Eros was mounted on its plinth ready for unveiling in 1999. The statue acts as a welcome to Fleetwood, located as it is, in the middle of the roundabout on Amounderness Way.
Ribbon cutting ceremony to open pavement improvements along The Esplanade in Fleetwood, 2001. From left: Michael Moran (contractor), Mayor of Wyre Councillor Jim Lawrenson, Doreen Lofthouse, Tony Lofthouse, Duncan Lofthouse, Mike Doran (scheme engineer) and David Carpenter (environmental planner from Wyre Council).
The opening of Fleetwood Fishermen's Walk in 1994. Mrs Lofthouse and Brian Rowe of Wyre Council performed the honours
Proud day when Mrs Lofthouse, pictured with husband Tony, received the Freeman of the Borough scroll and a crystal vase presented to her at a ceremony in 2003
Mrs Lofthouse is made an OBE by the Prince of Wales at Buckingham Palace on July 3, 2008. Photo: Martin Keene / PA Wire.
Mrs Lofthouse, who was Honorary President of Feetwood Civic Society, helps unveil the new 175 monument on Fleetwood seafront in 2012
Fisherman's Friend owner Doreen Lofthouse dug the first sod to officially start the Marine Gardens re-design at the Marine Hall in Fleetwood, 2011. Pictured with Doreen are Leader of Wyre Borough Council Peter Gibson, and the Mayor and Mayoress of Wyre David and Glenice Bannister
Alfie Boe receiving a commemorative tin of Fisherman's Friend from Tony, Doreen, Duncan and Linda Lofthouse at the factory in 2016. Photo: leeboswellphotography.com